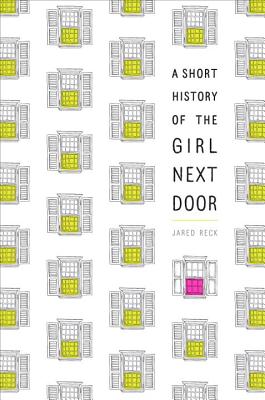 A Short History of the Girl Next Door (Hardcover)
Knopf Books for Young Readers, 9781524716080, 272pp.
Publication Date: September 26, 2017
Other Editions of This Title:
Digital Audiobook (9/25/2017)
Paperback (12/24/2018)
Hardcover (9/26/2017)
* Individual store prices may vary.
Description
Get your tissues ready for this unrequited love story that's equal parts hilarious and heartbreaking and will appeal to fans of Jennifer Niven, John Green, and Jesse Andrews.
 
Seriously, how can you see a person nearly every day of your life and never think a thing of it, then all of a sudden, one day, it's different? You see that goofy grin a thousand times and just laugh. But goofy grin #1,001 nearly stops your heart? 
 
Right. That sounds like a bad movie already.
 
Matt Wainwright is constantly sabotaged by the overdramatic movie director in his head. He can't tell his best friend, Tabby, how he really feels about her, he implodes on the JV basketball team, and the only place he feels normal is in Mr. Ellis's English class. If this were a movie, everything would work out perfectly. Tabby would discover that Matt's madly in love with her, be overcome with emotion, and would fall into his arms. Maybe in the rain.
 
But that's not how it works. Matt watches Tabby get swept away by senior basketball star and all-around great guy Liam Branson. Losing Tabby to Branson is bad enough, but screwing up and losing her as a friend is even worse. 
 
After a tragic accident, Matt finds himself left on the sidelines, on the verge of spiraling out of control and losing everything that matters to him. From debut author Jared Reck comes a fiercely funny and heart-wrenching novel about love, longing, and what happens when life as you know it changes in an instant.

"This story broke my heart and made me laugh and gave me hope—and really, what more can you ask of a book than that?" —Jennifer E. Smith, author of Windfall and The Statistical Probability of Love at First Sight

"In the blink of an eye, A Short History of the Girl Next Door goes from hilarious to haunting to harrowing to heartbreaking to hopeful and back." —Jeff Zentner, award-winning author of The Serpent King and Goodbye Days

"Pair this with . . . Jeff Zetner's Goodbye Days or Adam Silvera's History is All You Left Me."—Booklist

"Recommend this to readers who enjoyed Steven Levenson's Dear Evan Hansen."--VOYA
About the Author
Jared Reck is a debut author. He received a BA in English from Clemson University, a Master's in Educational Leadership, and recently completed graduate coursework in McDaniel College's Writing for Children & Young Adults program. He lives in Hanover, Pennsylvania, where he's an eighth-grade Language Arts teacher. Learn more about Jared on Twitter at @ReckJ.
Praise For A Short History of the Girl Next Door…
"This story broke my heart and made me laugh and gave me hope—and really, what more can you ask of a book than that? I loved it, and I have a feeling you will too." —Jennifer E. Smith, author of Windfall and The Statistical Probability of Love at First Sight

"In the blink of an eye, A Short History of the Girl Next Door goes from hilarious to haunting to harrowing to heartbreaking to hopeful and back. You'll never be sure exactly what kind of tears you're crying. The riotously funny and achingly authentic voice of this gorgeous coming-of-age story will break your heart, but have no fear: it will piece it back together with the glue of love, hope, and humor, and it will be stronger than before." —Jeff Zentner, award-winning author of The Serpent King and Goodbye Days
 
"A Short History of the Girl Next Door is a study in paradoxes. It's laced with both sarcasm and yearning; it's spit-out-your-drink funny and empty-the-tissue-box sad. Sharp, smart, and unforgettable, this book will make you want to drive down the court, basketball thudding from your hand, both glad and heartbroken to be alive." —Kate Hattemer, critically acclaimed author of The Vigilante Poets of Selwyn Academy and The Land of 10,000 Madonnas

"A powerful novel about first love, the intimacy of childhood friendships, and moving forward from loss, after unexpected tragedy strikes. Reck's novel is sure to provoke reflection about finding meaning amid life's unforeseeable tragedies."—Publishers Weekly

"Pair this with other novels that explore loss from a male perspective, such as Jeff Zetner's Goodbye Days or Adam Silvera's History is All You Left Me."—Booklist

"Reck gives subtlety and depth to Matt, so he's believable as a flawed guy negotiating his way through his feelings for Tabby as well as his social status in school, his ideas of masculinity, and his insecurities."--The Bulletin

"Recommend this to readers who enjoyed Steven Levenson's Dear Evan Hansen."--VOYA
or
Not Currently Available for Direct Purchase