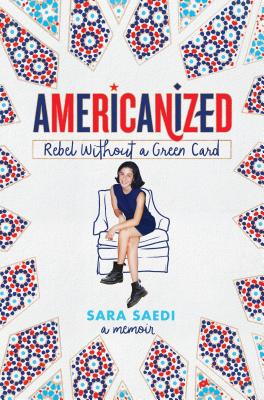 Americanized (Hardcover)
Rebel Without a Green Card
Alfred A. Knopf Books for Young Readers, 9781524717797, 288pp.
Publication Date: February 6, 2018
Description
The hilarious, poignant, and true story of one teens's experience growing up in America as an undocumented immigrant from the Middle East, perfect for fans of Mindy Kaling and Lena Dunham's books. At thirteen, bright-eyed, straight-A student Sara Saedi uncovered a terrible family secret: she was breaking the law simply by living in the United States. Only two years old when her parents fled Iran, she didn't learn of her undocumented status until her older sister wanted to apply for an after-school job, but couldn't because she didn't have a Social Security number.
Fear of deportation kept Sara up at night, but it didn't keep her from being a teenager. She desperately wanted a green card, along with clear skin, her own car, and a boyfriend.
Americanized follows Sara's progress toward getting her green card, but that's only a portion of her experiences as an Iranian-"American" teenager. From discovering that her parents secretly divorced to facilitate her mother's green card application to learning how to tame her unibrow, Sara pivots gracefully from the terrifying prospect that she might be kicked out of the country at any time to the almost-as-terrifying possibility that she might be the only one of her friends without a date to the prom. This moving, often hilarious story is for anyone who has ever shared either fear. "Very funny but never flippant, Saedi mixes '90s pop culture references, adolescent angst and Iranian history into an intimate, informative narrative that thoroughly defies current divisive view on immigration."--The New York Times "With gumption, Saedi draws from her American-ness and Iranian-ness for a successful depiction of immigrant life in the U.S.: a must-read."--Kirkus, starred review " Saedi's] encouraging advice for undocumented immigrants is invaluable, honest, and heartfelt. This irresistible and timely memoir is hard to put down."--Booklist, starred review " Saedi's] chatty and comic voice offers surprisingly effective irony in the exploration of her life as an undocumented kid. This is an encounter with a family that many readers will understand and others will long to be a part of, and it may inspire them to reconsider and chronicle their own family tales."--The Bulletin, starred review "Readers will laugh, cry, and empathize with Saedi's adolescent journey as an undocumented Iranian immigrant living in the United States. This book will keep readers fully entertained while pushing them to deeper cultural understandings."--SLJ, starred review.
About the Author
Sara Saedi was born in Tehran, Iran smack-dab in the middle of a war and an Islamic Revolution. She received a B.A. in Film and Mass Communications from the University of California, Berkeley and began her career as a creative executive for ABC Daytime. Since then she's penned three TV movies for ABC Family and a pilot for the Disney Channel, won a Daytime Emmy for What If..., a web series she wrote for ABC, and worked as a staff writer on the FOX sitcom The Goodwin Games. Her first novel for young adults, Never Ever, was published by Viking in June. She currently resides in Los Angeles with her husband, son, and pug, where she writes for the hit CW show iZombie. Learn more on Twitter at @saaaranotsarah or at SaraSaediWriter.com.
Advertisement