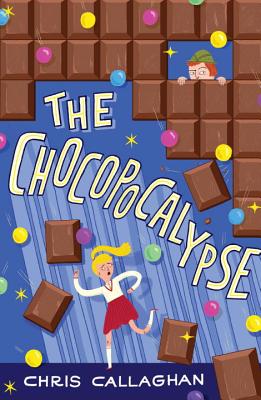 The Chocopocalypse (Hardcover)
Delacorte Books for Young Readers, 9781524719159, 240pp.
Publication Date: October 10, 2017
Other Editions of This Title:
Library Binding (10/10/2017)
* Individual store prices may vary.
Description
Fans of Roald Dahl's Charlie and the Chocolate Factory and readers of Chris Grabenstein and Wendy Mass will love is an action-packed mystery about what happens if the world is about to run out of chocolate!
 
   Life for Jelly Welly—or Jennifer Wellington—is totally and utterly normal in Chompton-on-de-Lyte. She lives with her mum and dad and gran, has nosy neighbors who like to gossip, and really needs to think of a science project that will get her a good grade.
   But when news breaks of an impending chocopocalypse, her whole world—and the world at large—is thrown into utter chaos.
   With only six days left until no more chocolate, Jelly has a sneaking suspicion that something isn't right. She and her gran investigate, picking up on a mysterious trail of clues.
   Is it really the dreaded chocopocalypse, or is there a mastermind behind the madness?

"Charlie and the Chocolate Factory fans and mystery enthusiasts will also enjoy this chocolatey adventure."-School Library Journal

"[The Chocopocalypse] will likely find a place among readers who enjoy [Roald] Dahl's humor."-Kirkus Reviews
About the Author
Chris Callaghan's debut novel is The Chocopocalypse. He loves reading and writing (and chocolate) and, as an author, has taken inspiration from his various jobs, from fixing aircraft as a member of the Royal Air Force to checking pollution from pudding factories as an environmental scientist. Chris lives in England with his wife and daughter, who have to endure his bouts of "groovy kitchen dancing."
   Learn more about him and the looming chocolate crisis at chris-callaghan.com and on Twitter and Instagram at @callaghansstuff, or find out what he eats for dinner on Facebook.
Praise For The Chocopocalypse…
"Charlie and the Chocolate Factory fans and mystery enthusiasts will also enjoy this chocolatey adventure."-School Library Journal

"[The Chocopocalypse] will likely find a place among readers who enjoy Dahl's humor."-Kirkus Reviews

"Jokes, silly accents . . . and a galloping narrative. . . . There will be laughter—and maybe some chocolate." —The Mirror (UK)