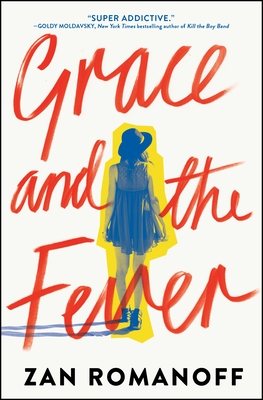 Grace and the Fever (Hardcover)
Knopf Books for Young Readers, 9781524720841, 352pp.
Publication Date: May 16, 2017
* Individual store prices may vary.
Description
Rainbow Rowell's Fangirl meets Jenny Han's The Summer I Turned Pretty in this contemporary YA about what it means to be a fan—and what it means to be a friend—when your whole world is in flux.
 
In middle school, everyone was a Fever Dream fan. Now, a few weeks after her high school graduation, Grace Thomas sometimes feels like the only one who never moved on. She can't imagine what she'd do without the community of online fans that share her obsession. Or what her IRL friends would say if they ever found out about it.
 
Then, one summer night, the unthinkable happens: Grace meets her idol, Jes. What starts out as an elusive glimpse of Fever Dream's world turns into an unlikely romance, and leads her to confront dark, complex truths about herself and the realities of stardom.
 
From the author of A Song to Take the World Apart, Grace and the Fever is a heart-clutching reminder of what it's like to fall in love—whether it's with a boy or a boy band—and how difficult it is to figure out who you are after you've fallen out of love again.

"Grace and The Fever crackles with sharp cultural commentary and deep emotional resonance." —Bitch Magazine

"Grace and the Fever is a clear-eyed portrait of 'the girls of the internet' . . . a YA novel that does the fangirl justice."—The Verge

"A wise, bittersweet coming-of-age story for the thinking fangirl." —Anna Breslaw, author of Scarlett Epstein Hates It Here

"Super addictive." —Goldy Moldavsky, New York Times bestselling author of Kill the Boy Band

"A smart, warm, feminist ode to anyone who has ever been eighteen, made a mess of their own life, spent their late night hours on Tumblr, or loved a band so much it hurt." —Katie Coyle, author of Vivian Apple at the End of the World 
About the Author
Zan Romanoff fell in love with Hanson when she was ten and has been a boy-band fanatic and teen-idol obsessive ever since. She lives and writes in Los Angeles; this is her second novel. Visit her at zanromanoff.com or follow her on Twitter at @zanopticon.
Praise For Grace and the Fever…
"Genuine dialogue, texts, e-mails, online posts ... bring to life this edgy and layered look at the glitz and secrets of stardom from ordinary eyes. " —Booklist, starred review

"Grace and The Fever crackles with sharp cultural commentary and deep emotional resonance." —Bitch Magazine

"Grace and the Fever is a clear-eyed portrait of 'the girls of the internet' . . . a YA novel that does the fangirl justice."—The Verge

"A thrilling romp through a fangirl fantasy in which everything crashes and burns and the heroine emerges stronger."—Kirkus

"Grace and the Fever reads a lot like how loving a boy band feels: you think it's cute at first and then suddenly you find yourself so enthralled that you just need more and more and you hope your family isn't too concerned because yep you are definitely obsessed. Super addictive." —Goldy Moldavsky, New York Times bestselling author of Kill the Boy Band

"A wise, bittersweet coming-of-age story for the thinking fangirl." —Anna Breslaw, author of Scarlett Epstein Hates It Here

"A smart, warm, feminist ode to anyone who has ever been eighteen, made a mess of their own life, spent their late night hours on Tumblr, or loved a band so much it hurt." —Katie Coyle, author of Vivian Apple at the End of the World

"Grace and the Fever is a warm and thoughtful exploration of fannishness in all its multifaceted complexity, and it's a sweet-natured coming of age story too. But most of all, it's a love letter to band fandom, and all the funny, obsessive, reviled teenage girls who created it." —Vox