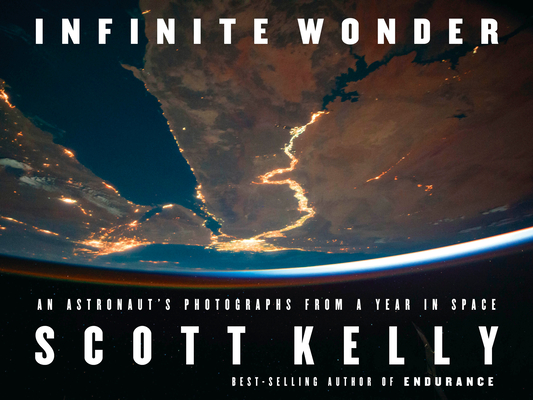 Infinite Wonder
An Astronaut's Photographs from a Year in Space
Hardcover

* Individual store prices may vary.
Description
From the record-breaking astronaut, national hero, and best-selling author of Endurance, a breathtaking collection of photos documenting his journey on the International Space Station, the vastness of space, and the unparalleled beauty of our own home planet.

One's perspective shifts when one lives for an entire year--as Commander Scott Kelly, and no other American astronaut in history, has--in the isolating, grueling, and utterly unforgiving vacuum of space. Kelly's photos prove that this perspective--from 250 miles above earth--while hard-won, is also almost unspeakably beautiful. He mastered the rare art of microgravity photography. Using a Nikon D4 with a long 800mm lens and a 1.4x magnifying zoom lens, he panned the camera as the shutter released in order to compensate for the space station's velocity: 17,500 mph relative to the earth. Kelly's artist's eye helped make him a social media sensation, and here his photos are collected alongside his own commentary, which sets the images in their proper contexts, human and cosmic. Kelly captures sunsets, moonrises, the aurora borealis, and the luminous, hazy tapestry of the Milky Way. He presents snapshots of life and work on the International Space Station, from spacewalks to selfies. But above all--or floating amid all--he takes the earth itself as his celestial muse. Here are hurricanes, wrinkled mountains, New York City shining like a galaxy--glorious photographs that are, in themselves, a passionate argument for the preservation of our planet in the face of climate change and environmental destruction.
Praise For Infinite Wonder: An Astronaut's Photographs from a Year in Space…
"Gorgeously produced . . . stunning . . . a revelation . . . Kelly has created a magnificent union of art and science." —Booklist

"[Scott Kelly's] pictures of  Peruvian volcanoes, the rift lakes of Mongolia, and salt pans in the Willard Bay of the Great Salt Lake are really like nothing you can imagine . . . breathtaking." —The Philadelphia Inquirer

"Gorgeous . . . Kelly documents incredible moments on his journey." —Locke Hughes, NBC News

"In vivid, breathtaking, photographic detail, [Scott Kelly] records the vastness and stillness of space, and the unparalleled and mysterious beauty of the big, blue marble we call Earth. Explorers, science geeks and environmentalists alike will find what they seek in Infinite Wonder." —Signature

"Kelly captures the vastness of the universe and juxtaposes it with the beauty of Earth." —The Florida Times-Union

"[Infinite Wonder] makes a great companion to his recent memoir Endurance or a good stand-alone showpiece." —Sarah Lewin, Science Insider News

"A stunning coffee table book." —Diane La Rue, The Citizen
Knopf, 9781524731847, 320pp.
Publication Date: October 30, 2018
About the Author
SCOTT KELLY is a former military fighter pilot and test pilot, an engineer, a retired astronaut, and a retired U.S. Navy captain. A veteran of four space flights, Kelly commanded the International Space Station on three expeditions and was a member of the yearlong mission to the ISS. During the Year in Space mission, he set records for the total accumulated number of days spent in space and for the single longest space mission by an American astronaut. He lives in Houston, Texas.
or
Not Currently Available for Direct Purchase