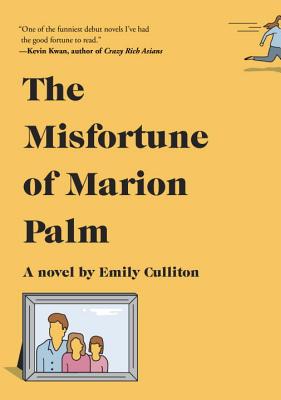 The Misfortune of Marion Palm (Hardcover)
A novel
Knopf, 9781524731908, 304pp.
Publication Date: August 8, 2017
Other Editions of This Title:
Digital Audiobook (8/7/2017)
Paperback (6/26/2018)
Library Binding, Large Print (1/3/2018)
* Individual store prices may vary.
Description
A wildly entertaining debut about a Brooklyn Heights wife and mother who has embezzled a small fortune from her children's private school and makes a run for it, leaving behind her trust fund poet husband, his maybe-secret lover, her two daughters, and a school board who will do anything to find her.

Marion Palm prefers not to think of herself as a thief but rather "a woman who embezzles." Over the years she has managed to steal $180,000 from her daughters' private school, money that has paid for European vacations, a Sub-Zero refrigerator, and perpetually unused state-of-the-art exercise equipment. But, now, when the school faces an audit, Marion pulls piles of rubber-banded cash from their basement hiding places and flees, leaving her family to grapple with the baffled detectives, the irate school board, and the mother-shaped hole in their house. Told from the points of view of Nathan, Marion's husband, heir to a long-diminished family fortune; Ginny, Marion's teenage daughter who falls helplessly in love at the slightest provocation; Jane, Marion's youngest who is obsessed with a missing person of her own; and Marion herself, on the lam--and hiding in plain sight.
About the Author
EMILY CULLITON is a PhD candidate at the University of Denver for fiction and earned her MFA from the University of Massachusetts Amherst. She was born and raised in Brooklyn.
Praise For The Misfortune of Marion Palm: A novel…
An Entertainment Weekly "Summer Must-Read Book!"

"A witty, sneakily feminist kind of crime story…. Half of the delight in Emily Culliton's wholly delightful debut novel, The Misfortune of Marion Palm, lies in the way the book, like its title character, defies expectations at every turn.... There's satire in the notion of a female thief hampered by beauty culture and the patriarchy, to be sure. But it's a more textured, complicated satire.... Chafing against the roles that society has prescribed for her but uncertain what role to occupy instead, [Marion] joins a parade of recent literary antiheroines—not just Bernadette Fox but Amy Dunne in Gillian Flynn's Gone Girl, Elyria Marcus in Catherine Lacey's Nobody Is Ever Missing, Lena and Lila in Elena Ferrante's Neapolitan series—who are casting about, sometimes wildly, for ways to redefine and reinvent what it means to be a woman in the world. As with Marion, we can only hope they get away with it." —Gregory Cowles, The New York Times Book Review

"This debut novel has what many others lack: a wicked sense of humor. VERDICT: With her mordant wit, deft plotting, and clever storytelling, Culliton is a young novelist to watch." —Leslie Patterson, Library Journal (Starred Review)

"Oddly comic—think Miranda July—writing... Culliton's assured and clever novel reads more like that of a seasoned novelist than a debut... Readers who have wished the narration of The Royal Tenenbaums was an actual book need look no further than The Misfortune of Marion Palm." —Kathy Sexton, Booklist (Starred Review)

"Talk about getting away from it all. Marion Palm has pocketed $180,000 from her daughters' school coffers and gone on the lam, no disguise necessary. 'A homely woman,' she thinks to herself, 'is an invisible thing.' But what is her plan, and is she ever coming back? A whip-smart, thoroughly original debut." —People Magazine, "Summer's Best Books"

"If you love scandals and mystery…then you'll love The Misfortune of Marion Palm."
—Olivia Betchson, Betches Love This: "The Best Books to Read While You Tan: The Betches Summer 2017 Reading List"

"[A] wonderful and sharp debut novel... When Marion meets handsome, rich poet, Nathan Palm, she achieves a dream of financial security and stability. But reality is cruel and Nathan is not as wealthy as she thought… Culliton's prose is effortless and wickedly clever; its ability to condone and condemn in the most succinct way is a testament to the author's storytelling and characterization skills... Irresistible. This debut novel signals the arrival of an exciting talent." –Publishers Weekly (Starred Review)

"Emily Culliton is the no-nonsense, take-no-prisoners storyteller we've been waiting for and with Marion Palm she's created an ingenious anti-heroine. Sly, lean, subversively comic, The Misfortune of Marion Palm is a dangerously addictive confection for readers hungry for the intelligent humor of Lydia Davis and the dark elegance of Muriel Spark. This is one first-time novelist who inspires a particular hope: that she is now hard at work on her second book." —Mona Awad, author of 13 Ways of Looking at a Fat Girl

"There are only two questions regarding The Misfortune of Marion Palm: Do you read it quickly or do you read it slowly? You'll want to race through it and yet there is brilliance to savor in every single sentence." —Katherine Heiny, author of Single, Carefree, Mellow 

"Emily's Culliton's Brooklyn family drama-cum-mystery offers up a female heroine for whom money speaks louder than motherhood. If it's shocking, it's also refreshing." —Lucinda Rosenfeld, author of Class
 
"Combine one crumbling brownstone, two children in private school, a clueless husband with a dwindling trust fund, millions of dollars squandered, and what do you get? A mom on the run and one of the funniest debut novels I've had the good fortune to read." —Kevin Kwan, author of Crazy Rich Asians and Rich People Problems
or
Not Currently Available for Direct Purchase