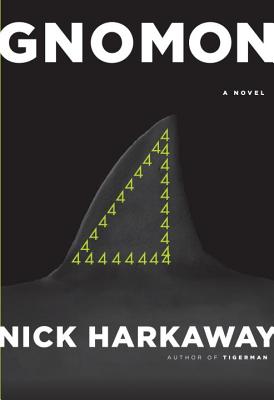 Gnomon
A novel
Hardcover

* Individual store prices may vary.
Other Editions of This Title:
Digital Audiobook (12/3/2018)
Paperback (12/4/2018)
Description
A Best Science Fiction Book of 2017 -- The Guardian

From the widely acclaimed author of The Gone-Away World and Tigerman, comes a virtuosic new novel set in a near-future, high-tech surveillance state, that is equal parts dark comedy, gripping detective story, and mind-bending philosophical puzzle.

In the world of Gnomon, citizens are constantly observed and democracy has reached a pinnacle of 'transparency.' Every action is seen, every word is recorded, and the System has access to its citizens' thoughts and memories--all in the name of providing the safest society in history.

When suspected dissident Diana Hunter dies in government custody, it marks the first time a citizen has been killed during an interrogation. The System doesn't make mistakes, but something isn't right about the circumstances surrounding Hunter's death. Mielikki Neith, a trusted state inspector and a true believer in the System, is assigned to find out what went wrong. Immersing herself in neural recordings of the interrogation, what she finds isn't Hunter but rather a panorama of characters within Hunter's psyche: a lovelorn financier in Athens who has a mystical experience with a shark; a brilliant alchemist in ancient Carthage confronting the unexpected outcome of her invention; an expat Ethiopian painter in London designing a controversial new video game, and a sociopathic disembodied intelligence from the distant future.

Embedded in the memories of these impossible lives lies a code which Neith must decipher to find out what Hunter is hiding. In the static between these stories, Neith begins to catch glimpses of the real Diana Hunter--and, alarmingly, of herself. The staggering consequences of what she finds will reverberate throughout the world.

A dazzling, panoramic achievement, and Nick Harkaway's most brilliant work to date, Gnomon is peerless and profound, captivating and irreverent, as it pierces through strata of reality and consciousness, and illuminates how to set a mind free. It is a truly accomplished novel from a mind possessing a matchless wit infused with a deep humanity.
Praise For Gnomon: A novel…
"Gnomon is an extraordinary novel, and one I can't stop thinking about some weeks after I read it. It is deeply troubling, magnificently strange, and an exhilarating read."
—Emily St. John Mandel, author of Station Eleven

"Opening a novel by Nick Harkaway feels like stepping into a theme park for the mind—every page you turn brings new delights for the mind and the senses. Gnomon is brilliant and terrifying, full of pleasures big and small. Basically, everything I want in a book."
—Charles Yu, author of How to Live Safely in a Science Fictional Universe

"The best thing he's ever written. . . It is an astonishing piece of construction, complex and witty. . . It is a magnificent achievement. . . He's never written a bad book, but this is the one that'll see him mentioned in the same breath as William Gibson and David Mitchell. . . This book seriously just destroyed me with joy."
—Warren Ellis, author of Gun Machine
 
"This huge sci-fi detective novel of ideas is so eccentric, so audaciously plotted and so completely labyrinthine and bizarre that I had to put it aside more than once to emit Keanu-like 'Whoahs' of appreciation. . . It is huge fun. And it will melt your brain. . . Whoah, indeed. I wanted to give it a round of applause." 
—Tim Martin, The Spectator (London)
 
"Beguiling, multilayered, sprawling novel that blends elements of Philip K. Dick-tinged sci-fi, mystery, politics, and literary fiction in a most satisfying brew. . . Fans of Pynchon and William Gibson alike will devour this smart, expertly written bit of literary subversion."
—Kirkus (starred review)
Knopf, 9781524732080, 688pp.
Publication Date: January 9, 2018
About the Author
NICK HARKAWAY is the author of three previous novels, The Gone-Away World, Angelmaker, and Tigerman, as well as a nonfiction work about digital culture, The Blind Giant: Being Human in a Digital World. He is also a regular blogger for The Bookseller's FutureBook website. He lives in London with his wife, a human rights lawyer, and their two children.
or
Not Currently Available for Direct Purchase