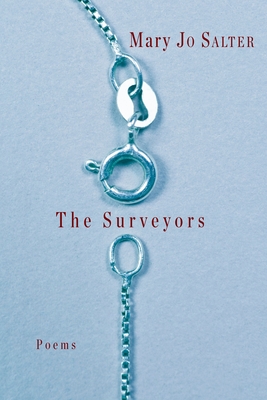 The Surveyors (Hardcover)
Poems
Knopf, 9781524732660, 112pp.
Publication Date: August 22, 2017
* Individual store prices may vary.
Description
A beautiful new collection from Mary Jo Salter brings us poems of puzzlement and acceptance in the face of life's surprises.

"I'm still alive and now I'm in Bratislava," says the speaker of one of Salter's poems, as she travels with her unlikely late-in-life love, a military man. She never expected to be here, to know someone like him, to be parted from her previous life; how did it happen? Time is hurtling, but these poems try to slow it down to examine its curious by-products--the prints of Dürer, an Afghan carpet, photographs of people we've lost. The title poem, a crown of sonnets, takes up key moments in the poet's past, the quirky advent of poetic inspiration, and the seemingly sci-fi future of the universe. Throughout, in a tone of ironic wonderment, placing rich new love poems alongside some inevitable poems of leavetaking, Salter invites the reader to weigh and ponder the way things have turned out--for herself, for all of us--in this new century, and perhaps to conclude, as she does, "That's funny . . . "
About the Author
MARY JO SALTER was born in Grand Rapids, Michigan. She was educated at Harvard and Cambridge and taught at Mount Holyoke College for many years. She also served as poetry editor of The New Republic. In addition to her seven previous poetry collections, she is the author of a children's book, The Moon Comes Home, and a coeditor of The Norton Anthology of Poetry. She is Andrew W. Mellon Professor in The Writing Seminars at Johns Hopkins University and lives in Baltimore.
Praise For The Surveyors: Poems…
"A capacious and ambitious collection . . . Salter's formal prowess is on display, as is her rueful wisdom, her vivid eye and memory for detail, and her ability to collapse time." —Rachel Hadas, Los Angeles Review of Books

"Unforgettable . . . These are poems of a woman passionately living her life . . . At once erudite and spontaneous, serious and lighthearted." —Laverne Firth, New York Journal of Books

"Smart, quirky, and offbeat . . . A lively mix of wit and imagination . . . In The Surveyors, [Salter] showcases her impeccable form, her lines as tight and sharp as rapiers . . . A poetry collection to cherish." —Scott Neuffer, Shelf Awareness

"Essential not only for Salter's fans but for readers of poetry in general . . . Salter has been working with quiet excellence as a poet since the publication of her first collection in 1985. For all that, she wears her knowledge lightly . . . She is superbly skilled in the old appurtenances of meter and rhyme, deploying coincidences of rhythm and sound that only rereading discloses—but her ease extends to her freer lyric style as well . . . Salter provides sane and long-lasting rewards. —Library Journal (starred review)
or
Not Currently Available for Direct Purchase