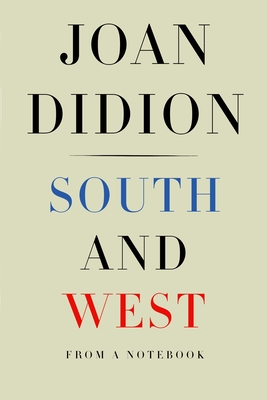 South and West
From a Notebook
Hardcover

* Individual store prices may vary.
Other Editions of This Title:
Digital Audiobook (3/6/2017)
Paperback (1/2/2018)
CD-Audio (3/7/2017)
Description
From the best-selling author of the National Book Award-winning The Year of Magical Thinking: two extended excerpts from her never-before-seen notebooks—writings that offer an illuminating glimpse into the mind and process of a legendary writer.

Joan Didion has always kept notebooks: of overheard dialogue, observations, interviews, drafts of essays and articles—and here is one such draft that traces a road trip she took with her husband, John Gregory Dunne, in June 1970, through Louisiana, Mississippi, and Alabama. She interviews prominent local figures, describes motels, diners, a deserted reptile farm, a visit with Walker Percy, a ladies' brunch at the Mississippi Broadcasters' Convention.

She writes about the stifling heat, the almost viscous pace of life, the sulfurous light, and the preoccupation with race, class, and heritage she finds in the small towns they pass through. And from a different notebook: the "California Notes" that began as an assignment from Rolling Stone on the Patty Hearst trial of 1976. Though Didion never wrote the piece, watching the trial and being in San Francisco triggered thoughts about the city, its social hierarchy, the Hearsts, and her own upbringing in Sacramento.

Here, too, is the beginning of her thinking about the West, its landscape, the western women who were heroic for her, and her own lineage, all of which would appear later in her acclaimed 2003 book, Where I Was From.

 One of TIME's most anticipated books of 2017
 
One of The New York Times Book Review's "What You'll Be Reading in 2017"

Includued among the Best Books of March 2017 by both LitHub and Signature
 
 
Praise For South and West: From a Notebook…
"South and West is a compelling book — rooted utterly in a past now all but lost to us, while also incredibly timely and relevant...[it] bears the hallmarks of Didion's sparkling prose: her use of detail, juxtaposition, and compression...sentence fragment, description, and insight...Originally written in the 1970s as a pair of diaries, it finally sees the light of day at a moment when California and the Real America of the South are warring over the soul of the country.... South and West is vital, ultimately, for how it demonstrates (even inadvertently) how such a tension plays out."
—Colin Dickey, The Los Angeles Review of Books
 
 
 
"You'll learn more about America's future from Didion's 40-year-old field notes...than you will from tomorrow's newspaper." 
—Esquire
 

"South and West: From a Notebook  reveals the author at her most fascinatingly unfiltered, recording folksy vernacular at a motel pool, having G & Ts with Walker Percy, and searching fruitlessly for Faulkner's grave in an Oxford cemetery…her riffs on everything from Gertrude Atherton to crossing the Golden Gate bridge for the first time in three-inch heels captures the thrill of a writer discovering her richest subject: the American mythologies that governed her own romantic girlhood, a yearning for an MGM-style heritage that never really was—a yearning that feels freshly perilous in its delusions."
—Megan O'Grady, Vogue
 
 

"There's a universal rule against reading someone else's diary—but in this case, it's not just OK, it's required reading."
—Marie Claire
 
 
 
"The power of [Didion's] work—her ability to precisely articulate feelings, atmosphere, and undercurrents, [is] on striking display in this slender volume…Didion's notes are remarkably polished and slicing in their response to place, conversations overheard and instigated, perceptions of social attitudes, and detection of hypocrisy, irony, and injustice; they shimmer with dark implications. A book for her many avid readers, and anyone interested in the mysterious process of writing."
—Booklist
 
 
"Here are many of the splendid, sharp-eyed sentences for which [Didion] has long been admired…her observations are classics: a man with a shotgun shooting pigeons on a street in a Mississippi town; a comment about the fierce heat: 'all movement seemed liquid.' An almost spectral text haunted by a past that never seems distant."
—Kirkus Reviews
 
Knopf, 9781524732790, 160pp.
Publication Date: March 7, 2017
About the Author
JOAN DIDION is the author of five novels and nine books of nonfiction, including The Year of Magical Thinking and Blue Nights. Her collected nonfiction, We Tell Ourselves Stories in Order to Live, was published by Everyman's Library in 2006. Born in Sacramento, California, Didion now lives in New York City.
or
Not Currently Available for Direct Purchase