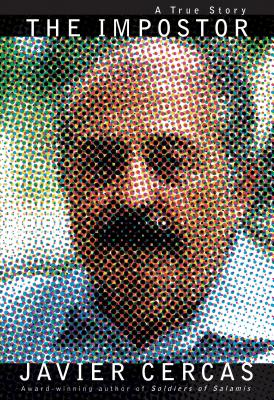 The Impostor (Hardcover)
A True Story
Knopf, 9781524732813, 384pp.
Publication Date: August 28, 2018
* Individual store prices may vary.
Description
From the award-winning author of Soldiers of Salamis, a propulsive and riveting narrative investigation into an infamous fraud: a man who has been lying his entire life.

Who is Enric Marco? An elderly man in his nineties, living in Barcelona, a Holocaust survivor who gave hundreds of speeches, granted dozens of interviews, received important national honors, and even moved government officials to tears. But in May 2005, Marco was exposed as a fraud: he was never in a Nazi concentration camp. The story was reported around the world, transforming him from hero to villain in the blink of an eye. Now, more than a decade later--in a hypnotic narrative that combines fiction and nonfiction, detective story and war story, biography and autobiography--Javier Cercas sets out to unravel Marco's enigma. With both profound compassion and lacerating honesty, Cercas takes the reader on a journey not only into one man's gigantic lie, but also--through its exploration of our infinite capacity for self-deception, our opposing needs for fantasy and reality, our appetite for affection--into the deepest, most flawed parts of our humanity.
About the Author
JAVIER CERCAS is the author of seven books, which have been translated into more than thirty languages and have received numerous international awards. TRANSLATED by Frank Wynne.
Praise For The Impostor: A True Story…
"It is thrilling to be in the room with the two of them once their cat-and-mouse game commences. . . [The Impostor] vibrates with an insomniac energy. I did, too, while in its throes. There's no looking away from it; it has the hot, charged energy of sitting through a trial. . . The brilliance of The Impostor is how Cercas connects Marco's desire for reinvention with Spain's national project of burying its history as it transitioned from dictatorship to democracy. . . The language is precise, distinctive and delicious. . . Is there a more gifted or versatile translator working today than Frank Wynne?. . . The voice of this book, the voice of Cercas, with its beautiful grain and restlessness, its swerves from pity to fury, from calm to hysteria, owe much to Wynne's almost musical modulations."—Parul Sehgal, The New York Times

"Luminous. . . Magnificent. . . As well as an incisive piece of journalistic investigation, Mr. Cercas's book is a subtle essay on the nature of fiction and the ways in which it can invade our lives and transform them. . . But his sickness is a sickness of our time, of a culture in which truth is less important than appearance and in which performing is the best (and perhaps the only) way of being and living. Fiction has replaced reality in today's world and, for that reason, the everyday characters of the real world no longer interest or entertain us. Fantasists do."—Mario Vargas Llosa, The Wall Street Journal

"A fascinating and suspenseful historical whodunit . . . One of the highlights of Cercas's portrait of his impostor quarry is a tour de force imposture of his own . . . In fact the book almost takes on the shadow of a novel in which Marco the hardened con man seems to play the long game . . . But though Cercas seems on the verge of being taken in, it turns out that he has been conning the con man."—Ron Rosenbaum, The New York Times Book Review

"Javier Cercas's trenchant writing, his range of reference, and incisive commentary soon make his book compelling (and instructive) reading."—Claire Hopley, Washington Times

"Acclaimed Spanish novelist Cercas looks deeply at the curious case of a man who wasn't there . . . A charged examination of a surpassingly strange matter and of the masks and fictions we construct."—Kirkus Reviews

"An important investigation of the role of the writer, the nature of truth, and the battle between memory and history."—Deborah Mason, BookPage
 
"Insightful . . . With generosity, empathy, and self-deprecation, Cercas draws fine lines: between history and 'historical memory,' fabricators and novelists, sanity and insanity, heroism and cravenness . . . Cercas gives us a universal investigation into the morals of storytelling and historical narrative."—Matthew Fishbane, Tablet magazine
 
"Remarkable, fascinating . . . Cercas's analysis of post-Franco Spain will be invaluable for any non-Spaniard trying to understand this complex period. Yet it's not just for this that The Impostor is a great book. It is also because of the intellectual depth and even-handedness with which Cercas explores Marco's lifelong lie and his motivations for telling it." —Mark Nayler, El País (American edition)

"Mesmerizing . . . Shines a light not only on the methods of the deceiver but the willingness of the deceived to accept such falsehoods."—Publishers Weekly, starred review

Reviews from the UK

"Cercas often presents himself on the page as a bit of a neurotic bumbler, the better to work doubts and second thoughts into his formidably polished storytelling . . . He tell[s] Marco's story with great skill, some impressive detective work and an irony that's sometimes amused and sometimes appalled . . . Hair-raising."
—Christopher Tayler, London Review of Books

"A fascinating, highly charged, scalpel-sharp dissection of Marco's deception, which also looks at the dilemma of the justifiable lie, and the collective lies Spain told itself as it moved from dictatorship to democracy." —The Times (UK)
 
"No Spanish writer has probed the unhealed wounds of the country's history with more subtlety and rigour than Cercas . . . . The Impostor is a true story that even the most fanciful yarn-spinner would blush to invent . . . Mixing dogged research and testy, sparring interviews with the charming pretender, Cercas scrupulously tracks Marco's big lie." —The Economist
 
"A humane, artistically responsible, and civilised book, one that you finish feeling heartened that such a serious-minded writer as Cercas is at work." —The Sunday Times

"Cercas probes this mysterious and extraordinary life with uncommon patience, uncommon skill, and uncommon sympathy . . . A fascinating book." —The Scotsman

"Besides being a piece of nifty journalistic detective work, Cercas's book is an insightful psychological study . . . Both convincing and compelling." —The Spectator
 
"An awful lot here resonates—not just the buzzy issues of myth-making that dominate much of contemporary politics, but more enduring questions about the nature of truth and storytelling." —Daily Mail

"Cercas's best book to date . . . A marvelous book that readers will enjoy." —ABC Cultural
Coverage from NPR