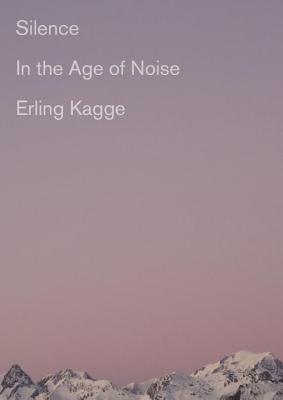 Silence (Hardcover)
In the Age of Noise
Pantheon, 9781524733230, 160pp.
Publication Date: November 21, 2017
* Individual store prices may vary.
Description
What is silence?

Where can it be found?

Why is it now more important than ever?

In 1993, Norwegian explorer Erling Kagge spent fifty days walking solo across Antarctica, becoming the first person to reach the South Pole alone, accompanied only by a radio whose batteries he had removed before setting out. In this book. an astonishing and transformative meditation, Kagge explores the silence around us, the silence within us, and the silence we must create. By recounting his own experiences and discussing the observations of poets, artists, and explorers, Kagge shows us why silence is essential to sanity and happiness—and how it can open doors to wonder and gratitude.

(With full-color photographs throughout.) 
About the Author
Explorer, lawyer, art collector, publisher, and author, ERLING KAGGE is the first person to have completed the Three Poles Challenge on foot—the North Pole, the South Pole, and the summit of Mount Everest. He has written six previous books on exploration, philosophy, and art collecting, and runs Kagge Forlag, a publishing company based in Oslo, where he lives.
Praise For Silence: In the Age of Noise…
"As much an object as book, something to be handled and savored…. I too remember crunching over ice at the South Pole—though I had not walked there like the author—and thinking about the ethereal quality of silence that the owned world cannot give (no country owns the Antarctic). Erling Kagge captures that wonder on the page." —Wall Street Journal
 
"The book both contemplates the various forms of silence around and within us, and offers solutions for finding such silence amidst endless interruptions and opportunities for distraction….With a sense of awe, Kagge wanders rather than narrates, moving intuitively between philosophy, science, and personal experience….It's always good to be reminded of ancient truths. And with Silence, Kagge provides a much-needed reminder." —Los Angeles Review of Books
 
"From the North Pole and the summit of Mount Everest to Sri Lanka and the coast of Chile, Kagge investigates the wonder and mystery of silence. He writes in a chatty, accessible style and with a healthy dose of humor, even when discussing philosophical subjects….Offers thoughtful meditations on the importance of 'pausing to breathe deeply, shut out the world and use the time to experience ourselves.'" —Minneapolis Star-Tribune

"Breathtaking and inspiring, it teaches us how to find precious moments of silence—whether we are crossing the Antarctic, climbing Everest, or the train at rush hour."
—Sir Ranulph Fiennes, author of Cold: Extreme Adventures at the Lowest Temperatures on Earth

"Silence braces a space within which we can hear ourselves think. Quietly, wisely, it makes a case for dumbing the din of modern life, and learning to listen again. Drawing on the experiences of Kagge's extraordinary life in wild places, this is a book of great concentration"
—Robert Macfarlane, author of The Old Ways: A Journey on Foot

"Searing and soaring….For Kagge, silence is more than the absence of sound: it is the incubator for thought, the conscious eradication of external distraction, and the ability to live in one's own mind as fully as one lives in the physical world. Infused with powerfully evocative art and photographs that enhance his salient concepts, Kagge's treatise on this endangered commodity provides an intriguing meditation for mindful readers."
—Booklist

"The book expands the concepts of silence and noise beyond their aural definitions and engages with modern culture's information overload, need for constant connection, and cult of busyness….Great pleasure lies in Kagge's creative investigations. The reader leaves more mindful of the swirl of distraction present in everyday life."
—Publishers Weekly