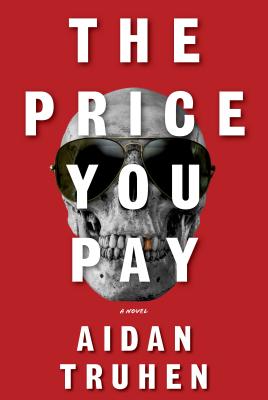 The Price You Pay
A novel
Hardcover

* Individual store prices may vary.
Other Editions of This Title:
Paperback (6/11/2019)
Description
In this audacious, lightning-paced thriller, a smart-mouthed, white-collar drug dealer--a hilariously irreverent antihero--seeks revenge when an unknown enemy takes out a contract on him.

Jack Price is having a bad day. What he absolutely did not need was for someone to execute his grouchy old neighbor as if she was a drug mule. Questions will be asked, and Jack is a small businessman in a competitive sector hobbled by red tape and, you know: laws. Just because the product Jack trades in is cocaine, people assume it's all guns and murders, but that is the old cocaine business and Jack is all about the new one: high-tech, high-end and on-demand.

But when Jack begins making some inquiries with a view to calming the whole thing down, someone hires the Seven Demons to kill him. You bring those people in to kill generals and presidents and take down countries, not to mess with a guy who's just trying to get along.

The thing is that the Seven Demons and their client have misunderstood the situation. Jack is not upset. In fact, he's grateful for the clarification. Jack is the kind of guy who adapts well to new business models. He has a unique approach to executive problem solving. In fact, Jack is batshit crazy. And when you mess with Jack, there is a Price to be paid.
Praise For The Price You Pay: A novel…
"The Price You Pay is brilliant, a latticework of barbed jokes and subtle observations and inventive misbehaviors, a high-end thriller, relentlessly knowing, relentlessly brutal. It reads like Martin Amis on mescaline."
—Charles Finch, The New York Times Book Review

"This hell-for-leather, scurrilously funny thriller is simply dazzling."
—Adam Woog, The Seattle Times

"This novel has high-octane everything. It's a witty, gory, whiplash revenge tale narrated by a brilliantly entertaining sociopath. You're mortified by the things you find yourself laughing at – and when you turn the page, there's more. Guess what: you keep laughing."
—Carl Hiaasen, author of Razor Girl

"A blistering fast, rat-a-tat urban thriller."
—Kirkus
 
"Reminiscent of James Joyce and South Park at the same time … Breathtaking, disturbing, great! … As cocky as punk in the '70's, as cynical as Bret Easton Ellis's American Psycho, as fast-paced as Don Winslow in the 2000s. And so contemporary that one gets dizzy."
—Marcus Muntefering, Der Spiegel
Knopf, 9781524733377, 288pp.
Publication Date: July 10, 2018
About the Author
AIDAN TRUHEN lives in London.
or
Not Currently Available for Direct Purchase