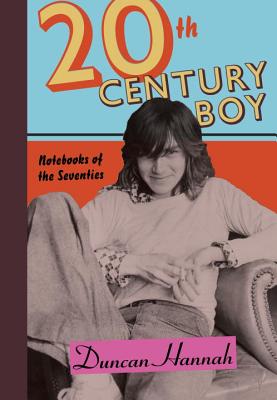 Twentieth-Century Boy (Hardcover)
Notebooks of the Seventies
Knopf, 9781524733391, 496pp.
Publication Date: March 13, 2018
Other Editions of This Title:
Digital Audiobook (3/12/2018)
Paperback (3/26/2019)
* Individual store prices may vary.
Description
Celebrated painter Duncan Hannah arrived in New York City from Minneapolis in the early 1970s as an art student hungry for experience, game for almost anything, and with a prodigious taste for drugs, girls, alcohol, movies, rock and roll, books, parties, and everything else the city had to offer. Taken directly from the notebooks Hannah kept throughout the decade, Twentieth-Century Boy is a fascinating, sometimes lurid, and incredibly entertaining report from a now almost mythical time and place. Full of outrageously bad behavior, naked ambition, fantastically good music, and evaporating barriers of taste and decorum, and featuring cameos from David Bowie, Andy Warhol, Patti Smith, and many more, it is a rollicking account of an artist's coming of age.
About the Author
Duncan Hannah was born in Minneapolis in 1952. He attended Bard College from 1971 to 1973 and Parsons School of Design from 1973 to 1975. His work is in numerous public and private collections, including the Metropolitan Museum of Art and the Minneapolis Art Institute.
Praise For Twentieth-Century Boy: Notebooks of the Seventies…
"Arriving in New York in 1973, the Minneapolis-born painter Duncan Hannah quickly immersed himself in the downtown art-and-music scene. These journal entries from the time chronicle young adulthood and a phantasmagoria of alcohol, sex, art, conversation, glam rock, and New Wave cinema. Hannah's writing combines self-aware humor with an intoxicating punk energy. Gregarious and game, he seems to know everyone; at one point, he winds up in a limo bound for a drag club with Andy Warhol, Bryan Ferry, and David Bowie. Somehow, by the end of the book, he's become a real artist."
—The New Yorker 

"As Hannah's book progresses in real time, there is a kind of foreboding awareness that the kind of life New York represented in the seventies—a dirty Eden of three-hundred-dollar-a-month lofts—was fleeting... as a catalogue of the city, recounted as the history itself unfolds, [It] often has the feel of reportage...These are reality checks on a decade for which there is seemingly no limit for nostalgia, and they are refreshing...Twentieth Century Boy is...a farewell to an entire era of decadence."
—M.H. Miller, The Paris Review

"Set in downtown Manhattan during its glory years of grungy punkery, 1970-1981, Hannah's book illuminates this last great bohemia...How fortunate that Hannah managed to stagger home...to immortalise his passage through this starry vortex."
—Adrian Dannatt, The Art Newspaper

"A worthy addition to the diaristic canon, a rich if minor shelf occupied by the likes of Samuel Pepys, James Boswell and Virginia Woolf...Hannah's louche daydreams sit alongside moments of lucid, beautiful noticing...Hannah has survived the seventies. More than that, he has kept them alive, in ink."
—Eric Andrew-Gee, The Globe and Mail

"Hannah hurls himself into life with abandon, reveling in music, drugs, alcohol, sex, and insane escapades as he finishes high school in 1970 in Minneapolis and then attends Bard College, not far up the Hudson from New York City. As extreme as his partying is, he is focused on art, his true calling (he switches to Parsons, an art school in Greenwich Village), and he is an ardent reader. And no matter how inebriated he gets and how wild his adventures are at a time when recklessness was deemed holy, Hannah, subsequently renowned for his figurative paintings, kept journals throughout his rampaging twenties, recording his experiences with bemused candor, rock- 'n '-roll lyricism, and a painter's visual acuity. He vividly captures the extravagant, often ferocious expressiveness of the music, art, styles, and attitudes of 1970s New York as his androgynous allure (which masked unwavering heterosexuality, to the disappointment of many) and endless curiosity and daring granted him access to now-legendary musicians and artists. Hannah's jubilantly explicit and omnivorous notebooks will be avidly appreciated by admirers of Patti Smith's Just Kids (2010)."
—Donna Seaman, Booklist

"A rip-roaring account." 
—Chronogram

"The beauty of these novels [is that they have] been written in the moment. This isn't a memoir, it's a diary of the life of an artist on the make, aware that history is being made but unsure just where the chips will fall. It's a document of how readily the worlds of art and music crossed in New York in the '70s.... Rock fans will just about die reading this."
—Jay Gabler, The Current, Minnesota Public Radio 

"Artist Duncan Hannah came to New York at 17, ambitious, angelic, straight and--according to his hugely entertaining diary--priapic. Despite being stoned or hungover more often than not, he found time to grow as an artist and record his adventures in absorbing detail, including memorable encounters with Salvador Dalí, Andy Warhol, David Hockney and Ned Rorem."
—John Berendt, author of Midnight in the Garden of Good and Evil
 
"Duncan Hannah's extraordinary good looks, talent, determination, and, at least during the 70s, his absolute willingness to test the human body's capacities for alcohol, drugs, and (especially) sex, along with his wonderful taste in fiction, music, and French films, his astonishing unstoppability, not to mention his indifference to conventional norms, make us exceedingly fortunate that he wrote almost everything down as it was happening. The other great joy of 20th CENTURY BOY, apart from the splendor of all that excess, is the straight-line, crisp, beautiful nonchalance of his style. This is rooted in character, and you can't fake it."
—Peter Straub, author of Ghost Story
 
"In early '70s downtown NYC, Duncan Hannah was one of the wild boys, precocious and impossibly gorgeous. Besotted with lust and relentless intoxication David Bowie's "Rebel, Rebel" tolled for him. These diaries, hidden away for ages, are like the Dead Sea Scrolls of a mythological Lower Manhattan underground, where the New York Dolls glitter-rock brigade made way for the CBGB revolution of Patti Smith and Television. With gobs of Warholian gossip and passionate listings of all the most radical records, books and films of the day, Twentieth Century Boy immerses the reader in a history of beauty from the Nouvelle vague to meetings with David Hockney. As the writing progresses from rat-a-tat teen beat to more adult considerations, we glean Duncan's romance and eventual providence: to be cool is not the point, being an artist in love with the universe is."
—Thurston Moore, co-founder of Sonic Youth

"A candid and often-funny memoir set at a time that already seems innocent centuries away." 
—St. Paul Pioneer Press

"Twentieth-Century Boy reads like a carefully crafted work of art. Savvy readers might be inclined to see it as literary kin to James Joyce's classic, A Portrait of the Artist as a Young Man...[It] offers a fast-paced record of a time and a place unlike no other, when teenagers and college kids reaped the rewards and the penalties unleashed by the cultural revolutions of the Sixties...Duncan Hannah has written an American literary classic."
—Jonah Raskin, New York Journal of Books
               
"A dandy, a flaneur, a rock 'n' roll wastrel wandering Candide-like through the dangerous undercurrents of the 1970s: if Duncan Hannah didn't exist, you'd have to invent him"
—Jon Savage, author of England's Dreaming and 1966
 
"When you come to New York City a wide-eyed artist only to discover you're the cutest and most talented tyke in town, you meet lots of people—David Bowie, Andy Warhol and Lou Reed to name just a few—and interesting capers ensue. In Twentieth-Century Boy these adventures are recounted in prose that is eloquent and funny, written by a teen wise beyond his years. Duncan Hannah's journals bring back the adolescence that most of us wish we had."
—Gillian McCain, co-author of Please Kill Me

"An intensely personal and engrossing portrait of a bygone era . . . An avid partier and drinker in the right place at the right time, the author met and/or befriended a variety of the celebrities of the day, many of whom would go on to become legends (Patti Smith, Andy Warhol, David Bowie). Hannah's frequently poetic descriptions of his underground cohorts recalls Genet's parade of subversive heroes, and the author's enthusiasm for la vie boheme and general disdain for the square world at times reads like a cross between a glam-rock Kerouac and a stoned Holden Caulfield (in the best possible way). . . Devotees of the underground art and punk scenes of 1970s New York will devour Hannah's journals, each page of which contains something fascinating or worthy of note--best enjoyed while listening to Bowie's 'Diamond Dogs,' Television's 'Marquee Moon,' and Patti Smith's 'Horses.'"
—Kirkus