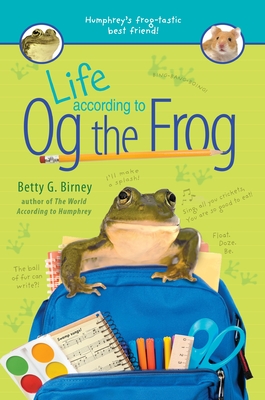 Life According to Og the Frog (Hardcover)
G.P. Putnam's Sons Books for Young Readers, 9781524739942, 160pp.
Publication Date: July 3, 2018
* Individual store prices may vary.
Description
The adventures in Humphrey's Room 26 are hopping back into the spotlight, from the perspective of Og the Frog!

When Og the Frog first comes to Room 26, he doesn't know what to think. He misses his friends from the pond, there are all kinds of strange noises, and the water is his tank just might be too clean (you know, a little muck never hurt anyone). But the furry, squeaky fellow living next to him is endlessly entertaining, the kids sure are friendly, and--BING, BANG, BOING!--they put big fat crickets right into his tank.

All of this gives Og lots of ideas for one of his favorite passtimes--making up poems and songs. But he gets stumped when talk turns to sending him back to the pond. Will he have to say good-bye to Tabitha whose whole life just changed like his? Or Mandy who just started seeing the bright side of things with his help? And Humphrey, who he's finally beginning to figure out?

Og's frog's-eye view of the world is curious, sympathetic, and poetic, and the perfect companion to The World According to Humphrey.
About the Author
Betty G. Birney has written episodes for numerous children's television shows, including The New Adventures of Madeleine, Doug, and Bobby's World, as well as after-school specials and a television movie, Mary Christmas. She has won many awards for her television work, including an Emmy, three Humanitas Prizes, and a Writers Guild of America award. In addition to the Humphrey books, she is the author of The Seven Wonders of Sassafras Springs and The Princess and the Peabodys. A native of St. Louis, Missouri, Betty lives in Los Angeles with her husband, an actor.
Praise For Life According to Og the Frog…
★ "This sparkling offshoot of Birney's Humphrey the hamster series reveals the Room 26 goings-on from the perspective of amphibian Og, a second classroom pet. . . . Laced with environmental facts, this is a heartening tale of cross-species friendship, change, and belonging." —Publishers Weekly, starred review

★ "This first volume in a spinoff series about Humphrey's pal, Og the frog, offers heart and humor. . . Birney pours the same charm into this new series as she did into the [Humphrey] books. . . An excellent addition to chapter book collections." —School Library Journal, starred review

"Move over, rodent. There's a new class pet in town. . . Though writing with her customarily light touch, Birney gives serious thought to the plight of pets caught in the wild, giving voice to every side and debating the most humane response. Og's miscommunications with Humphrey provide ample comic relief, as do the frog's songs, which he launches into with gusto. While it may not be that easy being green, this book mixes the sweet and the serious in a ribbitting read." —Kirkus Reviews