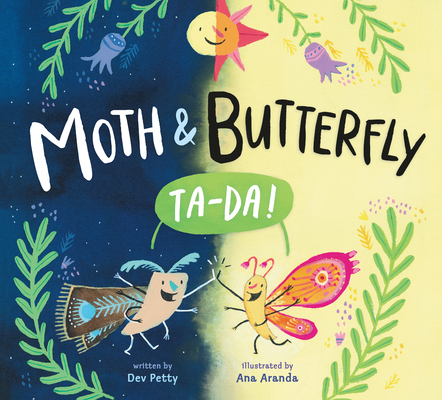 Moth & Butterfly
Ta Da!
Hardcover

* Individual store prices may vary.
Description
Metamorphosis brings astonishing and exciting changes to a pair of caterpillar friends, who take pride in being the same--and different.

Two caterpillar friends love what they have in common--lots of legs and a talent for chewing leaves into funny shapes. And when it's time to build cocoons, they hang theirs side by side. "Happy metamorphosis," says an older, more knowledgeable butterfly. And it is a happy metamorphosis indeed--for when the two emerge from their cocoons, they can fly! But so much else has changed--as one is now a moth, who flies by night, and the other is a butterfly, who flies by day. How will things work now? Fortunately some things never change--like true friends figuring out a way to be together, and happily flying into the sunset and sunrise.
Praise For Moth & Butterfly: Ta Da!…
"Change is in the air! Two caterpillars romp happily through a garden, but something is about to happen! Minimal, energetic text and brightly colored illustrations full of kid appeal tell the tale of the two friends and capture the excitement of change in this exuberant introduction to the concept of metamorphosis and the differences between a moth and a butterfly. The story artfully incorporates the idea of change and the appreciation of differences and similarities between two friends with the concrete differences between the two insects that develop over the course of their life cycles; initial commonalities are described before the friends disappear into pupae to undergo metamorphosis, and then "POP!" Each appears in a new winged form (a moth and a butterfly), and differences are succinctly enumerated (color, movement, camouflage, sleep cycles). . . . The simple text includes speech bubbles that add to the excitement and fun, and the author's choice to focus on one big word and concept (metamorphosis) rather than a hefty vocabulary or the full life cycle makes this a great choice for the very young. A deceptively simple mix of engaging story, appreciation of differences, and introduction to moths and butterflies."—Kirkus Reviews

"Whimsical, silly illustrations use bold colors to make this garden paradise really pop. The fast-paced story uses minimal text and a light-hearted narrative to capture the attention of preschoolers. . . . Lessons about the natural world and friendship in the face of differences flourish."—School Library Journal

"The seemingly simple story cleverly gets some key characteristics (and the concept of metamorphosis) across while reassuring young readers that burgeoning differences don't have to doom a relationship. The splashy illustrations are animated and amusing, capturing caterpillar expressions and moth movements in colorful detail. It's a sweet and snazzy celebration of the natural world and the bonds of friendship."—Booklist

"Petty's friendly text provides a light introduction to comparative observation, noting selected similarities and differences in the animals' appearances and behaviors. . . . The adult butterfly and moth make spectacular entrances across two double-page spreads. . . . The anthropomorphized insects appear as cheerful buddies palling around in an idyllic backyard setting."—Horn Book

Nancy Paulsen Books, 9781524740511, 32pp.
Publication Date: June 8, 2021
About the Author
Dev Petty's (devpetty.com) picture books include The Bear Must Go On, I Don't Want to Be a Frog, Claymates, I Don't Want to Go to Sleep, There's Nothing to Do, and I Don't Want to Be Big. Prior to becoming an author, she worked as a texture painter for visual effects in film, contributing to such movies as the Matrix Trilogy. She lives in Albany, California, with her husband, two daughters, some dogs, and other critters.

Ana Aranda (anaranda.com) also illustrated The Chupacabra Ate the Candelabra (by Marc Tyler Nobleman). She was born and raised in Mexico City, and completed her undergraduate studies in illustration in France. She now lives in San Francisco, where she has painted murals in the Mission District, for the Consulate General of Mexico, and for the prestigious de Young Museum. Her biggest inspirations are her childhood memories, the vibrant colors of Mexico, and music.