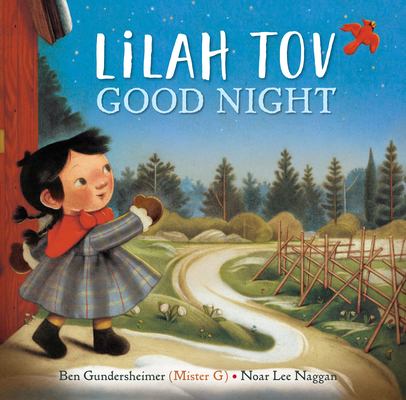 Lilah Tov Good Night
Hardcover

* Individual store prices may vary.
Description
A soothing Hebrew lullaby takes on added meaning for a refugee family in this visually stunning debut.

As the moon rises, a family steps into the night on a journey toward a new beginning. Along the way, their little girl delights in the wonders of nature, saying good night--lilah tov--to the creatures and landscapes they pass. Wherever she looks--on land, in the sky above and even, eventually, in the water below her boat--there are marvels to behold. "Lilah tov to the birds in the trees, lilah tov to the fish in the sea." Then, when their travels are finally over, her parents tuck her in tight, safe and ready for dreams in their new home.

This lyrical lullaby celebrates the beauty of our world and the spirit of resilience in a refugee family.
Praise For Lilah Tov Good Night…
"As the sun sets and the moon rises, an unnamed young child says good night to everything in the natural landscape. . . . Simple, brief, descriptive text. . . . Lush, detailed, soft-edged landscapes provide another, deeper, and more nuanced level to the proceedings. . . . The protagonist is saying good night to the creatures and places spotted on what readers will see as a lengthy journey. . . . At the end of their travels there is a new home awaiting them. They travel quietly and surreptitiously. . . . Each young reader will interpret the work differently depending on individual understanding and knowledge of history, or perhaps with a wise adult to help. Haunting and beautiful."—Kirkus Reviews

"Lovely illustrations depicting a Jewish immigrant tale. The text is concise and simple. . . . The rhymes work well. . . . The luminous, digitally colored pencil illustrations tell a more expansive story. . . . This book can be read as a simple bedtime story, or discussed as an immigrant tale. Either way, it will likely find a receptive audience with Jewish families in search of bedtime books, or families looking for immigrant stories."—School Library Journal

Nancy Paulsen Books, 9781524740665, 32pp.
Publication Date: February 18, 2020
About the Author
A former teacher with a Masters of Education, Ben Gundersheimer (aka Mister G) is a Latin GRAMMY Award winner for Best Children's Album, and has been called "a bilingual rock star" by the Washington Post and "irresistible" by People magazine. His dynamic, original music has won praise from the Boston Globe, Chicago Sun Times, New York Post, and Parents magazine. He tours internationally headlining major venues in cities including New York City, Philadelphia, Washington DC, Austin, Los Angeles, Chicago, and New Orleans. He also wrote the picture book Señorita Mariposa. He lives in Whately, Massachusetts.

Noar Lee Naggan was born in Israel and graduated from the Bezalel Academy of Arts and Design in Jerusalem. He worked in animation and graphic design with major companies in Israel, then found his calling in illustration and never looked back. He currently lives in New York City.