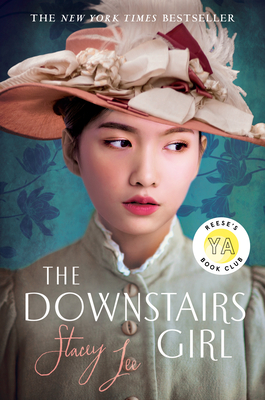 The Downstairs Girl (Hardcover)
G.P. Putnam's Sons Books for Young Readers, 9781524740955, 384pp.
Publication Date: August 13, 2019
Other Editions of This Title:
Compact Disc (8/13/2019)
MP3 CD (8/13/2019)
Paperback (5/19/2020)
Paperback, Large Print (1/1/2020)
* Individual store prices may vary.
Description
From the critically-acclaimed author of Under a Painted Sky and Outrun the Moon and founding member of We Need Diverse Books comes a powerful novel about identity, betrayal, and the meaning of family.

"A triumph of storytelling. A bold portrait of this country's past, brilliantly painted with wit, heartbreak, and unflinching honesty. Everyone needs to read this book." --Stephanie Garber, New York Times bestselling author of Caraval

By day, seventeen-year-old Jo Kuan works as a lady's maid for the cruel daughter of one of the wealthiest men in Atlanta. But by night, Jo moonlights as the pseudonymous author of a newspaper advice column for the genteel Southern lady, "Dear Miss Sweetie." When her column becomes wildly popular, she uses the power of the pen to address some of society's ills, but she's not prepared for the backlash that follows when her column challenges fixed ideas about race and gender. While her opponents clamor to uncover the secret identity of Miss Sweetie, a mysterious letter sets Jo off on a search for her own past and the parents who abandoned her as a baby. But when her efforts put her in the crosshairs of Atlanta's most notorious criminal, Jo must decide whether she, a girl used to living in the shadows, is ready to step into the light. With prose that is witty, insightful, and at times heartbreaking, Stacey Lee masterfully crafts an extraordinary social drama set in the New South.

"A gorgeous tale that will steal your heart. This is not only a keeper, but a classic!" --Robin LaFevers, New York Times bestselling author of the His Fair Assassin trilogy

"A jewel of a story. By shining a light on the lives of those whom history usually ignores, Stacey Lee gives us a marvelous gift: An entirely new and riveting look at our past." --Candace Fleming, award-winning author of The Family Romanov

"Clever, funny, and poignant, The Downstairs Girl is Stacey Lee at her best." --Evelyn Skye, New York Times bestselling author of The Crown's Game

"Immersive, important, and thoroughly entertaining, The Downstairs Girl sparkles with all of Stacey Lee's signature humor, charm, warmth, and wisdom." --Kelly Loy Gilbert, Morris Award Finalist for Conviction
About the Author
Stacey Lee is the critically acclaimed author of the novels Under a Painted Sky and Outrun the Moon, the winner of the PEN Center USA Literary Award for Young Adult Fiction. She is a fourth-generation Chinese American and a founding member of We Need Diverse Books. Born in Southern California, she graduated from UCLA and then got her law degree at UC Davis King Hall. She lives with her family outside San Francisco. You can visit Stacey at staceyhlee.com. Or follow her on Twitter @staceyleeauthor.
Praise For The Downstairs Girl…
"A triumph of storytelling. The Downstairs Girl is a bold portrait of this country's past, brilliantly painted with wit, heartbreak, and unflinching honesty. Everyone needs to read this book." —Stephanie Garber, New York Times bestselling author of Caraval

"This deftly plotted novel shimmers with honesty, wisdom, compassion, and gorgeous writing, but it is Jo herself who shines the brightest in this sparkling tale—her keen wit, quiet courage, and growing determination. Prepare to fall headlong in love with The Downstairs Girl. I certainly did!" —Robin LaFevers, New York Times bestselling author of the His Fair Assassin trilogy

"In this jewel of a story, Stacey Lee brings to life a distant time populated by people who are at once familiar and delightfully new. By shining a light on the lives of those whom history usually ignores, Lee gives us a marvelous gift: An entirely new and riveting look at our past." —Candace Fleming, award-winning author of The Family Romanov
 
"Clever, funny, and poignant, The Downstairs Girl is Stacey Lee at her best. I adored the cast of sassy, brave characters, as well as Lee's subtle and graceful look at racism in the Reconstruction-era South. Every school and library should have this book on their shelves." —Evelyn Skye, New York Times bestselling author of The Crown's Game 

"The Downstairs Girl is a thoughtful, imaginative and surprising look at a period of American history that feels both distant and all too close. Jo is a sharp and compelling narrator, and I could've stayed forever in her downstairs hideout, watching the world through her eyes. Immersive, important, and thoroughly entertaining, The Downstairs Girl  sparkles with all of Stacey Lee's signature humor, charm, warmth, and wisdom." —Kelly Loy Gilbert, Morris Award Finalist for Conviction

"The Downstairs Girl holds a mirror to our present issues while giving us a detailed and vibrant picture of life in the past . . . The challenges Jo faces ring true for the novel's historical setting, but they will also ring strong for Lee's contemporary readers. As a young person, Jo is resoundingly American—an observant, open-minded, forward-thinking new woman with a Chinese face and a Southern accent. Her engaging voice, along with her emerging self-reliance and maturity, drive the novel and make her a character we can easily relate to. Punctuating her narrative with Miss Sweetie's tart and pun-filled advice, Jo's witty and arresting turns of phrase and her positive outlook give buoyancy to her story even in its dire moments. As Jo tackles all injustices head-on, and tension rises, the book races to a soundly satisfying conclusion." —The New York Times

"Vividly rendered, intriguingly plotted . . . Jo's example of resistance and hope is sure to resonate with today's readers." —The Washington Post

*"In her latest work, Lee continues to demonstrate that Chinese people were present—and had a voice—in American history. She deftly weaves historical details with Jo's personal story of finding a voice and a place for herself in order to create a single, luminous work. An optimistic, sophisticated portrayal of one facet of Chinese-American—and simply American—history." —Kirkus Reviews, starred review

*"Though society may try to push aside those it sees as different, Jo demonstrates that everyone has a place and a story to be told. Unflinching in its portrayals of racism yet ultimately hopeful and heartfelt, this narrative places voices frequently left out of historical fiction center stage." —School Library Journal, starred review

*"Lee has concocted another thrilling historical novel, blending stellar plotting and a dynamic cast of characters with well-researched details and sharp commentary on America's history of racism and prejudice. This spectacular, voice-driven novel raises powerful questions about how we understand the past, as well as the ways our current moment is still shaped by that understanding." —Booklist, starred review

*"Featuring historical signposts (streetcar segregation, suffragists on safety bicycles) and memorable, well-developed characters, this captivating novel explores intersectionality, conveys the effects of restrictions placed on women and people of color, and celebrates the strengths and talents of marginalized people struggling to break society's barriers in any age." —Publishers Weekly, starred review

*"Jo's wit and humor shine through her narration both in the sage advice she hands out as Miss Sweetie and her casual observations. There's plenty here to spur a deep dive into the complexities of race relations in the post-Reconstruction South, but it also makes for a compelling domestic drama with a winning heroine." —BCCB, starred review

"Lee's profound writing tackles topics of politics and race with a main character who isn't afraid to speak her mind." —Buzzfeed

"History, mystery, social commentary, adventure—this book's got it all!" —BookRiot