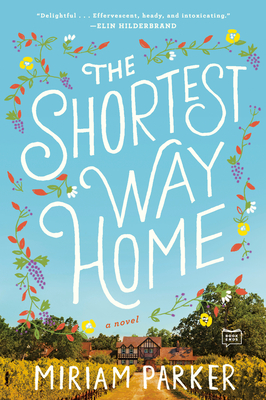 The Shortest Way Home (Paperback)
A Novel
Dutton, 9781524741884, 336pp.
Publication Date: June 25, 2019
Other Editions of This Title:
Digital Audiobook (7/30/2018)
Hardcover (7/31/2018)
Library Binding, Large Print (1/1/2019)
* Individual store prices may vary.
Description
"Delightful . . . effervescent, heady, and intoxicating."--Elin Hilderbrand

How far would you go to find the place you belong?

Hannah is finally about to have everything she ever wanted. With a high-paying job, a Manhattan apartment, and a boyfriend about to propose, all she and Ethan have to do is make it through the last couple of weeks of grad school.

But when, on a romantic weekend trip to Sonoma, Hannah is spontaneously offered a marketing job at a family-run winery and doesn't immediately refuse, their meticulously planned forever threatens to come crashing down. And then Hannah impulsively does the unthinkable--she takes a leap of faith.

Abandoning your dream job and life shouldn't feel this good. But this new reality certainly seems like a dream come true--a picturesque cottage overlooking a vineyard; new friends with their own inspiring plans; and William, the handsome son of the winery owners who captures Hannah's heart only to leave for the very city she let go.

Soon, the mission to rescue the failing winery becomes a mission to rescue Hannah from the life she thought she wanted. Crackling with humor and heart, The Shortest Way Home is the journey of one woman shedding expectations in order to claim her own happy ending.
About the Author
Miriam Parker has worked in book publishing for more than seventeen years, and is currently the Associate Publisher of Ecco. She has an MFA in Creative Writing from UNC Wilmington and a BA in English from Columbia University. Her short stories have been published in The Florida Review and Fourteen Hills. She currently lives in Brooklyn with her spaniel, Leopold Bloom. The Shortest Way Home is her first novel.
Praise For The Shortest Way Home: A Novel…
Praise for The Shortest Way Home

"Rewarding....[An] accomplished debut."—Publishers Weekly

"Just purely delightful and as smooth to knock back as a glass of rosé on a sticky summer day....There are unexpected challenges and a star-crossed romance and all of the things which you want in a summer book about leaving your life and starting over somewhere new (especially when it's somewhere straight out of a Nancy Meyers movie!)....Refreshing and bright, with a clean, crisp aftertaste."—Nylon

"This one screams smart beach read: A woman on the cusp of everything she wants in life - dream job, committed boyfriend, luxe apartment - suddenly decides to let it all go."—Entertainment Weekly

"Parker's bingeable novel is perfect for those who've fantasized about their own path not taken."—Real Simple

"This debut novel about a young woman following her heart and creating her happiness is engaging and fun. Parker takes her place next to similar writers such as Laura Dave and Jane Green." —Library Journal

"Perfect to read with a glass of wine and some good cheese." —Booklist

"This delicious book is broken into three parts, and each part comes with a food and wine pairing."—Fodor's

"[A] delightful debut novel."—Bustle

"Yes this is a romance, but it is also a novel about a young woman finding herself, figuring out the difference between what she wants to do with her life and what others want... the gorgeous weather, the tempting wines, the handsome son of the vintner and, yes, the resident dog all make for a charming weekend read."—Minneapolis Star Tribune

"Does giving up a high-pressure job in Manhattan finance — and a mismatched fiance — to live and work at a Sonoma County winery, while romancing the owner's son, sound like a fantasy? Well, this first good-hearted novel suggests that such fantasies can (and should) come true, as they do for protagonist Hannah Greene."—Newsday

"This is a fast read and a fun summer fantasy. Especially if the idea of waking up in wine country every day sounds as good to you as it does to me." —Connie Ogle, Miami Herald Books

"In The Shortest Way Home, Miriam Parker explores the persistent question of whether grass is truly greener on the other side, and whether following the heart will lead you where you belong. This is a story that wine lovers and big dreamers will devour." —BookPage

"The Shortest Way Home is a delightful debut about taking chances and making your own happiness." —Book Riot

"When reading a novel set in wine country, it's of utmost importance to drink wine as you go. Grab your favorite red or white and dig into The Shortest Way Home. It's a charming story about a woman named Hannah who thought she had the rest of her life figured out..."—HelloGiggles

"It's nearly impossible to describe this wonderful debut without summoning the language of wine country because Miriam Parker has infused every page with an appreciation for the alchemy of character and place that can transform a cluster of grapes into a beautiful glass of wine. She turns the same keen eye on matters of the heart—exploring how and where and with whom we find happiness, declare a home—with spectacular results."—Cynthia D'Aprix Sweeney, author of The Nest

"Miriam Parker's delightful novel The Shortest Way Home reminded me of why I love champagne: it's effervescent, heady and intoxicating. She skillfully blends a captivating romance with inside oenophile references; the writing blew me away."—Elin Hilderbrand, author of Here's to Us

"The Shortest Way Home is about love, life, and the sometimes unpredictable ways we find our place in the world. But it's also about wine, and maybe best described as one might a great wine: the perfect balance of spice and sweetness, satisfyingly complex yet utterly refreshing."—Rumaan Alam, author of Rich and Pretty

"At the end of a stressful day, some of us like to escape with a fine glass of wine; others prefer to sink into a rich, deeply engrossing, heartfelt novel. If both of these are your pleasure—this is the book for you. Savor it."—Camille Perri, author of The Assistants and When Katie Met Cassidy 

"Parker's debut is a sweet, funny, charming novel of a woman daring to upend expectations (her own and everyone else's) to make her own way. Readers will toast Hannah's roundabout journey and perhaps be inspired to take a detour or two of their own."—Shelf Awareness

"The Shortest Way Home is the perfect book to end with this summer. Pour a glass of your favorite white wine, take it out to your comfy front porch chair and settle in for an enchanting read." —The Citizen