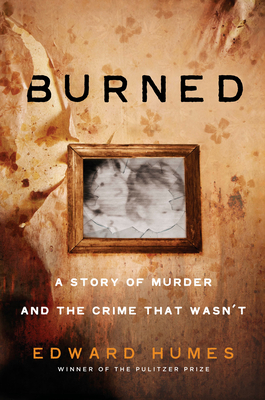 Burned
A Story of Murder and the Crime That Wasn't
Hardcover

* Individual store prices may vary.
Other Editions of This Title:
Digital Audiobook (1/7/2019)
Library Binding, Large Print (3/1/2019)
Description
Now in paperback. Was a monstrous killer brought to justice or an innocent mother condemned?

On an April night in 1989, Jo Ann Parks survived a house fire that claimed the lives of her three small children. Though the fire at first seemed a tragic accident, investigators soon reported finding evidence proving that Parks had sabotaged wiring, set several fires herself, and even barricade her four-year-old son inside a closet to prevent his escape. Though she insisted she did nothing wrong, Jo Ann Parks received a life sentence without parole based on the power of forensic fire science that convincingly proved her guilt.

But more than a quarter century later, a revolution in the science of fire has exposed many of the incontrovertible truths of 1989 as guesswork in disguise. The California Innocence Project is challenging Parks's conviction and the so-called science behind it, claiming that false assumptions and outright bias convicted an innocent mother of a crime that never actually happened.

If Parks is exonerated, she could well be the "Patient Zero" in an epidemic of overturned guilty verdicts—but only if she wins. Can prosecutors dredge up enough evidence and roadblocks to make sure Jo Ann Parks dies in prison? No matter how her last-ditch effort for freedom turns out, the scenes of betrayal, ruin, and hope will leave readers longing for justice we can trust.
Praise For Burned: A Story of Murder and the Crime That Wasn't…
Praise for Burned

CrimeReads' 6 Essential True Crime Books for January
Entertainment Weekly's New & Notable Picks
PureWow's 15 True Crime Books We Can't Wait to Read in 2019
LitHub's Best Reviewed Books of the Week

"A searing look at the limits of forensics in this unsettling reexamination of the case of Jo Ann Parks... An instant true-crime classic that reads like a thriller, this joins the ranks of recent works also throwing into question the belief that crime scene investigators can infallibly arrive at the right answer."
--Publishers Weekly, starred review

"This sobering, enlightening read is true crime at its best, with the right blend of justice and intrigue that will leave readers searching for truth in the criminal justice system."
--Library Journal, starred review

"Burned raises question after troubling question, and points out the frustrating subjectivity and fearful power of damning narratives that make up the ponderous process of criminal justice."
--NPR.org

"Riveting... A powerful brief not only for Parks but also for a recognition of the weaknesses in forensic science generally."
--The Washington Post

"[An] eye-opening, suspenseful tale of murder and secrets."
--Entertainment Weekly, 20 New Books to Read in January 2019

"At the end of Burned, readers will walk away with clearer picture of the flaws of the American criminal justice system, and a glimmer of hope from the people working every day to fix it."
--Bustle

"[A] powerful true crime tale that questions the authority of forensic science."
--Shelf Awareness, starred review

"Riveting... Humes' fascinating account is perfect for the many readers interested in crime-scene investigation."
--Booklist

"Pulitzer Prize-winning investigative journalist Humes… once again exposes a flawed American criminal justice system, this time with a new twist."
--Kirkus Reviews

"Read this book now.  Not only because Burned is one of the most important critiques of forensic 'science' ever written but because it will shock, move and enlighten you.  Explosive but sobering, Burned plows through decades of received myth and junk science to reveal the sometimes tragic mistakes in our criminal justice system.  Humes, as always, is humane and provocative.  Reporting like this is a big reason our republic is still mostly in one piece."
--T. Jefferson Parker, author of Swift Vengeance and The Room of White Fire 

"Burned is a gripping, bone-chilling look at our justice system from a superb writer.  I believe under Ed Humes's vivid, detailed reporting and narrative grace lies a deeply human vision of what we all know our justice system could be and should be.  Anyone who reads Jo Ann Parks story will be moved in profound ways."
--Elizabeth Loftus, Distinguished Professor of Psychological Science and Law, University of California, Irvine

"Burned is four stories in one book – about a woman convicted of murdering her children; how cultural myths that have long misled fire investigators are being replaced by the findings of fire scientists; how police, prosecutors and forensic scientists can ignore exonerative information; and a story of lawyers seeking to secure justice, however much delayed. Each story is worth reading.  Together they make for one good book."
--Richard Lempert, Distinguished University Professor of Law and Sociology Emeritus, The University of Michigan Law School
 
"Edward Humes's tale of a fatal California house fire is riveting. This mesmerizing and important book shows how some things we call 'science,' far from helping free the innocent, can instead lead to convictions of people who did nothing wrong."
--David R. Dow, Cullen Professor at the University of Houston Law Center and author of The Autobiography of an Execution and Confessions of an Innocent Man


Dutton, 9781524742133, 320pp.
Publication Date: January 8, 2019
About the Author
Edward Humes is a Pulitzer Prize–winning journalist and author whose fourteen previous books include Garbology, Mississippi Mud, and the PEN Award–winning No Matter How Loud I Shout. He splits his time between Seattle and Southern California.