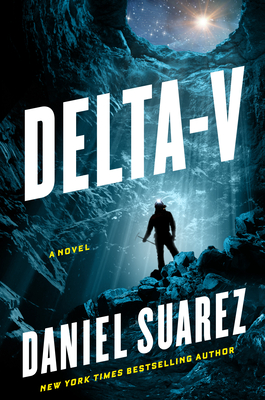 Delta-v (A Delta-v Novel #1)
Hardcover

* Individual store prices may vary.
Other Editions of This Title:
Digital Audiobook (4/22/2019)
Description
The bestselling author of Daemon returns with a near-future technological thriller, in which a charismatic billionaire recruits a team of adventurers to launch the first deep space mining operation--a mission that could alter the trajectory of human civilization.
 
When itinerant cave diver James Tighe receives an invitation to billionaire Nathan Joyce's private island, he thinks it must be a mistake. But Tighe's unique skill set makes him a prime candidate for Joyce's high-risk venture to mine a near-earth asteroid--with the goal of kick-starting an entire off-world economy. The potential rewards and personal risks are staggering, but the competition is fierce and the stakes couldn't be higher.
 
Isolated and pushed beyond their breaking points, Tighe and his fellow twenty-first century adventurers--ex-soldiers, former astronauts, BASE jumpers, and mountain climbers--must rely on each other to survive not only the dangers of a multi-year expedition but the harsh realities of business in space. They're determined to transform humanity from an Earth-bound species to a space-faring one--or die trying.
Praise For Delta-v (A Delta-v Novel #1)…
*A Prometheus Award Best Novel Nominee* 

"Daniel Suarez's hugely impressive Delta-v fuses the real world with sci-fi, giving the space genre a new boost and new hope."
—Tom Shippey, The Wall Street Journal

"Daniel Suarez has slowly gotten quite a reputation as a master of high-tech, sci-fi thrillers. Not only is Delta-v no exception, it very well may be his finest work to date... Throughout his career, Suarez has found consistent comparison to the late, great Michael Crichton. I can assuredly support that he is in a very small group of current writers who can carry that weighty mantle forward."
—BookReporter

"A cut above most tech novels, Suarez's latest benefits from his attention to detail, which boosts the believability of his futuristic vision."
—Kirkus

"A gripping and realistic near-future thriller."
—Booklist

"High finance and asteroid mining on the High Frontier—terrific!"
—Greg Bear, New York Times bestselling author

"Thoroughly researched and brilliantly written, Daniel Suarez integrates the technology, intrigue, chaos and the human drama of the next 'giant leap' with rare scientific and operational literacy. Haunting, bold and inspirational, this deep space tale resonates on every level. For me, a twenty-two year NASA veteran in direct mission support, Delta-v captures the very essence of exploration."
—James Logan, MD, former NASA Chief of Flight Medicine


More Praise for Daniel Suarez and His Novels 

"Biopunk has been waiting for its William Gibson, to bring a whole new vision of the future as Mr. Gibson did for cyberpunk, and Daniel Suarez has done it. . . . Exhilarating, alarming—Daniel Suarez plays the two great thrills of sci-fi against each other, and not just for fun. He thinks this is coming, and he means it. Read it and wonder."
—The Wall Street Journal on Change Agent

"Terrifyingly plausible."
—Time on Change Agent

"The depth and sophistication of Suarez's dystopian world—not to mention his facility at making complex science intelligible to the nonexpert—rivals anything Michael Crichton ever did."
—Publishers Weekly (starred review) on Change Agent

"The action scenes are plenty lively, [but] the best thing about the book is its depiction of a troublesome future in which people can change physical identities the way they change clothes. . . . A natural at making future shocks seem perfectly believable, Suarez delivers his most entertaining high-tech thriller yet."
—Kirkus Reviews on Change Agent

"The ultimate form of identity theft is just a genetic edit away in Suarez's newest fast-paced, speculative thriller. . . . Offer this to Michael Crichton and science-fiction-suspense fans."
—Booklist on Change Agent

"[Daniel Suarez] is the best author of tech fiction since Bruce Sterling and Neal Stephenson."
--John Robb, futurist and author of Brave New War

"Suarez is the Jules Verne of the digital age."
--Frank  Schirrmacher, Author & Publisher of the Frankfurter Allgemeine Zeitung (FAZ)

"[A] riveting debut."
--Publishers Weekly (starred review) on Daemon

"This concluding volume crackles with electrifying action scenes and bristles with intriguing ideas about a frightening, near-future world. . . . The two books combined form the cyberthriller against which all others will be measured."
--Publishers Weekly (starred review) on Freedom (TM)

"A terrifyingly real scenario."
--The Washington Post on Kill Decision

"Enthralling, convincing."
--Time on Influx

"So frightening, even the government has taken note."
--Entertainment Weekly on Influx

"A sinister, propulsive story . . . It raises the stakes to catastrophic levels."
--St. Petersburg Times on Influx

"Does for surfing the web what Jaws did for swimming in the ocean . . . both entertaining and credible."
--Chicago Sun-Times on Influx

"Ambitious . . . I came away from this novel with a . . . new fear of computer capability."
--New York Times bestselling author Robin Cook on Influx

"Fiendishly clever . . . an almost perfect guilty-pleasure novel."
--The Dallas Morning News on Influx
Dutton, 9781524742416, 448pp.
Publication Date: April 23, 2019
About the Author
Daniel Suarez is a New York Times bestselling author, TEDGlobal speaker, and former systems analyst. His unique brand of high-tech fiction explores the causes and impacts of rapid technological change. The author of seven novels, his latest, Critical Mass (second in the Delta-v series), is a realistic space-tech adventure depicting humanity's transition from a climate-imperiled, Earthbound civilization to one that utilizes resources and energy from space to secure a promising, sustainable future.