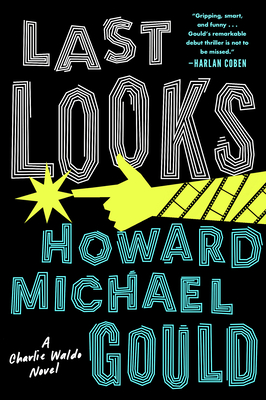 Last Looks
A Novel (A Charlie Waldo Novel #1)
Paperback

* Individual store prices may vary.
Other Editions of This Title:
Digital Audiobook (8/13/2018)
Hardcover (8/14/2018)
Description
A razor-sharp, exquisitely paced, madly fun debut thriller that gleefully lampoons Hollywood culture and introduces the highly eccentric yet brilliant ex-detective gone rogue: Charlie Waldo.

There are run-of-the-mill eccentric Californians, and then there's former detective Charlie Waldo.

Waldo, a onetime LAPD superstar, now lives in solitude deep in the woods, pathologically committed to owning no more than one hundred possessions. He has left behind his career and his girlfriend, Lorena, to pay self-imposed penance for an awful misstep on an old murder case. But the old ghosts are about to come roaring back.

There are plenty of difficult actors in Hollywood, and then there's Alastair Pinch.

Alastair is a onetime Royal Shakespeare Company thespian who now slums it as the "wise" Southern judge on a tacky network show. He's absurdly rich, often belligerent, and typically drunk--a damning combination when Alastair's wife is found dead on their living room floor and he can't remember what happened.

Waldo's old flame Lorena, hiding peril of her own, draws him toward the case, and Alastair's greedy network convinces Waldo to take it on. But after such a long time away from both civilization and sleuthing--and plagued by a confounding array of assailants who want him gone--Waldo must navigate complicated webs of ego and deceit to clear Alastair's name . . . or confirm his guilt.
Praise For Last Looks: A Novel (A Charlie Waldo Novel #1)…
Praise for Last Looks

"Some books are just plain fun, sidesplitting in the case of Carl Hiaasen and Tim Dorsey. And now, thanks to Last Looks, we can add Howard Michael Gould to that list...The relentlessly entertaining Last Looks actually resembles the work of Michael Connolly more than Hiaasen or Dorsey, its lightness wrought by the colorful Hollywood grotesques in a manner that would make Nathanael West ('The Day of the Locust') proud."
—Providence Journal

"A wild, madcap homage to and satire of the Hollywood noir thriller. Gould, an accomplished screenwriter and showrunner, knows how to keep it fast, smart, and funny."
—The Philadelphia Inquirer

"The plot is good and the protagonist is even better. It's fast, funny, and well worth a sequel."
—Kirkus Reviews (starred review)

"TV writer Gould's good-natured humor ranges from showbiz satire to Charlie's bemused takes on modern urban life. And his characters are great."
—The Seattle Times

"Exciting."
—The Wall Street Journal

"Gould's scriptwriting experience shines through here. Each page contains a number of crystal-clear images that beg for translation to video....There's also some humor in just the right places to keep things from becoming too dark."
—BookReporter

"Gould's experience as a film and TV writer and producer is evident in this well-written first novel that manages to focus on environmental concerns while spoofing Hollywood clichés with a nod toward classic American detective fiction. Charlie Waldo would do well on the big screen—he does very well here."
—Library Journal

"Screenwriter Gould takes us behind the scenes and onto the sets of contemporary Hollywood, with loads of insider knowledge delivered in a thoroughly engaging way… A fast-paced and funny treat for anyone who loves the movies."
—Booklist

"Gripping, smart and funny, Last Looks features a wholly new and compelling hero in former detective-turned-PI Charlie Waldo. With razor sharp dialogue, hardboiled intrigue, and a plot that hums along at high speed, Howard Michael Gould's remarkable debut thriller is not to be missed."
—Harlan Coben, #1 New York Times bestselling author

"Last Looks is more than just a fun ride—it's a new spin on a Hollywood P.I. mystery. With a blend of humor and suspense that calls to mind Harlan Coben and Robert Crais, Howard Michael Gould brings to life the quirky Charlie Waldo, a former cop confined to 100 worldly possessions and the claustrophobia of his own guilt over a former case gone bad. His journey back to the world is a ride well worth taking."
—Gregg Hurwitz, New York Times bestselling author

"Last Looks is a fun, fast, and quirky take on the essential depravity of modern society in general, and Hollywood in particular. Howard Michael Gould is both thoughtful and hilarious, and I can't wait to see what he does next."
—Nick Petrie, author of Light It Up and other books in the award-winning, best-selling Peter Ash series

"Fresh, thought-provoking, and funny, Last Looks is a wild ride through twenty-first century Hollywood—and a thriller with heart. Charlie Waldo is the best reluctant PI to hit the streets of L.A. in years."
—Meg Gardiner, Edgar Award-winning author of Into the Black Nowhere

"What a joy, amid all the bland, usual suspects flooding the crime genre, to discover a true standout. Charlie Waldo, the scruffy, eco-maniacal protagonist of Last Looks, is one of the most eccentric and compelling heroes to appear on the literary scene in—well, forever. Howard Michael Gould has penned a joy of a story, with a remarkable supporting case and a wonderfully convoluted plot that zips effortlessly among the Hollywood hills. I loved this book and recommend it with all my heart."
—William Kent Krueger, New York Times bestselling author
Dutton, 9781524742508, 336pp.
Publication Date: July 16, 2019
About the Author
Howard Michael Gould began his career on Madison Avenue before moving to Los Angeles, where he has worked as a screenwriter and playwright as well as executive producer and head writer on a number of network comedies. Last Looks is his first novel.