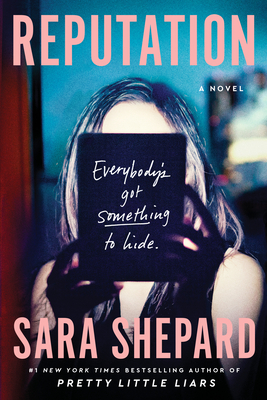 Reputation
A Novel
Paperback

* Individual store prices may vary.
Description
In this perfectly-paced new novel from Sara Shepard, the #1 New York Times bestselling author of Pretty Little Liars, the women of a tight-knit college town learn through gossip, scandal, betrayal, and even murder, who their neighbors and husbands really are.

Aldrich University is rocked to its core when a hacker dumps 40,000 people's e-mails—the entire faculty, staff, students, alums—onto an easily searchable database. Rumors and affairs immediately leak, but things turn explosive when Kit Manning's handsome husband, Dr. Greg Strasser, is found murdered. Kit's sister, Willa, returns for the funeral, setting foot in a hometown she fled fifteen years ago, after a night she wishes she could forget. As an investigative reporter, Willa knows something isn't right about the night Greg was killed, and she's determined to find the truth. What she doesn't expect is that everyone has something to hide. And with a killer on the loose, Willa and Kit must figure out who killed Greg before someone else is murdered.

Told from multiple points of view, Reputation is full of twists, turns, and shocking reveals. It's a story of intrigue, sabotage, and the secrets we keep—and how far we go to keep them hidden. Number one bestseller Sara Shepard is at the top of her game in this brand-new adult novel.
Praise For Reputation: A Novel…
Praise for Reputation
"Reputation follows the goings-on in a university community after a hack lands everyone's private business squarely in the public eye. Like all of Shepard's work, it is an inarguable page-turner filled with murder, intrigue, and female characters who are somehow simultaneously easy to adore and loathe."
—Fortune.com

"Reputation has everything you've been waiting for: university gossip, internet hackers, scandals, affairs, murder."
—LitHub

"An Agatha Christie for the 21st century, Shepard masterfully crafts a prestigious town rife with hidden temptation and sin. . . . From chapter to chapter, Shepard's plotting breathlessly careens between characters, with each cliffhanger swiftly answered by another, ratcheting up the stakes until the killer is finally unmasked. A fast-paced, twisty-turny mystery perfect for a cozy weekend read."
—Kirkus

"[An] exceptional suspense novel. . . . In this viscerally satisfying thriller, Shepard forces readers to contemplate the inescapable aftereffects of impulsive poor choices."
—Publishers Weekly (starred review)
 
"[Shepard is] a master at keeping you on your toes—and this novel is no exception. If you're looking for a new novel that draws you in and just won't let go, you've found it."
—Marie Claire, "The 27 Best Fiction Books by Women This Year"

"Shepard throws every cliché imaginable at the reader and then artfully massages them into a brilliant narrative told in the voices of the many women involved in the story who, having managed to make victims of one sort or another of themselves, all emerge victorious, each in her own fashion. . . . Everyone is hiding a closetful of secrets, which, when finally revealed, provide some excellent misdirection and a few OMG moments, until one final and shocking truth emerges. Fans of domestic suspense will devour this one."
—Booklist (starred review)

"Reputation is a juicy read that will have you turning the pages long into the night."
—PopSugar, "22 of the Best Books This Winter Has to Offer" 

"Filled with unexpected twists and naughty dalliances, which combine for a satisfying resolution."
—The Toronto Star, "Five domestic thrillers you won't be able to put down" 

"Sara Shepard reaches delicious, vicious heights with Reputation. I felt like I was sucked into a video game, slipping into different skins in every chapter. It's the love child of Dead to Me and Scream, a creepy tale about modern technology and good old fashioned human flaws. We're so lucky that Shepard is out there watching the way we live, seeing the best in us, and oh yes, the cringe-inducing, often laugh out loud worst as well."
--Caroline Kepnes, author of You, Hidden Bodies, and Providence

"What an addictive, juicy novel, with a whip-cracking plot full of twists and turns. Reputation is packed to bursting with all of the best elements of commercial fiction. Read this one!"
--Sarah Pekkanen, #1 New York Times bestselling coauthor of An Anonymous Girl

"A modern murder mystery that exposes our deepest fears about how vulnerable we are to the parts of ourselves we hide online. As the secrets pile up, Shepard writes her calculating anti-heroines with sharp clarity, daring the reader to keep pace alongside her. I, for one, was breathless."
—Chandler Baker, New York Times bestselling author of Whisper Network

"Deliciously diabolical. Shepard spares no one in this breakneck thriller as dark secrets and shocking scandals lead to murder."
—Liv Constantine, International bestselling author of The Last Mrs. Parrish and The Last Time I Saw You

"We love Sara Shepard (hey, Pretty Little Liars). Reputation, about an email hack at a university that exposes shocking secrets, has everything we need in a thriller: shocking twists, unexpected turns, and so much sabotage. It's her most addicting novel yet."
—HelloGiggles, "The 8 best new books to read in December, by the fire with a mug of hot cocoa"

"If anyone can craft a thriller, it's Sara Shepard… In Reputation, 40,000 people of Aldrich University experience the worst-case-scenario of the digital age when their email accounts are hacked and their contents stored in a searchable database . . . Reputation is a reminder of our vulnerability."
—Refinery29

"Reputation can easily be a one-sitting read. Shepard is genius at dropping one sticky sentence at the end of each chapter to snag her readers into reading just a little more. . .Experienced lovers of mysteries may pick up on clues, but some clues are hidden so carefully that Reputation can't be one of those books you tear through, skipping whole paragraphs in order to find out who the killer is. Furthermore, the entanglements are complicated, love and power are juggled with ugly results, the women tug at heartstrings, and readers may find themselves rooting for the killer--whoever it is."
—BookTrib

"The novel's plot chases one character after another down paths, revealing secrets and possible motivation. Ms. Shepard effectively deflects attention from the identity of the real killer--all the way to the end of the novel."
—Pittsburgh Post-Gazette

"Reputation is filled with those highly addictive twisty moments that keep you guessing until the very end."
—Suspense
Dutton, 9781524742904, 384pp.
Publication Date: December 3, 2019
About the Author
Sara Shepard is the #1 New York Times bestselling author of the Pretty Little Liars series, The Lying Game, The Heiresses, The Elizas, and The Perfectionists.