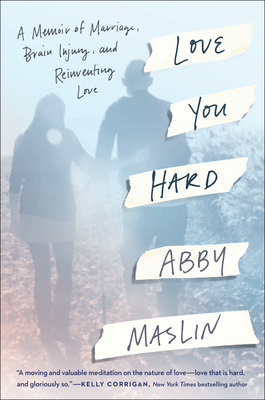 Love You Hard
A Memoir of Marriage, Brain Injury, and Reinventing Love
Hardcover

* Individual store prices may vary.
Other Editions of This Title:
Digital Audiobook (3/11/2019)
Description
Abby Maslin shares an inspiring story of resilience and commitment in a deeply affecting new memoir. After her husband suffered a traumatic brain injury, the couple worked together as he recovered—and they learned to love again. 

When Abby Maslin's husband, TC, didn't make it home on August 18, 2012, she knew something was terribly wrong. Her fears were confirmed when she learned that her husband had been beaten by three men and left for dead mere blocks from home, all for his cell phone and debit card.

The days and months that followed were a grueling test of faith. As TC recovered from a severe traumatic brain injury that left him unable to speak and walk, Abby faced the challenge of caring for—and loving—a husband who now resembled a stranger.

Love You Hard is the raw, unflinchingly honest story of a young love left broken, and the resilience required to mend a life and remake a marriage. Told from the caregiver's perspective, this book is a daring exploration of true love: what it means to love beyond language, beyond abilities, and into the place that reveals who we really are.

At the heart of Abby and TC's unique and captivating story are the universal truths that bind us all. This is a tale of living and loving wholeheartedly, learning to heal after profound grief, and choosing joy in the wake of tragedy.
Praise For Love You Hard: A Memoir of Marriage, Brain Injury, and Reinventing Love…
"A moving and valuable meditation on the nature of mature love—love that is hard, and gloriously so."
—Kelly Corrigan, New York Times bestselling author of The Middle Place and Tell Me More

"Inspiring, touching, and beautifully written, Abby Maslin's memoir is a testament to love, resilience, and choosing joy during the toughest times."
—Maria Shriver, award-winning journalist and author of I've Been Thinking…

"Written with the grace of a novel and the power of personal experience, this moving book is filled with humor, insight, and enormous love. Maslin's touching story brings both tears and joy and offers the inspiring hope that there is always a way forward."
—Janice Kaplan, New York Times bestselling author of The Gratitude Diaries  

"A beautifully articulated and searingly honest memoir about so much more than one tragedy. Abby Maslin's keen eye and unflinching introspection brilliantly illuminate the big and small moments that came with getting through her husband's traumatic brain injury. If I had written a follow-up to my book about our family's journey with TBI, it would share so many moments with Abby's amazing exploration of resilience, marriage, family and understanding the gift of every single day."
—Lee Woodruff, #1 New York Times bestselling author of In an Instant

"Abby Maslin gives a harrowing account of how a fulfilling life and marriage can be upended in an instant … Love You Hard serves as a reminder that the most challenging aspects of relationships are also the most rewarding ones."
—Lauren Marks, author of A Stitch of Time
Dutton, 9781524743314, 320pp.
Publication Date: March 12, 2019
About the Author
Abby Maslin is a writer and a public school teacher. Through her speaking and blogging, she is passionate about bringing awareness to the challenges of traumatic brain injury and caregiving. She lives in Washington, D.C. with her husband and two children.