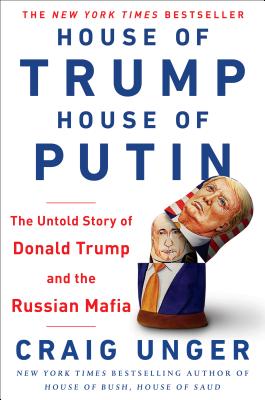 House of Trump, House of Putin
The Untold Story of Donald Trump and the Russian Mafia
Hardcover

* Individual store prices may vary.
Other Editions of This Title:
Digital Audiobook (8/13/2018)
Paperback (9/3/2019)
Paperback, Large Print (9/11/2018)
CD-Audio (8/14/2018)
Description
THE NEW YORK TIMES BESTSELLER

"The story Unger weaves with those earlier accounts and his original reporting is fresh, illuminating and more alarming than the intelligence channel described in the Steele dossier."—The Washington Post

House of Trump, House of Putin offers the first comprehensive investigation into the decades-long relationship among Donald Trump, Vladimir Putin, and the Russian Mafia that ultimately helped win Trump the White House.

It is a chilling story that begins in the 1970s, when Trump made his first splash in the booming, money-drenched world of New York real estate, and ends with Trump's inauguration as president of the United States. That moment was the culmination of Vladimir Putin's long mission to undermine Western democracy, a mission that he and his hand-selected group of oligarchs and Mafia kingpins had ensnared Trump in, starting more than twenty years ago with the massive bailout of a string of sensational Trump hotel and casino failures in Atlantic City. This book confirms the most incredible American paranoias about Russian malevolence.

To most, it will be a hair-raising revelation that the Cold War did not end in 1991—that it merely evolved, with Trump's apartments offering the perfect vehicle for billions of dollars to leave the collapsing Soviet Union. In House of Trump, House of Putin, Craig Unger methodically traces the deep-rooted alliance between the highest echelons of American political operatives and the biggest players in the frightening underworld of the Russian Mafia. He traces Donald Trump's sordid ascent from foundering real estate tycoon to leader of the free world. He traces Russia's phoenix like rise from the ashes of the post–Cold War Soviet Union as well as its ceaseless covert efforts to retaliate against the West and reclaim its status as a global superpower.

Without Trump, Russia would have lacked a key component in its attempts to return to imperial greatness. Without Russia, Trump would not be president. This essential book is crucial to understanding the real powers at play in the shadows of today's world. The appearance of key figures in this book—Paul Manafort, Michael Cohen, and Felix Sater to name a few—ring with haunting significance in the wake of Robert Mueller's report and as others continue to close in on the truth.
Praise For House of Trump, House of Putin: The Untold Story of Donald Trump and the Russian Mafia…
Praise for House of Trump, House of Putin

"The story Unger weaves with those earlier accounts and his original reporting is fresh, illuminating and more alarming than the intelligence channel described in the Steele dossier."—The Washington Post

"Omarosa vs. Trump may be the political pro wrestling match of the week, but a more serious confrontation may be prompted by a book that came out Tuesday, alleging that President Donald Trump may be a Russian asset compromised by billions of laundered dollars over decades of shady real estate deals."—Newsweek

"Unger, a veteran journalist and author, takes the reader on a veritable tour of sleazy night clubs, restaurants and resorts frequented by Russian oligarchs and criminals in this book subtitled "The Untold Story of Donald Trump and the Russian Mafia." Often, that tour leads to the doors of the White House and Trump Tower, and the implication is clear to even the most obtuse reader: Trump is in Putin's pocket and those of the financiers who have grown immensely rich through their associations with the country's putative dictator."—Spectator USA

"An impressive attempt to gather up all the evidence we have of Trump's numerous connections to the Russian mafia and government and lay it all out in a clear, comprehensive narrative."—Vox
 
"A bombshell."—Daily Mail (UK)

"Damning in its accumulation of detail, terrifying in its depiction of the pure evil of those Trump chose to do business with."—The Spectator (UK)

"Unger's contention is that a web of Trumpian connections to Russia explain the darkness at the heart of the Trump presidency. The crisp account of the rise of the Russian mafia and its expansion into the U.S. is chilling."—Sunday Times (UK)

Praise for House of Bush, House of Saud

"[An] explosive work of journalism."—The New York Times

"Cautious and elemental...with great care [Unger] has synthesized these scattered reports into a narrative that is as chilling as it is gripping. This book builds a momentum and discovery that makes it impossible to stop reading."—The Atlanta Journal-Constitution

"[An] intensely researched [and] well written-book."—Publishers Weekly

"Immensely researched and well-documented...illuminating, disturbing...skillfully packaged...meticulously referenced."—Fort Worth Star-Telegram

"Unger has performed a clear public service by laying out the Bush-Saud relationship and demanding that we see it as a problem that requires accounting."—Newsday

"A very powerful, well-researched and sober book that leaves the reader both enlightened and more than a little disturbed."—The Guardian 

"It is Craig Unger's particular gift to make us see more clearly than ever what lies beneath."—The Observer (UK)

Dutton, 9781524743505, 368pp.
Publication Date: August 14, 2018
About the Author
Craig Unger is the author of six books, including the New York Times bestsellers House of Bush, House of Saud, and House of Trump, House of Putin. For fifteen years he was a contributing editor of Vanity Fair where he covered national security, the Middle East, and other political issues. A frequent analyst on MSNBC and other broadcast outlets, he was a longtime staffer at New York Magazine, has served as editor-in-chief of Boston Magazine, and has contributed to Esquire, The New Yorker, and many other publications. He also appears frequently as analyst on MSNBC, CNN, and other broadcast outlets. Unger has written about the Trump Russia scandal for The New Republic, Vanity Fair, and The Washington Post. He is a graduate of Harvard University and lives in Brooklyn, New York.
or
Not Currently Available for Direct Purchase