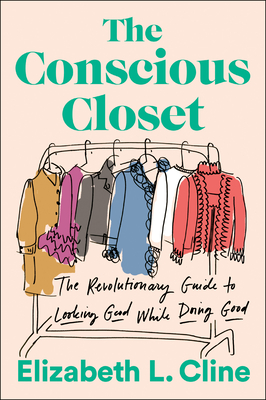 The Conscious Closet
The Revolutionary Guide to Looking Good While Doing Good
Paperback

* Individual store prices may vary.
Other Editions of This Title:
Digital Audiobook (8/19/2019)
Description
From journalist, fashionista, and clothing resale expert Elizabeth L. Cline, "the Michael Pollan of fashion,"* comes the definitive guide to building an ethical, sustainable wardrobe you'll love.

Clothing is one of the most personal expressions of who we are. In her landmark investigation Overdressed: The Shockingly High Cost of Cheap Fashion, Elizabeth L. Cline first revealed fast fashion's hidden toll on the environment, garment workers, and even our own satisfaction with our clothes. The Conscious Closet shows exactly what we can do about it.

Whether your goal is to build an effortless capsule wardrobe, keep up with trends without harming the environment, buy better quality, seek out ethical brands, or all of the above, The Conscious Closet is packed with the vital tools you need. Elizabeth delves into fresh research on fashion's impacts and shows how we can leverage our everyday fashion choices to change the world through style. Inspired by her own revelatory journey getting off the fast-fashion treadmill, Elizabeth shares exactly how to build a more ethical wardrobe, starting with a mindful closet clean-out and donating, swapping, or selling the clothes you don't love to make way for the closet of your dreams.

The Conscious Closet is not just a style guide. It is a call to action to transform one of the most polluting industries on earth—fashion—into a force for good. Readers will learn where our clothes are made and how they're made, before connecting to a global and impassioned community of stylish fashion revolutionaries. In The Conscious Closet, Elizabeth shows us how we can start to truly love and understand our clothes again—without sacrificing the environment, our morals, or our style in the process.

*Michelle Goldberg, Newsweek/The Daily Beast
Praise For The Conscious Closet: The Revolutionary Guide to Looking Good While Doing Good…
Praise for The Conscious Closet

"The Conscious Closet offers insight on personal sustainability decisions."—Vanity Fair

"The desire to build a sustainable wardrobe doesn't always manifest exactly that. Thankfully, Elizabeth L. Cline is here to help. Her new book explains how to make your closet more ethical, without sacrificing a shred of style."—InStyle.com

"Let Elizabeth L. Cline be your guide to shopping better—whether you're a minimalist or a fashionista—in her reassuring, resource-filled book."—Real Simple, Best Books of 2019

"A must-read for all fashion lovers who care about the state of the planet."⁠—Booklist (starred review)

"[The Conscious Closet] is a smart, practical successor to Overdressed and a helpful primer on ethical fashion…. A fun, informative guide to sustainable fashion and more mindful shopping."—Shelf Awareness 

"[A] thoroughly researched blueprint for making sustainable, humane clothing decisions.... Melding worrisome facts, intuitive tips, and helpful resources, Cline's intelligent work provides plenty of tips for making ethical consumer choices."—Publishers Weekly

"An absolute sustainable fashion bible that everyone needs to read."⁠—Isabella David, model and poet

"This book needs to be in every home. From it we can learn new behaviors to promote a sustainable life, including instructions for the long lost art of mending. I found this book so helpful!" - Arizona Muse, model and sustainability activist

"I love this book so much. Clear as diamonds, inspiring, and fun. Exactly what the world needs." Kate Sekules, Founder of VisibleMending and author of Mend! The Clothes Revolution Stitch by Stitch 

Praise for Elizabeth Cline and Overdressed

"Cline is the Michael Pollan of fashion...Hysterical levels of sartorial consumption are terrible for the environment, for workers, and even, ironically, for the way we look."⁠—Michelle Goldberg, Newsweek/The Daily Beast


"How did Americans end up with closets crammed with flimsy, ridiculously cheap garments? Elizabeth Cline travels the world to trace the rise of fast fashion and its cost in human misery, environmental damage, and common sense."⁠—Katha Pollitt, columnist for The Nation

"Overdressed is eye-opening and definitely turns retailing on its head. Cline's insightful book reveals the serious problems facing our industry today. The tremendous values and advantages of domestic production are often ignored in favor of a price point that makes clothing disposable."⁠—Erica Wolf, executive director, Save the Garment Center
Plume, 9781524744304, 368pp.
Publication Date: August 20, 2019
About the Author
Elizabeth L. Cline is a journalist, public speaker, and the author of Overdressed. Her writing has appeared in The Los Angeles Times, The Atlantic, The Nation, and The New Yorker, among others. She is an expert on fashion industry waste, runs a clothing resale business, and is the director of research and reuse at Wearable Collections, one of New York City's largest used-clothing collectors. She lives in Brooklyn with her partner, Joseph D. Rowland, of the band Pallbearer, and their cat Lily.