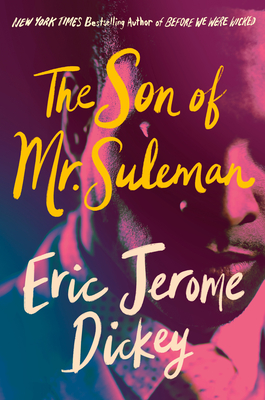 The Son of Mr. Suleman
A Novel
Hardcover

* Individual store prices may vary.
Other Editions of This Title:
Digital Audiobook (4/19/2021)
Paperback (1/25/2022)
Library Binding, Large Print (7/14/2021)
Description
Named in USA Today's "5 books not to miss," and New York Post's "The best new books to read"

From New York Times bestselling author Eric Jerome Dickey—named one of USA Today's 100 Black Novelists and Fiction Authors You Should Read—comes his final work: an unflinchingly timely novel about history, hearts, and family.
 
It's the summer of 2019, and Professor Pi Suleman is a Black man from Memphis with a lot to endure—not only as a Black man in Trump's America but in his hard-earned career as an adjunct professor. Pi is constantly forced to bite his tongue in the face of one of his tenured colleague's prejudices and microaggressions. At the same time, he's being blackmailed by a powerful professor who threatens to claim he has assaulted her, when in fact the truth is just the opposite, trapping him in a he-said-she-said with a white woman that, in this society, Pi knows he will never win.
 
When he meets Gemma Buckingham, a sophisticated entrepreneur who has just moved to Memphis from London to escape a deep heartbreak, things begin to look up. Though Gemma and Pi hail from separate cultures, their differences fuel a fiery and passionate connection that just may consume them both.
 
But Pi's whirlwind romance is interrupted when his absentee father, a celebrated writer, passes away and Pi is called to Los Angeles to both collect his inheritance and learn about the man who never acknowledged him. With the complicated legacy of his famous father to make sense of, Gemma's visa expiration date looming, and the threats of his colleague becoming increasingly intense, Pi must figure out who he is and what kind of man he will become in his father's shadow.
 
In The Son of Mr. Suleman, Eric Jerome Dickey takes readers on a powerful journey exploring racism, colorism, life as a mixed-race person, sexual assault, microaggressions, truth and lies, cultural differences, politics, family legacies, perceptions, the impact of enslavement and Jim Crow, code-switching, the power of death, and the weight of love. It is an extraordinary story, page-turning and intense, and a book only Dickey could write.
Praise For The Son of Mr. Suleman: A Novel…
Praise for The Son of Mr. Suleman: 

"This book is a powerhouse. It is impossible not to become fully absorbed in every scene, the vibrant, dynamic characters drawing you in again and again… All in all, the world through Pi Suleman's eyes is dark, complex, and endlessly compelling."—Associated Press

"For 25 years, Eric Jerome Dickey's best sellers have made Black women feel seen and, more importantly, understood.… The Son of Mr. Suleman is full of his trademark humor and vibrantly rendered characters….With this page-turner, Dickey once again lives up to his motto: 'Writers do.'"—Essence

"Eric Jerome Dickey is the king of writing Black joy. His characters evoke a sense of esteem for self, showing how they might be if white folks just left them alone. If we could just be our happy, sensual, ambitious, free selves we would be modeling one of his characters. However, this book takes on grief, racism, and microaggressions in a big way, too; it's the first of his works to do so with such detailed intention."—W Magazine, Delores Williams

"Dickey's posthumously published novel is a shining example of his skill at combining a compelling narrative voice, sharp social commentary, and poetic prose to create a complex tale featuring sensual characters with truly unique perspectives."—Booklist

"Be prepared to be turned every which way with this book. Be set to let The Son of Mr. Suleman eat up your weekend. Just be ready, because missing it would be a sin."—The Bookworm Sez 

"This novel couldn't be more timely as America and the world continue to grapple with the effects of racism on our society."—Black Girl Nerds

"Eric saved this as one, one of his biggest novels ever, to unleash his biggest message about the present plight of Black America in the 21st Century, and he does so with nothing but the truth from the city that he knows best—Memphis Tennessee. RIP EJD. Now I'll miss all of our years of reader comparisons and contrasts (smile)."—Omar Tyree, New York Times bestselling author of over twenty-five African-American novels

"[Dickey's] final book may be the best one yet he has written… A powerful book on the life of a black man during Trump time and how living in the south takes its toll on him and his family. It's rich in Black culture, steamy as Eric could write hot sex scenes and real-life events that make life at times hard on black people (which should never happen to anyone). Eric Jerome Dickey once again you be missed."—Mark Harris, Red Carpet Crash

Praise for Eric Jerome Dickey and his novels: 

"[O]ne of the most successful Black authors of the last quarter-century."—The New York Times

"Eric Jerome Dickey's work is a master class in Black joy…. Dickey's characters—bold, smart women oozing sexuality and vulnerability—navigate interpersonal conflicts using dialogue that crackles with authenticity…. In casting the struggles of his characters as valid, he affirmed that the struggles of the mostly Black women reading him were also valid. Creating these depictions for his readers made Dickey a pioneer of sorts—he allowed them the satisfaction of feeling seen, but not judged, by a Black man."—The Atlantic
 
"Part of Mr. Dickey's appeal stemmed from the vibrancy of his characters…. a Times reviewer, Janet Maslin, observed that Mr. Dickey's creations "have enough sultry self-confidence to suggest, at their best, a Prince song on paper."—The Washington Post
 
"[Dickey] entertained millions of readers with quick pacing, a conversational style and fluency in genres ranging from crime to romance."—Los Angeles Times
 
"Dickey was the man behind several classic books about the more tender realities of Black life…It was through his work that many Black people were able to feel seen and an outpouring of love has began on social media since the news broke of his death."—Essence

"Dickey's luminous smile and disarming demeanor put fans at ease. His humor, wit and charm made him a reader's favorite. His work captivated."—NBC News
 
"Dickey was an exceptional storyteller who had a big heart for his people."—Vulture

"Unafraid to cater specifically to his community, Dickey had a penchant for shaping characters that both resonated and generously leaned into Black culture. His stories often balanced romance, scandal, and a considerable amount of heart, and they were beloved by a fanbase that felt both seen and wholly embraced"—A.V. Club
Dutton, 9781524745233, 560pp.
Publication Date: April 20, 2021
About the Author
Eric Jerome Dickey (1961–2021) was the award-winning and New York Times bestselling author of twenty-nine novels, as well as a six-issue miniseries of graphic novels featuring Storm (X-Men) and the Black Panther. His novel Sister, Sister was honored as one of Essence's "50 Most Impactful Black Books of the Last 50 Years," and A Wanted Woman won the NAACP Image Award in the category of Outstanding Literary Work in 2014. His most recent novels include The Blackbirds, Finding Gideon, Bad Men and Wicked Women, Before We Were Wicked, The Business of Lovers, and The Son of Mr. Suleman.