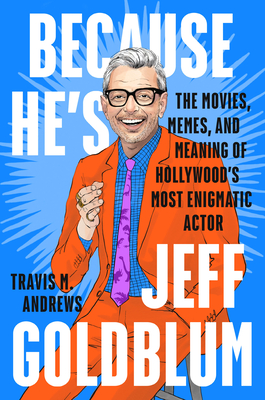 Because He's Jeff Goldblum
The Movies, Memes, and Meaning of Hollywood's Most Enigmatic Actor
Hardcover

* Individual store prices may vary.
Other Editions of This Title:
Digital Audiobook (5/3/2021)
Description
An irreverent yet deeply researched biography about the always offbeat, suddenly meme-able, and wildly popular actor

When did you first encounter Jeff Goldblum? Maybe as a deranged killer in his 1974 screen debut in Death Wish? Maybe as a cynical journalist in 1983s The Big Chill? Or a brilliant if egotistical scientist-turned-fly in 1986s The Fly? Perhaps as the wise-cracking skeptical mathematician in 1993s Jurassic Park? Or maybe you're not a film buff but noticed his face as part of one of the Internet's earliest memes. Who knows?

Whenever it was, you've probably noticed that Goldblum has become one of Hollywood's most enduring actors, someone who only seems to grow more famous, more heralded, more beloved through the decades, even though he's always followed his own, strange muse. The guy primarily plays jazz music these days, but is more famous than ever. Actor, pianist, husband, father, style icon, meme. Goldblum contains multitudes, but why? What does he mean?

The Washington Post's Travis M. Andrews decided to find out. And so he set out on a journey through Goldblum's career, talking to directors like Lawrence Kasdan and Philip Kaufman, colleagues like Harry Shearer and Billy Crudup, and pop culture experts like Chuck Klosterman and Sean Fennessey, to get to the bottom of this whole Goldblum thing. And then he took what he learned and he wrote this book, which is titled Because He's Jeff Goldblum and is the best thing written since The Brothers Karamazov and slightly easier to follow. But you should already know that. In this new semi-biography, semi-rumination, and semi-ridiculous look at the career of Goldblum, Andrews takes you behind the scenes of his iconic movies, explores the shifting nature of fame in the twenty-first century, and spends far too much time converting Goldblum's name into various forms of speech.

Want to hear how Goldblum saved a script supervisor from an amorous baboon? Or what he would write on the mirror after taking showers when he was a teenager? How about his feelings on various brands of throat lozenges? (That one could be an entire book unto itself.) Then this is the book for you!
Praise For Because He's Jeff Goldblum: The Movies, Memes, and Meaning of Hollywood's Most Enigmatic Actor…
"In Because He's Jeff Goldblum, Travis Andrews leads fans on a tour of Goldblum's unconventional career and cultural resonance with all the wit and charm of the actor himself."
—Jennifer Keishin Armstrong, New York Times bestselling author of Seinfeldia

"Jeff Goldbum is the only man in Hollywood capable of selling himself as a heinous human/insect hybrid, a leather jacket-clad mathematician/dinosaur expert and the Grandmaster of the Avengers universe. Travis M. Andrews's Because He's Jeff Goldblum is a brilliant, fascinating deep dive into Goldblum's life and career, revealing that he's even smarter, funnier and weirder than we dared to hope." 
—Andy Greene, New York Times bestselling author of The Office
 
"Quirky, chatty, off-the-cuff, self-mocking, and fantastically enjoyable, Travis M. Andrews' Because He's Jeff Goldblum is like a book-form version of the actor and cult hero himself. It's like an extended conversation with the fantastically strange leading man from Jurassic Park and Independence Day, incorporating everything from the acting philosophy of Sanford Meisner to the competition for the world's biggest Goldblum fan. It is inside-out biography, pop-culture criticism with pizzazz, and it is, like the actor himself, nothing but sheer pleasure to encounter."
—Saul Austerlitz, author of Generation Friends

"Travis Andrews takes the same, joyous approach with which Jeff Goldblum seems to live every minute of his waking life. Deeply reported, smartly analyzed and unpredictable in its own right, this book gets to the heart of what makes Goldblum a singular figure in American culture without forgetting to have fun."
—Geoff Edgers, author of Walk This Way

"Travis M. Andrews colorfully and entertainingly deciphers the allure of the Jurassic Park and Independence Day star."
—Yahoo, The It List

"Andrews' first book examines the life and work of the irresistible Goldblum with a light touch and a sardonic sense of humor." 
—Booklist

"Goldblum fans will appreciate this glowing portrait that also analyzes the actor's appeal."
—Library Journal

"Andrews debuts with a gushing biography and cultural consideration of Jeff Goldblum... those similarly smitten with Goldblum will surely appreciate this lark."
—Publishers Weekly
Plume, 9781524746032, 320pp.
Publication Date: May 4, 2021
About the Author
Travis M. Andrews is a features writer for the Washington Post's Style sec­tion, where he covers the Internet, pop culture, and the ways we live now. Previously he was an associate travel and culture editor for Southern Living and a contributing pop culture reporter for Mashable and The Week. He has also written for Time, Esquire, GQ, and the Atlantic, among others. He lives in Washington, DC, where he acquiesces to the every wish of his puppy, Stevie Nix, and misses his native New Orleans.