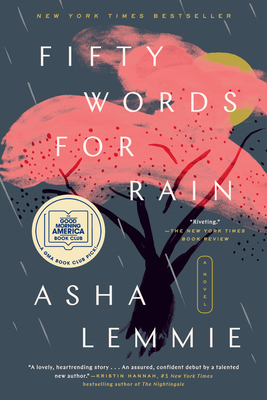 Fifty Words for Rain
A Novel
Paperback

* Individual store prices may vary.
Other Editions of This Title:
Digital Audiobook (8/31/2020)
Hardcover (9/1/2020)
Description
A Good Morning America Book Club Pick and New York Times Bestseller!
 
From debut author Asha Lemmie, "a lovely, heartrending story about love and loss, prejudice and pain, and the sometimes dangerous, always durable ties that link a family together." —Kristin Hannah, #1 New York Times–bestselling author of The Nightingale

Kyoto, Japan, 1948. "Do not question. Do not fight. Do not resist."

Such is eight-year-old Noriko "Nori" Kamiza's first lesson. She will not question why her mother abandoned her with only these final words. She will not fight her confinement to the attic of her grandparents' imperial estate. And she will not resist the scalding chemical baths she receives daily to lighten her skin.

The child of a married Japanese aristocrat and her African American GI lover, Nori is an outsider from birth. Her grandparents take her in, only to conceal her, fearful of a stain on the royal pedigree that they are desperate to uphold in a changing Japan. Obedient to a fault, Nori accepts her solitary life, despite her natural intellect and curiosity. But when chance brings her older half-brother, Akira, to the estate that is his inheritance and destiny, Nori finds in him an unlikely ally with whom she forms a powerful bond—a bond their formidable grandparents cannot allow and that will irrevocably change the lives they were always meant to lead. Because now that Nori has glimpsed a world in which perhaps there is a place for her after all, she is ready to fight to be a part of it—a battle that just might cost her everything.

Spanning decades and continents, Fifty Words for Rain is a dazzling epic about the ties that bind, the ties that give you strength, and what it means to be free.
Praise For Fifty Words for Rain: A Novel…
Praise for Asha Lemmie and Fifty Words for Rain

"Novels like Asha Lemmie's debut allow me to experience the high of the endurance athlete—consumed by a far-flung odyssey, coming up only for a sip of water… I inhaled Fifty Words for Rain in one day. I had no choice." —The New York Times Book Review

"Usually I take my time with books, but I found it very hard to step away from this story. Filled with mystery, music, sadness and adventures, Fifty Words for Rain flies by—yet lingers long after… Anyone who has ever lost a friend—or, more happily, found a family—will love this beautiful story."—Malala Yousafzai, Nobel Peace Prize-winning activist 

"Fifty Words for Rain is a lovely, heartrending story about love and loss, prejudice and pain, and the sometimes dangerous, always durable ties that link a family together. This coming of age tale about a biracial girl in postwar Japan is an assured, confident debut by a talented new author." —Kristin Hannah, #1 New York Times bestselling author of The Nightingale 

"A hugely compelling debut about Noriko, a mixed race girl growing up in Japan after WWII. Moving and honest and at times intense, Asha Lemmie takes us on an emotional journey that spans years, one which sheds light on Noriko's family traditions, prejudices, struggles, triumphs and ultimate transformation. This is a well-researched and eye-opening tale, told with compassion that breathes through each page." —Abi Daré, New York Times bestselling author of The Girl with the Louding Voice

"[An] epic, twisty debut… Sometimes bleak, sometimes hopeful, Lemmie's heartbreaking story of familial obligations packs an emotional wallop." —Publishers Weekly

"Lemmie's debut novel is a gripping historical tale that will transport readers through myriad emotions… Lemmie intimately draws the readers into every aspect of Noriko's complex story, leading us through the decades and across the continents this adventure spans, bringing us to anger, tears, and small pockets of joy. A truly ambitious and remarkable debut." —Booklist  

"Lemmie's sweeping historical backdrop, from the post–World War II decline of minor royalty through the expanding liberations of the 1960s, is breathtaking…. A bold historical portrait of a woman overcoming oppression…" —Kirkus 

"This is a debut you won't want to miss." —Erin Kodicek, Amazon Book Review 

"This virtuosic debut enthralled me from the very first page. Lemmie's compelling and compassionate portrait of a young girl in post-WWII Japan is meticulously researched and beautifully crafted. What a heartbreaking, exceptional story by a sublime talent—I can't wait to see what she does next!" —Fiona Davis, nationally bestselling author of The Lions of Fifth Avenue

"Fifty Words for Rain is an impressive debut novel about a mixed-race girl growing up in post WWII Japan. Sensitive and bristling with closely-observed humanity, Asha Lemmie tells a story that we have not heard before with an ending that is as surprising as it is brutally honest." —Mark Sullivan, bestselling author of Beneath a Scarlet Sky

"Asha Lemmie's debut novel Fifty Words for Rain follows eight-year-old Nori after she is abandoned by her mother and left to fend for herself in the unkind graces of a family built on tradition and power. Lemmie has penned an impassioned story that confronts the uncomfortable truths behind institutionalized prejudice and the history of violence and subjugation of the powerless by those on the highest rungs of society. It's an emotional journey with an unexpected ending." —Mary Lynn Bracht, author of White Chrysanthemum

"From page one, I was rooting for Nori, the illegitimate daughter of a Japanese aristocrat and an African-American soldier. Shackled by family condemnation and the prejudices of post-WWII Japan, Nori must transform from docile young girl into fierce, unapologetic heroine. A wholly immersive coming-of-age epic from a talented young writer—Asha Lemmie pours her passion onto the page." —Mira T. Lee, author of Everything Here is Beautiful
Dutton, 9781524746384, 464pp.
Publication Date: June 8, 2021
About the Author
Asha Lemmie is the New York Times–bestselling author of Fifty Words for Rain. After graduating from Boston College with a degree in English Literature and Creative Writing, she relocated to New York City where she worked in book publishing. Asha writes historical fiction that focuses on bringing unique perspectives to life.