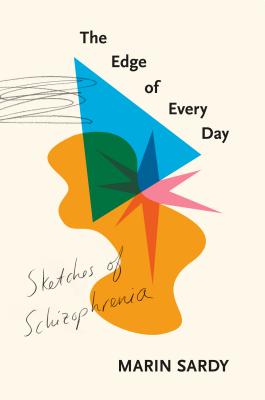 The Edge of Every Day
Sketches of Schizophrenia
Hardcover

* Individual store prices may vary.
Other Editions of This Title:
Digital Audiobook (5/20/2019)
Paperback (4/28/2020)
Description
The debut of an important new literary voice: Marin Sardy's extraordinarily affecting, fiercely intelligent memoir unflinchingly traces the path of the schizophrenia that runs in her family.

Against the starkly beautiful backdrop of Anchorage, Alaska, where the author grew up, Marin Sardy weaves a fearless account of the shapeless thief—the schizophrenia—that kept her mother immersed in a world of private delusion and later manifested in her brother, ultimately claiming his life.

Composed of exquisite, self-contained chapters that take us through three generations of this adventurous, artistic, and often haunted family, The Edge of Every Day draws in topics from neuroscience and evolution to the mythology and art rock to shape its brilliant inquiry into how the mind works. In the process, Sardy casts new light on the treatment of the mentally ill in our society. Through it all runs her blazing compassion and relentless curiosity, as her meditations takes us to the very edge of love and loss—and invite us to look at what comes after.
Praise For The Edge of Every Day: Sketches of Schizophrenia…
"A shape-shifting debut memoir about a family's coming to terms with schizophrenia . . . extraordinarily ambitious and accomplished . . .  [Sardy] chronicles the immense difficulties in trying to maintain a semblance of sanity while both her mother and brother suffer through schizophrenia that they refuse to acknowledge . . . Illuminat[es] mental illness from the inside out . . . Both powerful and disturbing . . . [An] impressive debut." 
—Kirkus Reviews (starred) 

"Accomplished . . . Sardy skillfully reflects the 'narrative crisis' that occurs in people with mental illness. The book itself offers a glimpse of the reality of living with schizophrenia and the multiplicities and contradictions that accompany the disease."
—Helen Thomson, The New York Times Book Review
 
"Pushcart nominee Sardy displays her superb skills for criticism and cultural journalism in this remarkable, beautifully written memoir of her family's lifetime struggle with schizophrenia . . . Succeeds brilliantly in conveying the realities of mental illness in a memorable manner. Should be required reading for mental health professionals."
—Dale Farris, Library Journal (starred review)  

"In the beautifully prismatic The Edge of Every Day: Sketches of Schizophrenia, Sardy writes of four generations in her family with mental illness, brilliant and creative people from her great-grandmother to her own mild present-day psychosis . . . She writes eloquently . . . [A] blazing memoir."
—Jacki Lyden, NPR

"[A] beautiful and tragic memoir . . . Sardy's writing is straightforward and clear: an important trait when the subject is as bewilderingly complex as schizophrenia . . . [O]ne of a very few books  . . . to capture a sense of the sheer agonizing helplessness one feels in seeing a family member robbed by mental disease. It's a kind of map for how to negotiate that excruciating circumstance, but a map hung right side up."
—Elizabeth Kelsey, The Wall Street Journal

"An astonishing, essential read. . . . Sardy adopts a form entirely her own as she weaves her account of the schizophrenia that trapped her mother in a world of delusions and ultimately took the life of her younger brother. . . . The memoir's deeply personal, first-hand portrayal of schizophrenia is amplified into an indictment of the systemic injustice of how our society treats some the most vulnerable among us. . . . Sardy breathes life and urgency into her simultaneously intimate and expansive telling."
—Jillian Karande, BuzzFeed
 
"Marin Sardy's memoir-in-essays tells the twin narratives of both her mother's and brother's struggles with schizophrenia. . . . Sardy offers no easy answers to the complex questions of mental health, the ways the system fails those who struggle with it and the myriad impacts it can have on the families trying to do their best for their loved ones. By dwelling in the gray areas, Sardy instead crafts something moving, painful and touching out of the chaos."
—Bridey Heing, Paste, The Best Nonfiction Books of 2019 (So Far)
 
"[An] intimate, multigenerational memoir. . . . A deeply compassionate book about what it means to love someone who is mentally ill—about how hard it is to truly understand another person's mind and the importance of continuing to try. . . . [A] tender, heart-rending book."
—Emily Anthes, Undark Magazine
 
"Narratively compelling and exquisitely written but, perhaps more importantly, infused with love and empathy. . . . Though chaptered and composed against a chronological spine, the narrative fragments, associates and weaves together images, ideas and research into a textured and nuanced tapestry that is both deeply personal as well as universally moving."
—Julia Goldberg, Santa Fe Reporter
 
"Heartbreaking . . . With lyrical descriptions and a creative, nonlinear structure that mimics the erratic nature of schizophrenia—the book's form shifts from prose to disembodied lists—Sardy traces the course that mental illness has cut through her family."
—Alison Van Houten, Outside
 
"Deeply affecting. . . . Any reader of this intelligent, deeply felt and beautifully written book will come away with a greater understanding of what it is to live with mental illness."
—Nancy Lord, Anchorage Daily News  

"Poignant . . . Harrowing . . . Remarkable and powerful . . . a formidable examination of chronic mental illness. . . . Sardy's book layers her own experience with empathetic and honest depictions of her loved ones' experiences, and within that framework draws on history, science, and myth to examine the many gray areas that still remain in our understanding of schizophrenia or mental illness."
—Bridey Heing, Shondaland

"A revelation . . . Deeply moving . . . The legacy of Sardy's writing is that you take that desperate hope and desire out into the world with you, beyond the page. This book changed how I thought about schizophrenia in a way first-person accounts couldn't do."
—E.B. Bartels, Electric Literature

"A powerful examination of intergenerational mental illness, an incisive criticism of the treatment of mentally ill in society and in the healthcare system, and a poignant ode to love and family." 
—Cristina Arreola, Bustle
 
"Sardy traces the path of the schizophrenia that runs through three generations in her family. It's an essential addition to the sub-genre of mental health memoirs." 
—Elizabeth Entenman, HelloGiggles
Pantheon, 9781524746933, 304pp.
Publication Date: May 21, 2019
About the Author
MARIN SARDY's essays and criticism have appeared in Tin House, Guernica, The Rumpus, Fourth Genre, The Missouri Review, ARTnews, and Art Ltd., as well as in two award-winning photography books, Landscape Dreams and Ghost Ranch and the Faraway Nearby. She has also been the arts editor in chief at Santa Fe's Santa Fean magazine. A Pushcart Prize nominee, Sardy has twice had her work listed among the year's notable essays in Best American Essays. She lives in Tucson, Arizona.

www.marinsardy.com
or
Not Currently Available for Direct Purchase