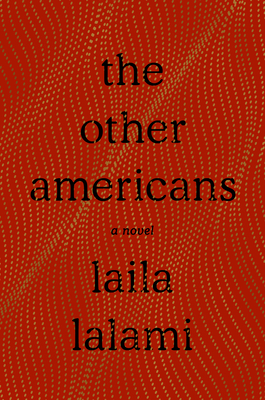 The Other Americans
A Novel
Hardcover

* Individual store prices may vary.
Other Editions of This Title:
Digital Audiobook (3/25/2019)
Paperback (3/17/2020)
Description
***2019 NATIONAL BOOK AWARD FINALIST***
Winner of the Arab American Book Award in Fiction
Finalist for the Kirkus Prize in Fiction
Finalist for the California Book Award
Longlisted for the Aspen Words Literary Prize
A Los Angeles Times bestseller
Named a Best Book of the Year by The Washington Post, Time, NPR, Minneapolis Star Tribune, Dallas Morning News, The Guardian, Variety, and Kirkus Reviews

Late one spring night in California, Driss Guerraoui—father, husband, business owner, Moroccan immigrant—is hit and killed by a speeding car. The aftermath of his death brings together a diverse cast of characters: Guerraoui's daughter Nora, a jazz composer returning to the small town in the Mojave she thought she'd left for good; her mother, Maryam, who still pines for her life in the old country; Efraín, an undocumented witness whose fear of deportation prevents him from coming forward; Jeremy, an old friend of Nora's and an Iraqi War veteran; Coleman, a detective who is slowly discovering her son's secrets; Anderson, a neighbor trying to reconnect with his family; and the murdered man himself.

As the characters—deeply divided by race, religion, and class—tell their stories, each in their own voice, connections among them emerge. Driss's family confronts its secrets, a town faces its hypocrisies, and love—messy and unpredictable—is born. Timely, riveting, and unforgettable, The Other Americans is at once a family saga, a murder mystery, and a love story informed by the treacherous fault lines of American culture.
Praise For The Other Americans: A Novel…
***2019 NATIONAL BOOK AWARD FINALIST***

One of Time Magazine's Best Fiction of 2019

Named a Most Anticipated Book for 2019: Entertainment Weekly, The Boston Globe, New York Magazine/Vulture, The Millions, Bustle, Electric Literature, Nylon, HuffPost, BookPage, The BBC, and Buzzfeed

"Powerful . . . Fascinating . . . Heartbreaking . . . It matters desperately . . . The novel opens into a collective confessional . . . At the core of The Other Americans is a deep anxiety: What if the truth is contradictory or so obfuscated that we lose the will to pursue it? For the reader, the novel presents something of a Rorschach test. Will our belief and sympathy depend on the speaker's racial or gender identity, or perhaps his or her age?"
—The New York Times Book Review

"'Other Americans take center stage in a timely new novel . . . You feel like the promise of America can still come through after all."
—Fresh Air, Maureen Corrigan

"Lalami gives us a searching exploration of the lives of several individuals with whom mainstream American society has a vexed relationship."
—The Washington Post

"A compelling portrait of race and immigration in America . . . Lalami is remarkably skilled at rendering the interior lives of her cast."
—Time

"The Other Americans confirms Lalami's reputation as one of the country's most sensitive interrogators, probing at the fault lines in family, and the wider world."
—Financial Times

"What a monumental challenge it is to reveal the state of America, to assert what unites and divides us—and what remarkable insight Lalami demonstrates by doing just that. Her interrogation is rigorous, and her provocations—about love's dangerous power, the ties between resentment and privilege—resonate through to the last page."
—Entertainment Weekly

"A powerful novel of intolerance and compassion, resilience and weakness, love and loss, populated by flawed but sympathetic characters whose lives are rocked by actions and emotions beyond their control."
—The Economist

"Pulitzer Prize finalist Lalami (The Moor's Account) may be our finest contemporary chronicler of immigration and its discontents. Her new novel spares no one, and it's the kind of page-turning mystery you crave for a rainy reading weekend. The book uses different perspectives to uncover the real story behind a Moroccan immigrant's death in a California intersection."
—The Washington Post

"From its first sentence, The Other Americans grabs the reader with its directness and urgency."
—Minneapolis Star Tribune

"Splendid . . . At once mystery novel, character study and poignant reflection on the immigrant experience, The Other Americans is the kind of book you read breathlessly, savoring each character's turn in the spotlight even as you miss the others. Together their voices create a vivid portrait of a time and place in America; a town of simmering resentments, wary tension, unexpected connections and uncanny beauty."
—The Seattle Times

"Laila Lalami describes all her characters brilliantly—literally so: They spring from the page. Readers can see many of them vividly, and empathize with the problems that shape their behavior, even while sometimes feeling irritation . . . The construction of this novel is deft. As the author moves among the characters' tales, she engages different parts of our minds and hearts. Our feelings and ideas are enlarged. At the end, the Americans in these pages are no more "other" than anyone else in this nation of immigrants. The novel has done its job because of Laila Lalami's extraordinary descriptions of personal dynamics and her evocations of place, especially the desert."
—The Washington Times

"Remarkable, timely novel. Impeccably written story about a hit and run, a family that must grapple with their grief as they try to make sense of why they've lost Driss, the patriarch, and the slowly unraveling mystery of who is responsible for the unthinkable. I love the depth of character here for Nora and Jeremy. The narrative is good from many points of view but theirs is the heart of this story and what a beautiful beating heart it is." 
—Roxane Gay

"It's a combo love story, mystery and literary exploration of immigration in America."
—Nicholas Kristof

"This deftly constructed account of a crime and its consequences shows up, in its quiet way, the pressures under which ordinary Americans of Muslim background have labored since the events of 9/11."
—J.M. Coetzee, winner of the Nobel Prize in Literature
 
"A writer of uncommon conviction and tremendous insight." 
—Viet Thanh Nguyen, author of The Sympathizer

"Lalami's crisp, straightforward prose offers the perfect counterpoint to the complexity of her plot, which artfully interweaves past and present. Reminiscent of Ann Patchett's Commonwealth in its depiction of the enduring effects of family secrets and betrayals, The Other Americans also addresses a multitude of other issues—immigration, prejudice, post-traumatic stress, love and murder—with what can only be described as magical finesse."
—Bookpage (starred review)

"Powerful . . . In a narrative that succeeds as mystery and love story, family and character study, Lalami captures the complex ways humans can be strangers not just outside their "tribes" but within them, as well as to themselves."
—Publishers Weekly (starred review)

"Lalami impressively conducts this chorus of flawed yet graceful human beings to mellifluous effect . . . An eloquent reminder that frame of reference is everything when defining the 'other.'"
—Booklist (starred review)

"Lalami is in thrilling command of her narrative gifts, reminding readers why The Moor's Account was a Pulitzer finalist . . . Nuanced characters drive this novel . . . Lalami expertly mines an American penchant for rendering the 'other.'"
—Kirkus Reviews (starred review)
Pantheon, 9781524747145, 320pp.
Publication Date: March 26, 2019
About the Author
*** 2019 NATIONAL BOOK AWARD FINALIST ***
*** WINNER OF THE 2019 SIMPSON/JOYCE CAROL OATES PRIZE ***

LAILA LALAMI is the author of The Other Americans, Hope and Other Dangerous Pursuits; Secret Son;  and The Moor's Account, which won the American Book Award, the Arab American Book Award, and the Hurston/Wright Legacy Award, and was a finalist for the Pulitzer Prize. Her essays have appeared in The New York Times, the Los Angeles Times, The Washington Post, The Nation, Harper's Magazine, and The Guardian. A professor of creative writing at the University of California at Riverside, she lives in Los Angeles.
Coverage from NPR