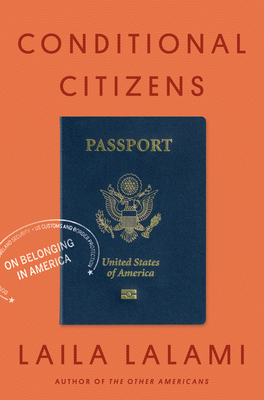 Conditional Citizens (Hardcover)
On Belonging in America
Pantheon, 9781524747169, 208pp.
Publication Date: April 28, 2020
* Individual store prices may vary.
Description
The acclaimed, award-winning novelist--author of The Moor's Account and The Other Americans--now gives us a bracingly personal work of nonfiction that is concerned with the experiences of "conditional citizens."

What does it mean to be American? In this starkly illuminating and impassioned book, Pulitzer Prize Finalist Laila Lalami recounts her unlikely journey from Moroccan immigrant to U.S. citizen, using it as a starting point for her exploration of the rights, liberties, and protections that are traditionally associated with American citizenship. Tapping into history, politics, and literature, she elucidates how accidents of birth--such as national origin, race, or gender--that once determined the boundaries of Americanness still cast their shadows today. Throughout the book, she poignantly illustrates how white supremacy survives through adaptation and legislation, with the result that a caste system is maintained, keeping the modern equivalent of white male landowners at the top of the social hierarchy. Conditional citizens, she argues, are all the people whom America embraces with one arm, and pushes away with the other.

Brilliantly argued and deeply personal, Conditional Citizens weaves together the author's own experiences with explorations of the place of nonwhites in the broader American culture.
About the Author
LAILA LALAMI is the author of Hope and Other Dangerous Pursuits; Secret Son; and The Moor's Account, which won the American Book Award, the Arab-American Book Award, the Hurston/Wright Legacy Award, was also a finalist for the Pulitzer Prize, longlisted for the Man Booker Prize, and included on several best-books-of-the-year lists, including The Wall Street Journal, Kirkus Reviews, and NPR. Her latest novel, The Other Americans, was published in March 2019. Her essays have appeared in the Los Angeles Times, The Washington Post, The Nation, Harper's, The Guardian, and The New York Times. She is the recipient of fellowships from the British Council and the Fulbright and Guggenheim foundations, and is currently a professor of creative writing at the University of California at Riverside. She lives in Los Angeles.
Praise For Conditional Citizens: On Belonging in America…
One of PASTE MAGAZINE's Most Anticipated Books of 2020

"Laila Lalami has written with such sharp clarity and illuminating insight that reading this book was like encountering America for the first time. Probing, unflinching and fiercely intelligent, Conditional Citizens is a must-read for all of those who have stared, stunned, at the shifting terrain of our political landscape and wondered how we got here, and what we can do."
—Maaza Mengiste, author of The Shadow King
 
"This is an urgent, compelling, and persuasive book, written by one of our most important critics of the American character. Laila Lalami has given us a clear-eyed, even-handed assessment of this country's potential—and its limits—through her insightful notion of conditional citizenship. Her book is a gift to all Americans—if they are willing to receive it."
—Viet Thanh Nguyen, author of The Sympathizer and Nothing Ever Dies

"With great moral passion and intellectual verve, Laila Lalami explores the questions the political volcanos of our times have thrown at us: where do we belong, how contingent is our place in the world, and how are citizens made and unmade? Whether narrating her own journey or invoking history and literature, she equips us with bracingly fresh resources to confront our terrible new age of mass deportations, border walls, and brutally enforced statelessness."
—Pankaj Mishra, author of Age of Anger

"Conditional Citizens is a blitz on the way the nation injures and titillates its most vulnerable. In so many ways, Laila Lalami has created a fleshy yet rigorous treatise on the ways this national obsession with suffering necessitates different ways to be and remember, but most importantly different assemblages of language to address and subvert all the poisonous splinters of white nationalism in this country. It is absolutely remarkable, and so so ready for this battle."
—Kiese Laymon, author of Heavy