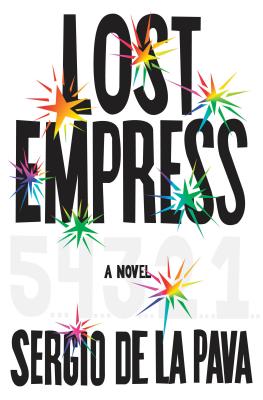 Lost Empress
A Novel
Hardcover

* Individual store prices may vary.
Other Editions of This Title:
Digital Audiobook (5/7/2018)
Paperback (4/16/2019)
Description
From the acclaimed PEN/Robert W. Bingham Prize-winning author of A Naked Singularity, a shockingly hilarious novel that tackles, with equal aplomb, both America's most popular sport and its criminal justice system
 
From Paterson, New Jersey, to Rikers Island to the streets of New York City, Sergio de la Pava's Lost Empress introduces readers to a cast of characters unlike any other in modern fiction: dreamers and exiles, immigrants and night-shift workers, a lonely pastor and others on the fringes of society—each with their own impact on the fragile universe they navigate.
 
Nina Gill, daughter of the aging owner of the Dallas Cowboys, was instrumental in building her father's dynasty. So it's a shock when her brother inherits the franchise and she is left with the Paterson Pork, New Jersey's failing Indoor Football League team. Nina vows to take on the NFL and make the Paterson Pork pigskin kings of America. All she needs to do is recruit the coach, the players, and the fans.
 
Meanwhile, Nuno DeAngeles—a brilliant and lethal criminal mastermind—has been imprisoned on Rikers Island for a sensational offense. Nuno fights for his liberty—while simultaneously planning an even more audacious crime.
 
In Lost Empress, de la Pava weaves a narrative that encompasses Salvador Dalí, Joni Mitchell, psychiatric help, emergency medicine, religion, theoretical physics, and everything in between. With grace, humor, and razor-sharp prose, all these threads combine, counting down to an epic and extraordinary conclusion.
Praise For Lost Empress: A Novel…
"De la Pava . . . can seem like an avenging angel, at least for those with a certain view of what ails contemporary American literature . . . . Hilariously profane . . . . Thrilling . . . . Colloquial in tempo yet nerdy in content, divinely detached yet intimately casual in tone, impossibly learned and improvisational at the same time . . . . There are, to be sure, trace elements in Lost Empress of David Foster Wallace and William Gaddis and other postmodern giants. What's unusual—electrifyingly so—is to see this kind of polyphonic, self-conscious literary performance and all-stops-pulled-out postmodernist production value brought to bear on underclass lives, and on questions of social justice that tend not to penetrate the soundproofing of the ivory tower."
—The New Yorker

"The book oscillates between hilarious surrealism and shocking reality. As in his first novel, A Naked Singularity, Mr de la Pava (a public defender) deploys his expertise in a maximalist form reminiscent of Thomas Pynchon and David Foster Wallace . . . . With messianic fervour, he conjures up marginalised voices and the horrors of mass incarceration, against a backbeat of sporting thrills and that apocalyptic crescendo."
—The Economist

"In the tradition of maximalists like Thomas Pynchon and William Gaddis. . . . Half farce, half serious social novel, half compendium of meditations on everything from Joni Mitchell's early albums to the superiority of football's 4-3 defensive alignment. That's three halves, but as with A Naked Singularity, Lost Empress feels bigger than a single book. . . . It carries the reader into a teeming, complex world guided by a logic that's never far removed from lunacy."
—The Wall Street Journal

"As with the author's debut novel, A Naked Singularity (2012), the New York City criminal justice system figures prominently, its jargon and bureaucratic instruments providing realist texture, while its absurdities and cruelties fuel the fury that is this novel's molten core. Again we witness De La Pava's gleaming wit, philosophical benders and popculture fixations, and the sheer intensity with which he hurls his words in this even more assured work of incandescent literary maximalism."
—Booklist (starred review)

"Extraordinary. . . . De la Pava is a maximalist worldbuilder, and the incredible multiverse he constructs in this book establishes him as one of the most fearsomely talented American novelists working today."
—Publishers Weekly (starred review)

"If Thomas Pynchon and Elmore Leonard had conspired to write North Dallas Forty, this might be the result: a madcap, football-obsessed tale of crossed destinies and criminal plots gone awry. . . . [Lost Empress] is a blast to watch unfold. A whirling vortex of a novel, confusing, misdirecting, and surprising—and a lot of fun."
—Kirkus Reviews (starred review)

"A hilarious, smart, and madcap novel that occupies the porous border between comedy and drama, science and philosophy, story and dream, grim reality and pure imagination. A singular achievement. I've never read anything like it."
—Nathan Hill, author of The Nix

"Lost Empress is a vast galaxy of a book, a searing, frequently hilarious indictment of the absurdity of modern American life told through the lens of this country's two most violent pastimes—professional football and criminal justice. To spend time inside the unfiltered mind of a writer like Sergio de la Pava is a rare, dizzying treat."
—Omar El Akkad, author of American War

"I don't know how to do this book justice. It is so bold and so rich and so funny and so filled with pure pleasure for the reader. More than once I've had to stop and get up and walk around the room to process the sheer awesomeness. I feel like I'm in the presence of a major writer—someone of a singular intelligence that is at once alien yet comforting."
—Charles Yu, author of How to Live Safely in a Science Fictional Universe and Sorry Please Thank You

"In Lost Empress, de la Pava's words drip from the pages like melting clocks, simultaneously expressing the best and worst of humanity's eternal struggle against an uncaring universe. From physics to football, Dali to Descartes, this book is a heady look at life, Art, and the power and love of language."
—Chris Kluwe, author of Beautifully Unique Sparkleponies and former Minnesota Viking 
Pantheon, 9781524747220, 640pp.
Publication Date: May 8, 2018
About the Author
SERGIO DE LA PAVA is the author of A Naked Singularity and Personae. He is a public defender in New York City.
or
Not Currently Available for Direct Purchase