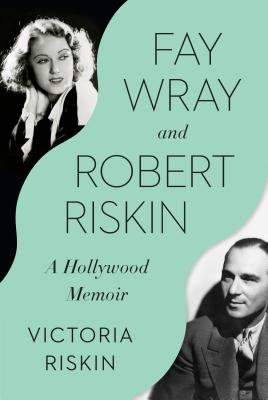 Fay Wray and Robert Riskin
A Hollywood Memoir
Hardcover

* Individual store prices may vary.
Other Editions of This Title:
Digital Audiobook (2/25/2019)
Paperback (2/9/2021)
Description
Finalist for the Los Angeles Times Book Prize (Biography)
A Hollywood love story, a Hollywood memoir, a dual biography of two of Hollywood's most famous figures, whose golden lives were lived at the center of Hollywood's golden age, written by their daughter, an acclaimed writer and producer.

Fay Wray was most famous as the woman—the blonde in a diaphanous gown—who captured the heart of the mighty King Kong, the twenty-five-foot, sixty-ton gorilla, as he placed her, nestled in his eight-foot hand, on the ledge of the 102-story Empire State Building, putting Wray at the height of New York's skyline and cinematic immortality.

Wray starred in more than 120 pictures opposite Hollywood's biggest stars—Spencer Tracy, Gary Cooper (The Legion of the Condemned, The First Kiss, The Texan, One Sunday Afternoon), Clark Gable, William Powell, and Charles Boyer; from cowboy stars Hoot Gibson and Art Accord to Ronald Colman (The Unholy Garden), Claude Rains, Ralph Richardson, and Melvyn Douglas. She was directed by the masters of the age, from Fred Niblo, Erich von Stroheim (The Wedding March), and Mauritz Stiller (The Street of Sin) to Leo McCarey, William Wyler, Gregory La Cava, "Wild Bill" William Wellman, Merian C. Cooper (The Four Feathers, King Kong), Josef von Sternberg (Thunderbolt), Dorothy Arzner (Behind the Make-Up), Frank Capra (Dirigible), Michael Curtiz (Doctor X), Raoul Walsh (The Bowery), and Vincente Minnelli.

The book's—and Wray's—counterpart: Robert Riskin, considered one of the greatest screenwriters of all time. Academy Award–winning writer (nominated for five), producer, ten-year-long collaborator with Frank Capra on such pictures as American Madness, It Happened One Night, Mr. Deeds Goes to Town, Lost Horizon, and Meet John Doe, hailed by many, among them F. Scott Fitzgerald, as "among the best screenwriters in the business." Riskin wrote women characters who were smart, ornery, sexy, always resilient, as he perfected what took full shape in It Happened One Night, the Riskin character, male or female—breezy, self-made, streetwise, optimistic, with a sense of humor that is subtle and sure.

Fay Wray and Robert Riskin lived large lives, finding each other after establishing their artistic selves and after each had had many romantic attachments—Wray, an eleven-year-long difficult marriage and a fraught affair with Clifford Odets, and Riskin, a series of romances with, among others, Carole Lombard, Glenda Farrell, and Loretta Young.

Here are Wray's and Riskin's lives, their work, their fairy-tale marriage that ended so tragically. Here are their dual, quintessential American lives, ultimately and blissfully intertwined.
Praise For Fay Wray and Robert Riskin: A Hollywood Memoir…
"Graceful and loving . . . There is so much to admire about both subjects that it's a pleasure to engage with them in this warm and edifying biography. It earns my highest recommendation." —Leonard Maltin

"A wonderfully intimate memoir, vivid and personal in the best possible sense, illuminating parallel lives full of drama, humor, and indelible images. I found it compulsive reading." —James Curtis, author of Between Flops: A Biography of Preston Sturges; W.C. Fields: A Biography; and Spencer Tracy: A Biography

"One of the great real-life Hollywood love stories; a warm, evocative, and deeply moving tale." —Kenneth Turan, film critic, Los Angeles Times

"I was always curious about life in Hollywood before I came here. I found out in this fascinating book. And wow! What a story it is!" —Kirk Douglas

"A joy to read . . . a Hollywood memoir of rare depth and sensitivity. All who love movies will be captivated by this splendid dual biography of two of Hollywood's most fascinating and colorful personalities." —Joseph McBride, author of Frank Capra: The Catastrophe of Success

"Anyone who thinks that Fay Wray was just the girl screaming in King Kong's hand as he climbs the Empire State Building is in for a big—and pleasant—surprise. Her daughter Victoria Riskin has written a fascinating, richly detailed and superbly illustrated account of the lives of two remarkable people, Fay Wray and star screenwriter Robert Riskin, that spans one of the most interesting periods of Hollywood from the advent of the talkies through the depression and the war and on through the time of the Hollywood blacklist; this is not only the love story of two brilliantly talented people, it is a brilliant piece of cinematic history, at once robust, touching, and deeply satisfying, with a cast of characters that includes almost everybody of interest in those tumultuous years in the motion picture business. For anybody who is interested in the movies, Victoria Riskin's book will be a must-read." —Michael Korda, author of Charmed Lives

"A fascinating dual biography of one of Hollywood's most acclaimed screenwriters . . . and one of its most famous actresses . . . a deeply personal story, informed by the author's affection for her parents . . . Revealing . . . refreshing." —Booklist

"If there was an Academy Award for movie books, Victoria Riskin would be making room beside the Oscar her father won for writing the romantic comedy classic It Happened One Night. Part biography, part Hollywood history, part love story, Riskin's memoir about her parents is captivating and poignant." —Douglass K. Daniel, Associated Press

"A vibrant account by a loving and thoughtful daughter of two decent people who were prominent Hollywood figures during the industry's studio era. Victoria Riskin interweaves the biographies of her parents, Fay Wray and Robert Riskin, and places their lives against the unfolding histories of Hollywood and the nation. Riskin alternates between closeups and long shots, writing with the intimacy of a daughter but also with the reportorial detachment of a historian who has done her homework. Wise, penetrating, smoothly written; a skillful juggling act and, first to last, a pleasure to read." —Foster Hirsch, author of Otto Preminger, The Man Who Would Be King

"Victoria Riskin remembers her parents with warmth and a perceptible touch of melancholy ... Wray's diary entries, along with the adoring love letters Riskin wrote her when he was engaged in his war work, constitute the raw, mournful heart of their daughter's touching memoir." —Scott Eyman, The Wall Street Journal
"If this gracefully-written memoir was simply the rich and absorbing account of two unique and talented people who fell in love, that would be enough. But it is also a study of the creative process; a colorful account of Hollywood's Golden Age; a telling slice of American history; and a deeply moving testament to a daughter's love. An altogether wonderful book." —Richard North Patterson
"Riskin gives a heartfelt account of the lives of her mother, actress Fay Wray, and her father, screenwriter Robert Riskin . . . [a] nostalgic and reverent remembrance of Riskin's famous parents and their Golden Age Hollywood milieu." —Publishers Weekly

"Her father, screenwriter Robert Riskin, sent Mr. Deeds to town and Mr. Smith to Washington, and her mother, Fay Wray, had a famous encounter with a large ape, but Victoria Riskin has her own story to tell—about them and of Hollywood during its most enviable era. Insightful, entertaining, and engaging—and, unlike Kong, I am no pushover." —Stephen M. Silverman, author of David Lean; Dancing on the Ceiling: Stanley Donen and his Movies
Pantheon, 9781524747282, 416pp.
Publication Date: February 26, 2019
About the Author
VICTORIA RISKIN adapted Willa Cather's My Ántonia for television and was a producer of Carson McCullers's The Member of the Wedding as well as The Last Best Year, based on her years as a psychologist. Riskin was president of the Writers Guild of America West and served for twelve years as a director of Human Rights Watch. She lives on Martha's Vineyard with her husband, the writer David W. Rintels.
or
Not Currently Available for Direct Purchase