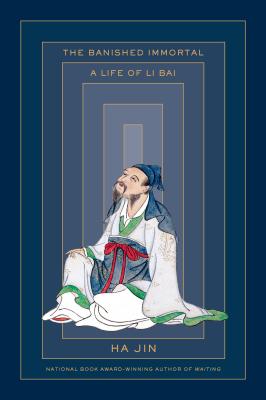 The Banished Immortal
A Life of Li Bai (Li Po)
Hardcover

* Individual store prices may vary.
Other Editions of This Title:
Digital Audiobook (1/14/2019)
Paperback (12/3/2019)
Description
From the National Book Award-winning author of Waiting: a narratively driven, deeply human biography of the Tang dynasty poet Li Bai—also known as Li Po

In his own time (701–762), Li Bai's poems—shaped by Daoist thought and characterized by their passion, romance, and lust for life—were never given their proper due by the official literary gatekeepers. Nonetheless, his lines rang out on the lips of court entertainers, tavern singers, soldiers, and writers throughout the Tang dynasty, and his deep desire for a higher, more perfect world gave rise to his nickname, the Banished Immortal. Today, Bai's verses are still taught to China's schoolchildren and recited at parties and toasts; they remain an inextricable part of the Chinese language.

With the instincts of a master novelist, Ha Jin draws on a wide range of historical and literary sources to weave the great poet's life story. He follows Bai from his origins on the western frontier to his ramblings travels as a young man, which were filled with filled with striving but also with merry abandon, as he raised cups of wine with friends and fellow poets. Ha Jin also takes us through the poet's later years—in which he became swept up in a military rebellion that altered the course of China's history—and the mysterious circumstances of his death, which are surrounded by legend.

The Banished Immortal is an extraordinary portrait of a poet who both transcended his time and was shaped by it, and whose ability to live, love, and mourn without reservation produced some of the most enduring verses.
Praise For The Banished Immortal: A Life of Li Bai (Li Po)…
"Ha Jin narrates the poet's unusual life with erudition and empathy . . . The Banished Immortal is a biography, but it is also a document in which a rootless writer nods to the past inside him . . . A close reading suggests that it is a return to his early themes, and a tribute to the poet he was before making his mark as a novelist. In some ways, the banished poet's life even mirrors the biographer's . . . Writing about Li Bai—his life, his work, and his country—Jin finally returns home." —Han Zhang, The New Yorker

"The Tang-dynasty poet Li Bai, one of the most revered figures in Chinese literature, was torn between his ambition to become a great statesman and his Daoist aspiration to live a hermetic life. In this biography, the novelist Ha Jin tells Li's story with insight and empathy. Born in 701, the son of a merchant, Li spent his life travelling in search of patrons to sponsor his political career and divine beings to help him transcend earthly knowledge. Instead, he met laborers ferrying goods along steep trails, young women waiting years for their betrotheds to return from mercantile expeditions, heroic soldiers stationed in the far north and forgotten by the court. Capturing such intimate longing and pain in his poems secured for Li the immortality denied him by politics and religion." —The New Yorker  (briefly noted)

"Ha Jin's masterful style and deep affection for his subject make the book a pleasure to read—especially for those unfamiliar with Li Bai or Chinese poetry in general . . . The Banished Immortal liberally quotes Bai's work, sometimes reproducing complete poems in translation to show the depth of his imagery and style. A number of readers will pick up this book knowing its author but not Li Bai, and Ha Jin makes sure they see Bai's prodigious talent. Newcomers will be swept up in Bai's personal history while fans of his work will enjoy Ha Jin's own take on the man and his influence." —Shelf Awareness (starred review) 

"In China Li Po remains the bard of the land, if not the world—a most recognizable global brand, second only, perhaps, to Confucius. As with any cultural icon, beneath the shining veneer must lie untold stories, apocryphal or otherwise. In The Banished Immortal: A Life of Li Bai (Li Po), the National Book Award-winning author Ha Jin has excavated historical records and examined existing biographies, both in Chinese and English, to produce a rich, moving and titillating account of the poet's life. . . . The Banished Immortal is a deeply empathetic portrait of a literary genius whose vicissitudes in life—filled with ambitions, frailties, losses and pains—would pale a Shakespearean drama. . . . Today, when power-grabbing politicians look out for themselves rather than the public, as they did in Li Po's time, poetry has a herculean cleaning job to do. By giving us this mesmerizing biography, Ha Jin, who began his writing career as a poet and whose lucid narrative always contains a touch of poetry, sounds a warning gong for our troubled age." —Yunte Huang, The Wall Street Journal

"American readers' Western bias has left the Chinese poet Li Bai less well-known here than in his native land, where he is consid­ered a foundational writer. The Banished Immortal: A Life of Li Bai, a new biography of the poet by au­thor Ha Jin (Waiting, The Boat Rocker), is a worthy corrective and an engaging in­troduction to the po­et's life and work . . . Considering that Bai (also known as Li Po) lived from 700-762 B.C., a sur­prising amount is known about his life, although much of that informa­tion is shrouded in inconsistencies, myths, and ques­tions with answers that are forever lost to time. Jin does an admira­ble job sorting the wheat from the chaff . . . The Banished Immortal is an affectionate and thoughtful por­trait of a complicated man and a master poet." —Robert Weibezahl, BookPage
 
"In Tang dynasty China, a poet could nurture high hopes. Becoming an imperial counselor exercising statecraft wasn't inconceivable, especially if, like Li Bai (701–62), who is also known in English as Li Po, one had studied swordsmanship and history as well as literature . . . He once wangled a court placement but in less than two years resigned, disappointed at being treated as a writer only, not necessarily of poems; he never became a made man. His life as distinguished poet and fiction writer Ha Jin (The Boat Rocker, 2016) so limpidly relays it was peripatetic rather than domestic, usually away from the family he strove to support. Yet he was an unstaunchable fount of poems of friendship, drinking, dancing, nostalgia, and regret and, what is unusual and particular to him, poems adopting the perspectives of others, including ordinary men and women. Bai still stands, with his friend Du Fu, at the pinnacle of Chinese poetry, and his influence is extensive the world over." —Ray Olson, Booklist

"Award-winning novelist and poet Jin offers a glimpse into the life of one of China's most celebrated poets . . . Ha Jin creates a kind of hagiography that is both scholarly and emotionally engaging . . . Essential." —Herman Sutter, Library Journal (starred review)

"Ha Jin tells the story of how a supreme artist endures the struggles, frailties and losses that are a part of any life—for the genius Li Bai, those pervasive difficulties are compounded, as well as redeemed, by art and the artist's awareness of his gifts. This is a fluently told story, mysterious yet familiar, tragic yet sometimes comical. Ha Jin is a master storyteller." —Robert Pinsky

"A taut introduction to the life and poetry of the influential eighth-century Daoist poet . . . Ha Jin's polished biography will give a wider audience access to the politics and beauty of a major Chinese poet. —Publisher's Weekly (starred review)
Pantheon, 9781524747411, 320pp.
Publication Date: January 15, 2019
About the Author
HA JIN left his native China in 1985 to attend Brandeis University. He is the author of eight novels, four story collections, four volumes of poetry, and a book of essays. He has received the National Book Award, two PEN/Faulkner Awards, the PEN/Hemingway Foundation Award, the Asian American Literary Award, and the Flannery O'Connor Award for Short Fiction. In 2014 he was elected to the American Academy of Arts and Letters. He lives in the Boston area and is a professor at the creative writing program at Boston University.