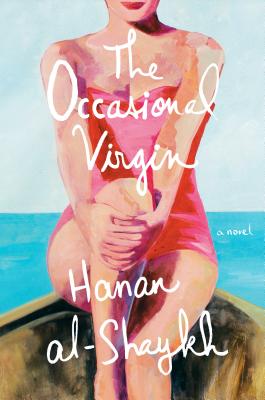 The Occasional Virgin (Hardcover)
A Novel
Pantheon, 9781524747510, 240pp.
Publication Date: July 10, 2018
Other Editions of This Title:
Digital Audiobook (7/9/2018)
Paperback (6/18/2019)
* Individual store prices may vary.
Description
In this frank and fearless novel, acclaimed writer Hanan al-Shaykh follows the tumultuous lives and sometimes shocking choices of women successful in their careers but unlucky in love.
 
On a sunny beach on the Italian Riviera, two thirtysomething women, Yvonne and Huda, relax by the sparkling sea. But despite the setting, as their vacation unfolds, their complicated pasts seep through to the idyllic present. Both women spent their childhoods in Lebanon—Yvonne raised in a Christian family, Huda in a Muslim one—and they now find themselves torn between the traditional worlds they were born into and the successful professional identities they've created.
 
Three months later, when Huda (a theater director from Toronto) visits Yvonne (an advertising executive) in London, a chance encounter with a man at Speaker's Corner leads to profound repercussions for them both. As the novel continues, each woman will undertake her own quest for love and romance, revenge and fulfillment. Witty and wry, The Occasional Virgin is a poignant and perceptive tale for our time.
About the Author
HANAN AL-SHAYKH, an award-winning journalist, novelist, and playwright, is the author of the short-story collections I Sweep the Sun Off Rooftops and One Thousand and One Nights; the novels The Story of Zahra, Women of Sand and Myrrh, Beirut Blues, and Only in London; and a memoir about her mother, The Locust and the Bird. She was raised in Beirut, educated in Cairo, and lives in London.
Praise For The Occasional Virgin: A Novel…
"Brilliant! The Occasional Virgin is a modern Jane Austen comedy—wise, witty, and unexpectedly profound. I loved it." —Alberto Manguel

"A refreshing, thought-provoking look at the weight of history on the lives we build for ourselves. . . . Al-Shaykh's prose invites readers into the vivid imagery of [her two protagonists'] minds as they grapple with religion, family, relationships, and their own identities; both are complex, fully realized characters."—Booklist
 
"Irony and iconoclasm are the orders of the day in al-Shaykh's bittersweet tale of friendship and disillusionment. . . . Al-Shaykh, who has drawn both admiration and condemnation in her native Lebanon for frank depictions of women's sexuality and criticism of women's powerlessness in traditional social structures, continues to grapple with these issues in ways both farcical and profound. It's the small moments—of both absurdity and genuine pathos—that will remain with readers, as Yvonne and Huda struggle to reconcile where they came from with who they've become."—Publishers Weekly
 
"Novelist and memoirist al-Shaykh delivers an elegant story of a friendship that is anything but easy. . . . [The] novel is full of quiet regrets as it speaks gracefully to the challenges of friendship, challenges that threaten to drive the two women apart but that, in the end, instead strengthen their bond. Another winning book by one of the most distinguished Arabic-language writers at work today."—Kirkus Reviews
 
"Lebanese-born, Cairo-educated, and London-based, al-Shaykh writes piercingly about Middle East upheaval and especially women in the Arab-Muslim world. Somewhere along the French Riviera, two young women from Beirut—Muslim-raised Huda and Christian-raised Yvonne—reflect on their tumultuous lives and struggles with work and love." —Library Journal