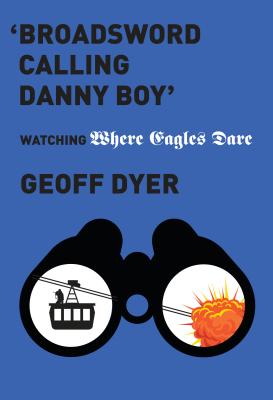 'Broadsword Calling Danny Boy'
Watching 'Where Eagles Dare'
Hardcover

* Individual store prices may vary.
Other Editions of This Title:
Paperback (5/19/2020)
Description
Geoff Dyer's earlier book on film, Zona, was about Andrei Tarkovsky's Stalker, so it was perhaps inevitable that he should next devote his unique critical and stylistic energies to Brian G. Hutton's Where Eagles Dare. A thrilling Alpine adventure starring a magnificent, bleary-eyed Richard Burton and a dynamically lethargic Clint Eastwood, Where Eagles Dare is the apex of 1960s war movies, by turns enjoyable and preposterous.

'Broadsword Calling Danny Boy' is Geoff Dyer's hilarious tribute to a film he has loved since childhood: it's a scene-by-scene analysis—or should that be send-up?—taking us from it's snowy, Teutonic opening credits to its vertigo-inducing climax.
Praise For 'Broadsword Calling Danny Boy': Watching 'Where Eagles Dare'…
"This is Geoff Dyer's funniest book yet." —Michael Ondaatje

"This slim volume is a witty gem of personally inflected film analysis. . . . [Dyer] shows off an exquisite eye for visual detail. . . . The book complements a popcorn classic while functioning in quite a different register—in place of grandiose, visceral big-screen thrills, Dyer's fleet work gives off a playful, often funny intellectual high." —Publishers Weekly

"Dyer is one of our greatest living critics—not of the arts, but of life itself—and one of our most original writers." —New York

"Geoff Dyer's Broadsword Calling Danny Boy is an hilariously funny, freewheeling, rule-breaking, wholly original, scene-by-scene sprint through the crazy action film 'Where Eagles Dare.'" —Craig Brown, Daily Mail Books of the Year

"[Dyer] is a brilliant, intellectually sparkling critic. . . . ['Broadsword Calling Danny Boy'] is a feast of snark throughout, but that is because Dyer is a comedian to his fingertips as well as a very serious man. He would not waste humour on something he didn't care about. . . there are some superb one-liners. . . and he really lets his imagination rip on the acting . . . moreishly entertaining." —The Sunday Telegraph

"Highly entertaining, and a fine excuse to watch the movie again. . . brilliant. . . Dyer can't help writing brilliant sentences." —The Guardian

"Dyer's wry humour is everywhere evident. . . 'There is never a dull moment in Where Eagles Dare,' he writes, and nor is there in this book." —The Sunday Times

"Dyer is one of the most stylish writers alive, though, and he's great company."—Literary Hub

"A short, eccentric, hugely enjoyable work that succeeds admirably in capturing the daft exuberance off Where Eagles Dare." —Literary Review

"Dyer makes for a droll guide, combining a scene-by-scene breakdown of the film's silliness with gonzo riffs on its cultural legacy . . . this is less a work of film criticism than a jeu d'esprit." —Financial Times

"Dyer is at his best when giving glimpses of his childhood and adolescence, days of toy Lugers, Action Man and Airfix . . ." —Sight & Sound
Pantheon, 9781524747572, 128pp.
Publication Date: February 12, 2019
About the Author
GEOFF DYER is the award-winning author of many books, including But Beautiful, Out of Sheer Rage, Zona (on Andrei Tarkovsky's film Stalker), and the essay collection Otherwise Known as the Human Condition (winner of a National Book Critics Circle Award for criticism). A fellow of the Royal Society of Literature and a member of the American Academy of Arts and Sciences, Dyer lives in Los Angeles, where he is writer-in-residence at the University of Southern California. His books have been translated into twenty-four languages.

www.GeoffDyer.com
or
Not Currently Available for Direct Purchase