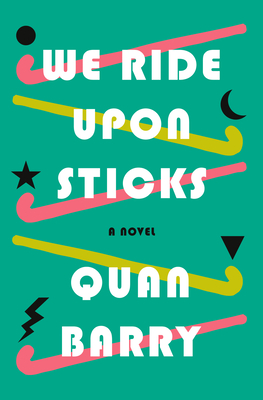 We Ride Upon Sticks
A Novel
Hardcover

* Individual store prices may vary.
Other Editions of This Title:
Digital Audiobook (3/2/2020)
Paperback (2/16/2021)
March 2020 Indie Next List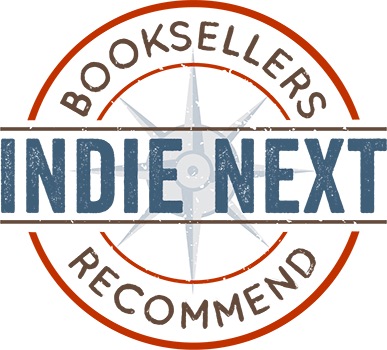 "This is such a fun romp! It has everything you could possibly want in a book: field hockey, witches, and '80s bangs that have literally taken on a life of their own. Set in Salem in the 1980s, we follow a group of high school field hockey players as they struggle with their new dark powers and attempt to end their losing streak. One of the strangest, most satisfying books I have read in a long time!"
— Hillary Smith, Copperfield's Books Calistoga, Calistoga, CA
View the List
Description
In the town of Danvers, Massachusetts, home of the original 1692 witch trials, the 1989 Danvers Falcons will do anything to make it to the state finals—even if it means tapping into some devilishly dark powers.

Against a background of irresistible 1980s iconography, Quan Barry expertly weaves together the individual and collective progress of this enchanted team as they storm their way through an unforgettable season.
 
Helmed by good-girl captain Abby Putnam (a descendant of the infamous Salem accuser Ann Putnam) and her co-captain Jen Fiorenza (whose bleached blond "Claw" sees and knows all), the Falcons prove to be wily, original, and bold, flaunting society's stale notions of femininity. Through the crucible of team sport and, more importantly, friendship, this comic tour de female force chronicles Barry's glorious cast of characters as they charge past every obstacle on the path to finding their glorious true selves.
Praise For We Ride Upon Sticks: A Novel…
2021 ALEX AWARD WINNER
"In the great chasm that is 2020, this book was a huge bright spot for me . . . This was the shake-up and downright weird and nerdy book that put my reading back on track while quarantined." —
Cassie Gutman, Book Riot ("Best Books of 2020")
"Psst. Hey you. Yeah, you. If you're looking for a good time, call . . . your local bookstore and ask them to set aside a copy of Quan Barry's
We Ride Upon Sticks
with your name on it. This novel, in which a high school field hockey team turns to the dark side (well, sort of) via a pledge penned in purple in an Emilio Estevez notebook (it's the 80s), is almost too much fun to be allowed. I haven't snickered so much reading a novel since I was a kid, but it's not just slapstick, or the pure goofiness of the time period—the pleasure comes from Barry's ludicrous, masterful sentences as much as it does from her ludicrous, over-the-top characters. Truly a delight in every way."
—Emily Temple,
Lit Hub Senior Editor

"An absolute gift—a genuinely funny page turner with enough heart to win any championship." —Jolie Myers, NPR
"[A] delightful, pop culture-packed novel . . . In revealing the team members' individual histories, the book becomes more than just a story of field hockey and witchcraft—it's an energetic and original examination of young people wrestling with all the complicated parts of growing up."
—TIME
"This is a novel by a poet and it rules . . . The prose style is neon and the laughs do not stop. I feel like the author wrote the entire book with an evil grin on her face." —
Molly Young, Vulture
"Packed with the '80s flare of
Stranger Things
."
—Sabienna Bowman,
PopSugar
"The book takes on the task of crafting compelling characters out of eleven protagonists, and succeeds in spades. [A] delightful narrative mosaic . . . Barry is a skilled storyteller and sentence artist who embraces irreverence where irreverence is due . . . As the story wind-sprints toward its deeply gratifying ending, one can't help but grab a stick and hold on."
—Sarah Neilson, Minneapolis Star Tribune
"Spellbinding, wickedly fun . . . Each sentence fizzes like a just-opened bottle of New Coke." —
O,
The Oprah Magazine
"Riotously entertaining . . . A witty, unruly ode to female empowerment and camaraderie"
—Rob Thomas, The Capital Times
"A delightful, hilarious ode to the '80s."
—Karla Strand, Ms. Magazine
"A perfect blend of aesthetic and narrative pleasure . . . It's very funny and a little angry and a lot of fun."
—Maris Kreizman
"Touching, hilarious, and deeply satisfying . . . Readers will cheer [the team] on because what they're really doing is learning to be fully and authentically themselves." —
Kirkus Reviews (starred review)
"Think about your favorite '80s teen movies, and then think of all the ills they perpetuated—the casual racism and the slut-shaming, not to mention the homophobic stereotypes.
We Ride Upon Sticks
is a novel that captures the giddy fun of your favorites—the wild parties and the teased bangs, the outsiders with the witty one-liners and the thrill of winning the big game—but it also breaks apart the myths of '80s teen tropes by putting the story in context. As narrated by the 11 members of the Danvers Falcons women's varsity field hockey team in 1989 and in the more enlightened present day, the novel follows the team's meteoric rise from mediocrity to the state championship after signing their names in a powerful, potentially witchy notebook with Emilio Estevez's face on the cover." —
Vulture
"Charming . . . Pat Benatar pounds throughout this novel, 'Hit me with your best shot' being applicable to a surprising number of situations, athletic, romantic, and supernatural . . . But Barry is . . . careful not to let nostalgia paper over the real ways in which things were worse in the 1980s, particularly for queer people and people of color. " —
Annalisa Quinn, NPR.org
"Quan Barry writes of [her characters] lovingly, tracing their coming-of-age with sardonic wit and generous indulgence." —
Claire Hopley, The Washington Times
"A playful, nostalgic run through 1980s suburbia . . . Barry handles a large cast of characters nimbly and affectionately, allowing each to take a turn or two in the spotlight. Readers with fond, or even not so fond, memories of the 1980s are bound to be entertained."
—Publishers Weekly
NPR's "Best Books of 2020
TIME "Must Read Books of 2020"
Pantheon, 9781524748098, 384pp.
Publication Date: March 3, 2020
About the Author
Raised in the coastal town of Danvers, Massachusetts, QUAN BARRY is the author of the novel She Weeps Each Time You're Born and of four books of poetry, including the collection Water Puppets, which won the AWP Donald Hall Prize for Poetry and was a PEN Open Book finalist. She lives in Wisconsin and teaches at the University of Wisconsin–Madison.