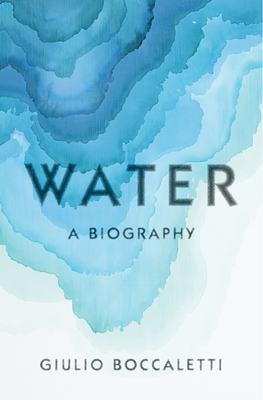 Water
A Biography
Hardcover

* Individual store prices may vary.
Description
Spanning millennia and continents, here is a stunningly revealing history of how the distribution of water has shaped human civilization.


Writing with authority and brio, Giulio Boccaletti—chief strategy officer and global ambassador for water at The Nature Conservancy—shrewdly combines environmental and social history. Boccaletti begins with the earliest civilizations of sedentary farmers on the banks of the Nile, the Tigris, and the Euphrates rivers. Even as he describes how these societies were made possible by sea-level changes from the last glacial melt, he incisively examines how this type of farming led to irrigation and multiple cropping, which, in turn, led to a population explosion and labor specialization. We see with clarity how irrigation's structure informed social structure (inventions such as the calendar sprung from agricultural necessity); how in ancient Greece, the communal ownership of wells laid the groundwork for democracy; how Greek and Roman experience with water security resulted in systems of taxation; and, of course, how the modern world as we know it began with a legal framework for the development of water infrastructure.

Extraordinary for its monumental scope and piercing insightfulness, Water: A Biography richly enlarges our understanding of our relationship to—and fundamental reliance on—the most elemental substance on earth.

Praise For Water: A Biography…
"Giulio Boccaletti's book is a remarkable achievement: a readable history of the world, seen through the history of water management. He shows, with clarity and erudition, how this is in reality a political, not a technological issue. Throughout history, humans have tried to conquer water, but water always wins; and it would be better for humanity if we realised it. The book is a real tour de force; it should be essential reading for every politician, as well as the rest of us."
—Professor Chris Wickham, FBA, Chichele Professor of Medieval History (Emeritus) and Fellow of All Souls College, University of Oxford; Author of The Inheritance of Rome: A history of Europe from 400 to 1000.
 
"In a dazzling tale that spans millennia, geography, science, and human civilizations, Water: A Biography is more than the story of water. With water as its connecting tissue, this is a story of ideas and institutions; of tensions between individual enterprise and collective action; of human needs and planetary dynamics that outstrip human agency to manage Nature. Stretching back to nomadic foragers through early city-states to modern mega-nations, this saga of water is a saga of political architecture and the linkages of institutions, nations, and collective action to the exigencies of securing and sustaining water for people. I am astonished at its breadth, depth, and scholarship, at once encyclopedic yet also highly readable."
—Lynn Scarlett, Former Deputy Secretary of the U.S. Department of the Interior; Chief External Affairs Officer, The Nature Conservancy.
 
"A revealing and accessible analysis of one of society's longest and most fundamental relationships with the planet. It traces how institutions have evolved to cope with the challenge of managing and regulating the competition for water on which all the Earth's very dynamic ecosystems depend. Water is one of Nature's flows. It defies capture by concepts such as sovereignty. The analysis is very deeply informed because the author has worked with the most experienced professionals and scientists who have studied and sometimes made the history of water. It is a very complicated story told with elegance and authority." 
—Professor Tony Allan, King's College London; Winner of the 2008 Stockholm Water Prize; Author of The Middle East Water Question

"Water: A Biography is a masterly, compelling history of the relationship between society and water. It weaves politics, history, and science in a riveting narrative that spans millennia. Giulio Boccaletti has spent years working on water issues at the highest level and it shows. This is a monumental work, which is a must read for anyone wanting to understand the role of water in human history."
—Peter Brabeck-Letmathe, Chairman Emeritus, Neslté S.A.; Vice-Chairman, Foundation Board of the World Economic Forum.

"Boccaletti's Water is a brilliant exploration of the role water has played in societies' fortune or downfall. Water provides us with a poignant reminder of the fragility of our natural world and its critical importance in sustaining the future of humanity."
—Jennifer Morris, CEO The Nature Conservancy

"It was an inspired idea to write a 'biography' of water and Giulio Boccaletti has carried it off in style. His book is impressively global in scope. It ranges from the earliest human societies to questions of water security in our own time, combining bold lines of argument with compelling examples. Ambitious, assured and very well written, Water: A Biography is an impressive and very welcome addition to the literature."
—David Blackbourn, author of "The Conquest of Nature: Water, Landscape, and the Making of Modern Germany"; Cornelius Vanderbilt Distinguished Chair of History, Vanderbilt University.
 
"Water: A Biography chronicles a rich and fascinating story of how the intrinsic power of water has exerted itself over empires, economics, politics and human survival. What enhances the reading experience is an opportunity to rediscover human history itself but with a dimension that was missed in most people's wider learned history. What it makes clear is that water's influence has delivered many lessons across millennia, and often recurring lessons—making this book also about the future. As someone who has devoted a career to water-related issues it was remarkable how much this book still revealed to me about where we have been and where we are going."
—Gary White, CEO& Co-Founder, Water.org
 
"Boccaletti takes water deadly serious. For him water is bigger than life, bigger than anything else. It is our past, present and future. Moreover, water has always been, and will always be political. Water exacerbates our vulnerabilities and drives our vested interests to conflictional proportions. And water drives our actions, paralyzes us while—at all scales, times, and decisions—it becomes larger than anything else. That could be overwhelming, even too much or big to connect to. But, Boccaletti takes a people's, even very personal and passionate perspective. Taking the reader literally by the hand, going back through the ages and being our best water-travel guide ánd companion: Giulio is your best friend in a stormy water-world."
—Henk WJ Ovink, Special Envoy for International Water Affairs, Kingdom of The Netherlands Sherpa to the UN/WB High Level Panel on Water

"Water: A Biography takes an expansive look at the ways in which this vital resource has shaped the history of societies and their institutions over thousands of years. It provides essential reading for those seeking to explore how humanity's relationship with nature has influenced the development of legal and political systems and offers invaluable insights into current debates surrounding climate change and sustainability. I couldn't recommend it more highly."
—Lee C. Bollinger, President and Seth Low Professor of the University, Columbia University
 
"Giulio Boccaletti takes the most prosaic thing on the planet, water, and rebrands it. Yes, it's the source of all life, but in this deeply researched and vivid story, he deftly reveals how the struggle to master water is also the root of all organized society. From antiquity to today's precipice of water scarcity, he spins a dramatic, sweeping story that forces the reader to reappraise civilization, politics, and all of human history through a water lens. It is a riveting view where humans and water are inextricably linked in what Boccaletti describes as "a precariously balanced dance from which neither can be freed". A transformative, dramatic and revelatory tale of how our struggle to master water, from antiquity to today, defines us as humans."
—John Bredar, Vice-President for National Programming, GBH
Pantheon, 9781524748234, 400pp.
Publication Date: September 14, 2021
About the Author
Giulio Boccaletti is a globally recognized expert on natural resource security and environmental sustainability. He is the Chief Strategy Officer of The Nature Conservancy, one of the largest environmental organizations in the world. Trained as a physicist and climate scientist, he holds a doctorate from Princeton University, where he was a NASA Earth Systems Science Fellow. He has been a research scientist at the Massachusetts Institute of Technology, and was a Partner of McKinsey & Company, where he founded the firm's Global Water Resource initiative, and was one of the leaders of its Sustainability and Resource Productivity Practice. He frequently writes on environmental issues for news media, including Project Syndicate and The Guardian, and is an expert contributor to the World Economic Forum. His work on water has been featured in the PBS documentary series "H2O: the Molecule that Made Us." He lives in London.