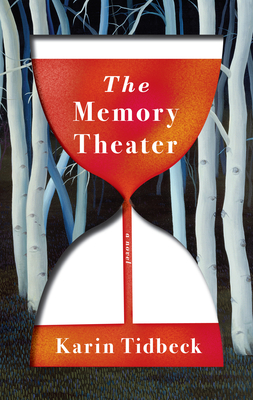 The Memory Theater
A Novel
Hardcover

* Individual store prices may vary.
Description
From the award-winning author of Amatka and Jagannath--a fantastical tour de force about friendship, interdimensional theater, and a magical place where no one ages, except the young

In a world just parallel to ours exists a mystical realm known only as the Gardens. It's a place where feasts never end, games of croquet have devastating consequences, and teenagers are punished for growing up. For a select group of Masters, it's a decadent paradise where time stands still. But for those who serve them, it's a slow torture where their lives can be ended in a blink.

In a bid to escape before their youth betrays them, Dora and Thistle--best friends and confidants--set out on a remarkable journey through time and space. Traveling between their world and ours, they hunt for the one person who can grant them freedom. Along the way, they encounter a mysterious traveler who trades in favors and never forgets debts, a crossroads at the center of the universe, our own world on the brink of war, and a traveling troupe of actors with the ability to unlock the fabric of reality.

Endlessly inventive, The Memory Theater takes the reader to a wondrous place where destiny has yet to be written, life is a performance, and magic can erupt at any moment. It is Karin Tidbeck's most engrossing and irresistible tale yet.
Praise For The Memory Theater: A Novel…
"Blending fairy-tale atmosphere with 'the real world,' Karin Tidbeck's The Memory Theater is lovely, dark, and hopeful all at the same time."  
—Ann Leckie, author of the Imperial Radch Trilogy and The Raven Tower

"At once arrestingly strange and hauntingly familiar, The Memory Theater is a brand new fairy tale you can almost remember hearing before."
—Lara Elena Donnelly, author of the Amberlough Dossier 

"The Memory Theater is a wonder, sparkling with magic and menace. Karin Tidbeck has written a taut, engrossing fable about identity, time and home that wanders through worlds that lie hidden beyond the veil of our own."
—Shawn Vestal, author of Daredevils

"Karin Tidbeck is one of the finest writers of fantastic fiction in the world. The Memory Theater is as intricate and as gorgeous as a Swiss watch, only this watch comes from the realm of the Fae. Tidbeck's second novel is beguiling, terrifying, and hugely compassionate. A cause for celebration." 
—Nathan Ballingrud, author of North American Lake Monsters and Wounds

"Sharp and glittering. . . . Tidbeck [creates] a world where love, cruelty, and wonder all exist side by side. Highly recommended for fans of Tanith Lee, Michael Moorcock, or Mervyn Peake."
—Booklist, starred review 

"Expansive and wildly imaginative . . . Tidbeck straddles fantasy, coming-of-age drama, and horror with an exciting, sometimes wrenching tale of friendship and time travel . . . This fast-paced fantasy will please fans of quest stories who don't mind a bit of darkness."
—Publishers Weekly

"Strange and unique . . . A dark fairy tale that snakes through the multiverse."
—Kirkus


Pantheon, 9781524748333, 240pp.
Publication Date: February 16, 2021
About the Author
KARIN TIDBECK lives in Malmö, Sweden, where she works as a translator and creative writing teacher, and writes fiction in Swedish and English. Her English-language debut, the story collection Jagannath, received the IAFA William L. Crawford Fantasy Award and was short-listed for the World Fantasy Award. She is also the author of the novel Amatka.