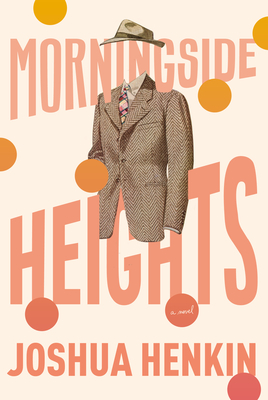 Morningside Heights
A Novel
Hardcover

* Individual store prices may vary.
Description
A tender, powerful, and big-hearted novel about love in the face of loss, from the award-winning author of The World Without You and Matrimony
 
When Ohio-born Pru Steiner arrives in New York in 1976 after graduating from Yale, she follows in a long tradition of young people determined to take the city by storm. But when she falls in love with Spence Robin, her hotshot young Shakespeare professor, her life takes a turn she couldn't have anticipated.
 
Thirty years later, something is wrong with Spence. The Great Man can't concentrate; he falls asleep reading The New York Review of Books. With their daughter Sarah away at medical school, Pru must struggle on her own. One day, feeling particularly isolated, Pru meets a man, and the possibility of new romance blooms. Meanwhile, Spence's estranged son from his first marriage has come back into their lives. Arlo, a wealthy entrepreneur who invests in biotech, may be his father's last, best hope.
 
Morningside Heights is a sweeping and compassionate novel about a marriage surviving hardship. It's about the love between women and men and children and parents, about the things we give up in the face of adversity, about what endures when life turns out differently from what we thought we signed up for.
Praise For Morningside Heights: A Novel…
One of 2021's Most Highly Anticipated New Books —Newsweek

"In the sheer pleasure of reading Joshua Henkin's new novel—of following its swift narrative movements, getting to know its all-too-human characters, inhabiting its detail-perfect settings, its relentlessly accurate portrayals— of marriage and parenthood and siblinghood—we can almost forget, for moments on end, that its subject is one of the most painful imaginable: the loss of a self, of a marriage, of a shared life.  But the real magic of Morningside Heights is the way it lifts us up, reminding us that ordinary people undertake extraordinary acts of survival every day." —Julie Orringer 

"Reading Morningside Heights is an emotional experience. How much can befall a marriage, and what extraordinary demands must sometimes be met for loved ones to endure. But it is a delightful read as well, because the people here are such thoroughly engaging company. So much that happens in this book is unexpected that it reads at the pace of a suspense novel, but its greatest achievement is to make us feel that we are in the presence of real people, living out their joys and sorrows and making their way in the real world." —Sigrid Nunez

"Henkin brilliantly conveys the complexities of a New York City family in this humane, compulsively readable tale . . . In 2006, Shakespeare scholar Spence Robin, 57, is diagnosed with early-onset Alzheimer's, and his wife, Pru Steiner, is forced to return his book advance . . . [Henkin] shows how Spence was a wunderkind in Columbia's English department, making the tragedy of his illness particularly poignant . . . Equally well handled is Pru's transformation from wife and lover to caretaker—wrenching changes that Henkin conveys without dissolving into sentimentality or cliché, but rather leaving readers with a kernel of hope. This is a stunning achievement." —Publishers Weekly (starred review)
 
"A superstar literature professor is struck down in his prime in the cruelest possible way . . . Henkin specializes in melancholy stories about complicated families, and this one is a real heartbreaker. His portrait of Pru is nuanced and sensitive, following her into one of the darkest places a spouse can go and hitting the notes just right . . . Caring for a spouse with Alzheimer's is an ever more common heartbreak, illuminated by this tender portrait of a marriage." —Kirkus Reviews

"What does it really mean: in sickness and in health, till death do us part? Morningside Heights knows the answer. In this tender, wise, and unflinching novel, Joshua Henkin traces the bittersweet arc of a lifelong love, with all its joy and pain." —Tom Perrotta

"You know a novel is good when the thought of leaving the world it creates and the people who live there fills you with sadness and a profound sense of loss.  Joshua Henkin's Morningside Heights is just such a novel." —Richard Russo

"Morningside Heights is a lovely novel, and a moving meditation on how the act of loving a specific person changes us. When Pru Steiner's marriage to Spence Robin is tragically cut short, she has to take stock of who she has become in the intervening years. Henkin has written a beautifully nuanced story that I was unable to put down." —Ann Napolitano, author of DEAR EDWARD
Pantheon, 9781524748357, 304pp.
Publication Date: June 15, 2021
About the Author
JOSHUA HENKIN is the author of the novels Swimming Across the Hudson, a Los Angeles Times Notable Book, Matrimony, a New York Times Notable Book, and The World Without You, winner of the 2012 Edward Lewis Wallant Award for Jewish American Fiction and a finalist for the 2012 National Jewish Book Award. His short stories have been published widely, cited for distinction in Best American Short Stories, and broadcast on NPR's "Selected Shorts." He lives in Brooklyn, NY, and directs the MFA program in Fiction Writing at Brooklyn College.