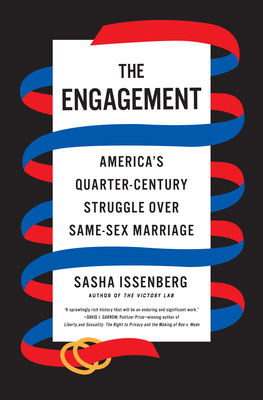 The Engagement (Hardcover)
America's Quarter-Century Struggle Over Same-Sex Marriage
Pantheon, 9781524748739, 928pp.
Publication Date: September 29, 2020
* Individual store prices may vary.
Description
The riveting story of the conflict over same-sex marriage in the United States—the most significant civil-rights breakthrough of the new millennium.
 
On June 26, 2015, the United States Supreme Court ruled that state bans on gay marriage were unconstitutional, making same-sex unions legal across the United States. But the road to that momentous decision was much longer than many know. In this definitive work, Sasha Issenberg takes us back to Hawaii in the 1990s, when that state's courts first started grappling with the novel question, through the emergence of the Defense of Marriage Act in 1996 that raised marriage to a national issue, to the first legal same-sex weddings in Massachusetts, to the epic face-off over California's Proposition 8, and finally to the landmark Supreme Court decisions of Windsor and Obergefell.
 
The meticulously reported narrative follows the coast-to-coast conflict through courtrooms and war rooms, bedrooms and boardrooms, to shed light on every aspect of a political and legal controversy that divided Americans like no other issue. Following a cast of characters who sought their own right to wed, those who fought to protect the traditional definition of marriage, and those who changed their minds about it, The Engagement is sure to become a seminal book on the modern culture wars.
About the Author
SASHA ISSENBERG is the author of three previous books, including The Victory Lab: The Secret Science of Winning Campaigns. He has covered presidential elections as a national political reporter in the Washington bureau of The Boston Globe, a columnist for Slate, and a contributor to Bloomberg Politics and Businessweek. He is the Washington correspondent at Monocle, and his work has also appeared in New York, The New York Times Magazine, and George, where he served as a contributing editor. He teaches in the political-science department at UCLA.
Praise For The Engagement: America's Quarter-Century Struggle Over Same-Sex Marriage…
"In this deeply engaging and comprehensively reported work, Sasha Issenberg traces the story of marriage equality from its beginnings as a nearly impossible dream to its current status as an essential right. This engrossing account of social change, political will and human rights arrives at a moment of great urgency. Issenberg's narrative will inform the efforts of anyone who strives for a more equal country, and touch the heart of anyone who has seen their rights come up for debate."
—Mayor Pete Buttigieg

"Sasha Issenberg has produced a sweeping, inside history of the first great civil rights triumph of the new century, masterfully weaving together the stories of the pioneering activists and the political and legal strategies they devised into a book of penetrating reportage and analysis that reads like a thriller." 
—Joshua Green, author of Devil's Bargain: Steve Bannon, Donald Trump, and the Nationalist Uprising

"The Engagement is a sprawlingly rich history of the United States' most transformative equality movement. Issenberg's impressively wide-ranging interviews allow him to go beyond the familiar story of trailblazing lawyers to give lesser-known campaign consultants due credit for their critical contributions to bringing about a sea-change in America's acceptance of gay equality. Likewise, Issenberg's fair-minded treatment of equality opponents further demonstrates The Engagement will be an enduringly significant work of history."
—David J. Garrow, Pulitzer Prize–winning author of Rising Star: The Making of Barack Obama
 
"At once political history, movement autopsy, legal chronicle, and fly-on-the-wall account, Sasha Issenberg's latest is a one of his most thought-provoking books to date. By reckoning with the stories of those who hoped finally to legalize same-sex marriage, as well as those who were determined to delay, or actively to prevent, such a revolution, Issenberg animates one of this nation's most recent and dramatic civil rights fights as few others have. And, in doing so, he makes clear not only that its origins were most complex, but also why its legacy remains most uncertain."
—Heather Ann Thompson, Pulitzer Prize–winning author of Blood in the Water: The Attica Prison Uprising of 1971 and its Legacy