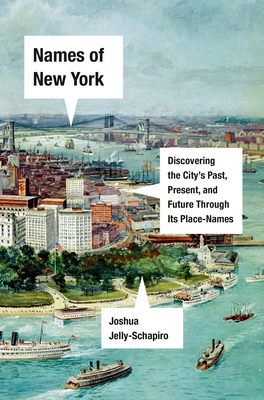 Names of New York
Discovering the City's Past, Present, and Future Through Its Place-Names
Hardcover

* Individual store prices may vary.
Description
"A casually wondrous experience; it made me feel like the city was unfolding beneath my feet." —Jia Tolentino, author of Trick Mirror

In place-names lie stories. That's the truth that animates this fascinating journey through the names of New York City's streets and parks, boroughs and bridges, playgrounds and neighborhoods.

Exploring the power of naming to shape experience and our sense of place, Joshua Jelly-Schapiro traces the ways in which native Lenape, Dutch settlers, British invaders, and successive waves of immigrants have left their marks on the city's map. He excavates the roots of many names, from Brooklyn to Harlem, that have gained iconic meaning worldwide. He interviews the last living speakers of Lenape, visits the harbor's forgotten islands, lingers on street corners named for ballplayers and saints, and meets linguists who study the estimated eight hundred languages now spoken in New York.

As recent arrivals continue to find new ways to make New York's neighborhoods their own, the names that stick to the city's streets function not only as portals to explore the past but also as a means to reimagine what is possible now.
Praise For Names of New York: Discovering the City's Past, Present, and Future Through Its Place-Names…
"Fascinating . . . A smorgasbord of New York City lore . . . Lovers of the Big Apple will delight in this unique and informative history."
—Publishers Weekly

"Jelly-Schapiro's sprightly prose and ear for New Yorkers' stories shows, if nothing else, that place-names are less permanent than the ground they identify, and changing them helps forget a past or shape a future."
—Booklist

"Reading Names of New York is a casually wondrous experience; it made me feel like the city was unfolding beneath my feet. This treasure of a book is surprising, delightful, and often quietly heartbreaking; it doesn't just satisfy curiosity, but creates and renews it, illuminating the palimpsest of human conflict and devotion that lies just under the everyday landscape of New York."
—Jia Tolentino, author of Trick Mirror
 
"Joshua Jelly-Schapiro is one of those rare writers who bridges worlds—between deep scholarship and beautiful prose, between islands and mainlands, between big ideas and precise details, between history and possibility." 
—Rebecca Solnit, author of Recollections of My Nonexistence
 
"Fleet-footed and entertaining, Names of New York builds into a convincingly multifaceted portrait of the city—and a book that is about much more than just names."
—Luc Sante, author of Low Life
 
"A masterpiece of urban geography. Go for a walk with this congenial and endlessly fascinating author and rediscover the city you thought you knew. Engagingly told, meticulously researched, Names of New York joins the roster of the best books about New York."
—Suketu Mehta, author of This Land is Our Land and Maximum City
 
Pantheon, 9781524748920, 256pp.
Publication Date: April 13, 2021
About the Author
JOSHUA JELLY-SCHAPIRO is a geographer and writer. His work has appeared in The New Yorker, The New York Review of Books, The New York Times, and Harper's Magazine, among many other publications. He is the author of Island People: The Caribbean and the World and cocreator (with Rebecca Solnit) of Nonstop Metropolis: A New York City Atlas. He is a scholar-in-residence at the Institute for Public Knowledge at New York University, where he also teaches.