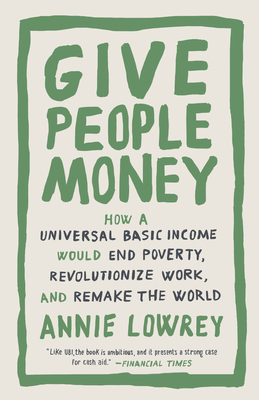 Give People Money
How a Universal Basic Income Would End Poverty, Revolutionize Work, and Remake the World
Paperback

* Individual store prices may vary.
Other Editions of This Title:
Digital Audiobook (7/9/2018)
Hardcover (7/10/2018)
Paperback, Chinese (8/11/2018)
Description
A New York Times Book Review Editors' Choice
Shortlisted for the 2018 FT & McKinsey Business Book of the Year Award

A brilliantly reported, global look at universal basic income—a stipend given to every citizen—and why it might be necessary in an age of rising inequality, persistent poverty, and dazzling technology.
 
Imagine if every month the government deposited $1,000 into your bank account, with nothing expected in return. It sounds crazy. But it has become one of the most influential and hotly debated policy ideas of our time. Futurists, radicals, libertarians, socialists, union representatives, feminists, conservatives, Bernie supporters, development economists, child-care workers, welfare recipients, and politicians from India to Finland to Canada to Mexico—all are talking about UBI.
 
In this sparkling and provocative book, economics writer Annie Lowrey examines the UBI movement from many angles. She travels to Kenya to see how a UBI is lifting the poorest people on earth out of destitution, India to see how inefficient government programs are failing the poor, South Korea to interrogate UBI's intellectual pedigree, and Silicon Valley to meet the tech titans financing UBI pilots in expectation of a world with advanced artificial intelligence and little need for human labor.
 
Lowrey explores the potential of such a sweeping policy and the challenges the movement faces, among them contradictory aims, uncomfortable costs, and, most powerfully, the entrenched belief that no one should get something for nothing. In the end, she shows how this arcane policy has the potential to solve some of our most intractable economic problems, while offering a new vision of citizenship and a firmer foundation for our society in this age of turbulence and marvels.
Praise For Give People Money: How a Universal Basic Income Would End Poverty, Revolutionize Work, and Remake the World…
"Lowrey, a journalist who covers economic policy for The Atlantic, musters considerable research to make the case for a universal basic income— a government-funded cash handout for all."
—New York Times Book Review

"Lowrey is a policy person. She is interested in working from the concept down.... Her conscientiously reported book assesses the widespread effects that money and a bit of hope could buy."
—The New Yorker

"Like UBI, the book is ambitious, and it presents a strong case for cash aid."
—Financial Times

"Annie Lowery has given basic income a wonderful upgrade…[bringing] first-hand accounts of struggling workers all over the world…. A must-read as basic income becomes a more mainstream idea."
—Forbes

"A lively introduction to a seemingly quixotic concept that has attracted thinkers from John Stuart Mill to Martin Luther King Jr., and that continues to provoke."
—Publishers Weekly

"Wide-ranging, grounded in examples of UBI in action, "Give People Money" is also notably clear-eyed."
—Datebook

"Send everyone a monthly check? Eliminate all welfare bureaucracies? Even if you don't believe that technology reduces the total number of jobs, the idea of a universal basic income is worth analyzing. In this provocative book, Annie Lowrey explores the history, practicality, and philosophical basis of an idea now drawing attention from all points on the political spectrum."
—Walter Isaacson, author of Leonardo da Vinci and Steve Jobs
 
"Like it or hate it, the UBI is the biggest social policy idea of the 21st century so far. Annie Lowrey's book is the best study yet of the world's experiences with UBI. It deserves acclaim and, more important, the close attention of policy makers."
—Lawrence H. Summers, former Treasury Secretary of the United States
 
"Give People Money is extraordinary, and the world has never needed it more. Annie Lowrey has a talent for making radical ideas feel not just possible—but necessary. This is a book that could change everything."
—Jessica Valenti, author of Sex Objects: A Memoir
 
"Give People Money is about Universal Basic Income in the way that Moby Dick is about a whale. If you want to learn about UBI, read this book. If you don't care about UBI, but you're interested in how technology is changing our economy, how the character of work is transforming, what poverty looks like in the US and globally, and how governments might more ably aid their citizens, then you really must read this book."
—Shamus Khan, Columbia University, author of Privilege
 
"A fantastic introduction to UBI that's both thorough and accessible."
—Albert Wenger, Union Square Ventures

"A useful primer on a highly contentious topic."
—Kirkus Reviews

"Lowrey… maintains that just like on The Jetsons and Star Trek, we now have the technology to manipulate and redistribute money. Perhaps it's time to consider a move toward a cashless, and hopefully more equitable, global society."
—Booklist

Crown, 9781524758776, 272pp.
Publication Date: July 9, 2019
About the Author
Annie Lowrey is a contributing editor for The Atlantic. A former writer for the New York Times, the New York Times Magazine, and Slate, among other publications, she is a frequent guest on CNN, MSNBC, and NPR. Lowrey lives in Washington, DC.