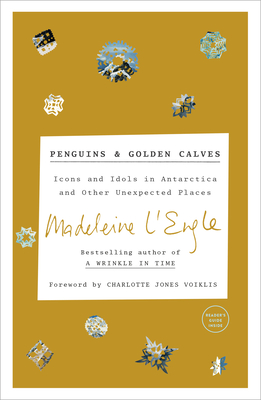 Penguins and Golden Calves (Paperback)
Icons and Idols in Antarctica and Other Unexpected Places
Convergent Books, 9781524759148, 272pp.
Publication Date: September 18, 2018
* Individual store prices may vary.
Description
Despite protests and warnings from friends and family, author Madeleine L'Engle, at the age of seventy-four, embarked on a rafting trip to Antarctica. Her journey through the startling beauty of the continent led her to write Penguins and Golden Calves, a captivating discussion of how opening oneself up to icons, or everyday "windows to God," leads to the development of a rich and deeply spiritual faith.

Here, L'Engle explains how ordinary things such as family, words, the Bible, heaven, and even penguins can become such windows. She also shows how such a window becomes an idol–a penguin becomes a "golden calf"–when we see it as a reflection of itself instead of God.

With delightful language, insightful metaphor, and personal stories, L'Engle brings readers to a deeper understanding of themselves, their faith, and the presence of God in their daily lives.
About the Author
Madeleine L'Engle was the author of more than forty-five books for all ages, among them the beloved A Wrinkle in Time, awarded the Newbery Medal; A Ring of Endless Light, a Newbery Honor Book; A Swiftly Tilting Planet, winner of the American Book Award; and the Austin family series of which Troubling a Star is the fifth book. L'Engle was named the 1998 recipient of the Margaret A. Edwards award, honoring her lifetime contribution in writing for teens.

Ms. L'Engle was born in 1918 in New York City. She wrote her first book, The Small Rain, while touring with Eva Le Gallienne in Uncle Harry. She met Hugh Franklin, to whom she was married until his death in 1986, while they were rehearsing The Cherry Orchard, and they were married on tour during a run of The Joyous Season, starring Ethel Barrymore.

Ms. L'Engle retired from the stage after her marriage, and the Franklins moved to northwest Connecticut and opened a general store. After a decade in Connecticut, the family returned to New York.

After splitting her time between New York City and Connecticut and acting as the librarian and writer-in-residence at the Cathedral of St. John the Divine, Madeleine L'Engle died on September 7, 2007 at the age of 88.