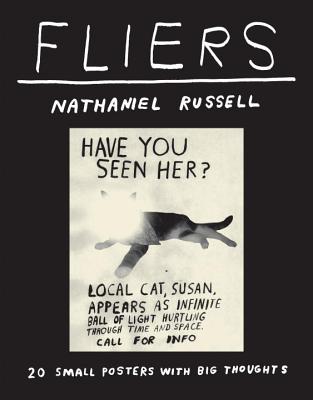 Fliers (Novelty book)
20 Small Posters with Big Thoughts
Clarkson Potter, 9781524759575, 21pp.
Publication Date: October 3, 2017
* Individual store prices may vary.
Description
The perfect present for buds and dormroom inhabitors, this collection of viral fake fliers is at once strange, thought-provoking, and hilarious. Printed on heavy, cardstock-like paper, these 20 "fake" fliers both celebrate and embody surreal posters--like the kind plastered all over college campuses, only taken to the next level. As a bonus feature, the sturdy paperback comes with a french-fold jacket that, when removed, opens up to reveal a larger poster. Images include a photo of a found duck mistaken for a dog that the poster is now keeping and an anonymous group posting about a quiet universe. There is something in this collection for everyone who ever looked at a postered telephone pole or coffee house bulletin board and wondered "is there more out there?"
About the Author
NATHANIEL RUSSELL was born and raised in Indiana. After college, Russell spent several years in the San Francisco Bay Area making posters, record covers, and woodcuts. He returned to his home city of Indianapolis and now spends his time creating drawings, fake fliers, bad sculptures, wood shapes, and music.