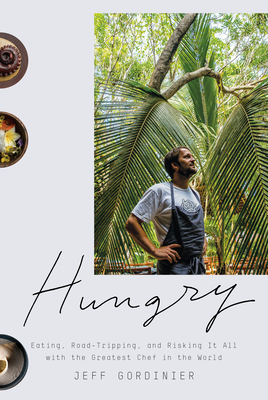 Hungry
Eating, Road-Tripping, and Risking It All with the Greatest Chef in the World
Hardcover

* Individual store prices may vary.
Other Editions of This Title:
Digital Audiobook (11/27/2019)
Digital Audiobook (7/8/2019)
Paperback (7/21/2020)
Description
A food critic chronicles four years spent traveling with René Redzepi, the renowned chef of Noma, in search of the most tantalizing flavors the world has to offer.
 
"If you want to understand modern restaurant culture, you need to read this book."—Ruth Reichl, author of Save Me the Plums
 
Hungry is a book about not only the hunger for food, but for risk, for reinvention, for creative breakthroughs, and for connection. Feeling stuck in his work and home life, writer Jeff Gordinier happened into a fateful meeting with Danish chef René Redzepi, whose restaurant, Noma, has been called the best in the world. A restless perfectionist, Redzepi was at the top of his game but was looking to tear it all down, to shutter his restaurant and set out for new places, flavors, and recipes.
 
This is the story of the subsequent four years of globe-trotting culinary adventure, with Gordinier joining Redzepi as his Sancho Panza. In the jungle of the Yucatán peninsula, Redzepi and his comrades go off-road in search of the perfect taco. In Sydney, they forage for sea rocket and sandpaper figs in suburban parks and on surf-lashed beaches. On a boat in the Arctic Circle, a lone fisherman guides them to what may or may not be his secret cache of the world's finest sea urchins. And back in Copenhagen, the quiet canal-lined city where Redzepi started it all, he plans the resurrection of his restaurant on the unlikely site of a garbage-filled lot. Along the way, readers meet Redzepi's merry band of friends and collaborators, including acclaimed chefs such as Danny Bowien, Kylie Kwong, Rosio Sánchez, David Chang, and Enrique Olvera.
 
Hungry is a memoir, a travelogue, a portrait of a chef, and a chronicle of the moment when daredevil cooking became the most exciting and groundbreaking form of artistry.

Praise for Hungry

"In Hungry, Gordinier invokes such playful and lush prose that the scents of mole, chiles and even lingonberry juice waft off the page."—Time

"This wonderful book is really about the adventures of two men: a great chef and a great journalist. Hungry is a feast for the senses, filled with complex passion and joy, bursting with life. Not only did Jeff Gordinier make me want to jump on the next flight (to Mexico, Copenhagen, Sydney) in search of the perfect meal, but he also reminded me to stop and savor the ride."—Dani Shapiro, author of Inheritance
Praise For Hungry: Eating, Road-Tripping, and Risking It All with the Greatest Chef in the World…
"[Gordinier's book] paints a vivid picture of the complex, almost messianic 41-year-old Danish chef and the cast of eccentric, talented characters who are drawn into his world."—Adam Platt, Grub Street

"In these pages, Redzepi emerges as an enigmatic and contradictory figure. . . . Gordinier makes a convincing case that Redzepi's genius is irrevocably tied both to his relentless curiosity and to his compulsive need for change."—The New York Times Book Review

"A piece of writing as breathless and as urgent as its subject. Wonderful all-in, full-on storytelling.  I read as I might eat a meal when I'm really, really hungry: all in one sitting."—Bill Buford, author of Heat

"I was nervous that a book-length Rene Redzepi profile would just be hagiography. It's so not: this is about the act of reporting, how reporting changes the reporter, the nature of fame, and the myth of creative courage."—Helen Rosner, food correspondent at The New Yorker

"Hungry is a pithy, fluid, rollicking book that's somehow simultaneously visceral and cerebral, funny and heartfelt, passionate and badass, brilliant and unpretentious—Gordinier takes us along with him on a madcap global odyssey on the heels of a megalomaniacal genius of a chef as he relentlessly pushes the boundaries of food. This is a book about invention and reinvention—of food, ideas, place, and ultimately the self. It's immensely fun to read as well as profound. I loved every word."—Kate Christensen, author of The Epicure's Lament 

"Follow along on an incredible journey across the globe with the world's greatest chef, described with equal parts humor and brilliance by one of the greatest food writers of our generation, as they go to enormous lengths in search of the rarest morsels of flavor in an imperfect world. In these pages, you will find that rare glimpse into the mind of a restless and enigmatic genius who has forever changed how we look at the world of fine dining."—Edward Lee, chef and author of Buttermilk Graffiti 

"This smorgasbord of a tale will have travelers tasting every meal with renewed appreciation."—National Geographic

"For the curious culinary traveler and food-industry insider, this will become mandatory reading. With rich, compelling detail, the story traces René Redzepi's path to carving out his own radical space in modern cooking, but what's most wonderful about this book is the heartfelt parallel story—the story of Gordinier's own personal evolution, following the chef around the world and finding himself forever changed."—Lindsey Tramuta, journalist and author of The New Paris 

"Anyone who's seen an episode of Parts Unknown knows what an adventure tracking down great food can be, but Jeff Gordinier knows it better than most. . . . [He] chronicles this journey with the practiced pen of a veteran journalist."—Entertainment Weekly
Crown, 9781524759643, 240pp.
Publication Date: July 9, 2019
About the Author
Jeff Gordinier is the food and drinks editor of Esquire and a frequent contributor to The New York Times, where he was previously a reporter. He is the author of X Saves the World and coeditor of the essay collection Here She Comes Now. He lives north of New York City with his wife, Lauren Fonda, and his four children.
or
Not Currently Available for Direct Purchase