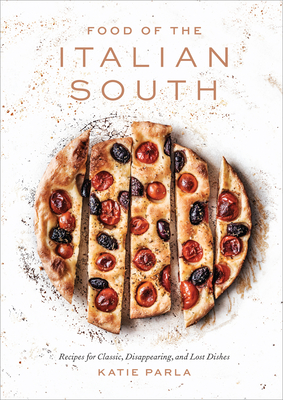 Food of the Italian South
Recipes for Classic, Disappearing, and Lost Dishes: A Cookbook
Hardcover

* Individual store prices may vary.
Description
85 authentic recipes and 100 stunning photographs that capture the cultural and cooking traditions of the Italian South, from the mountains to the coast.

In most cultures, exploring food means exploring history—and the Italian south has plenty of both to offer. The pasta-heavy, tomato-forward "Italian food" the world knows and loves does not actually represent the entire country; rather, these beloved and widespread culinary traditions hail from the regional cuisines of the south. Acclaimed author and food journalist Katie Parla takes you on a tour through these vibrant destinations so you can sink your teeth into the secrets of their rustic, romantic dishes. Parla shares rich recipes, both original and reimagined, along with historical and cultural insights that encapsulate the miles of rugged beaches, sheep-dotted mountains, meditatively quiet towns, and, most important, culinary traditions unique to this precious piece of Italy. With just a bite of the Involtini alla Piazzetta from farm-rich Campania, a taste of Giurgiulena from the sugar-happy kitchens of Calabria, a forkful of 'U Pan' Cuott' from mountainous Basilicata, a morsel  of Focaccia from coastal Puglia, or a mouthful of Pizz e Foje from quaint Molise, you'll discover what makes the food of the Italian south unique.

Praise for Food of the Italian South

"Parla clearly crafted every recipe with reverence and restraint, balancing authenticity with accessibility for the modern home cook."—Fine Cooking 

"Parla's knowledge and voice shine in this outstanding meditation on the food of South Italy from the Molise, Campania, Puglia, Basilicata, and Calabria regions. . . . This excellent volume proves that no matter how well-trodden the Italian cookbook path is, an expert with genuine curiosity and a well-developed voice can still find new material."—Publishers Weekly (starred review) 

"There's There's Italian food, and then there's there's Italian food. Not just pizza, pasta, and prosciutto, but obscure recipes that have been passed down through generations and are only found in Italy… . . . and in this book."—Woman's Day (Best Cookbooks Coming Out in 2019)

"[With] Food of the Italian South, Parla wanted to branch out from Rome and celebrate the lower half of the country."—Punch

"Acclaimed culinary journalist Katie Parla takes cookbook readers and home cooks on a culinary journey."—The Parkersburg News and Sentinel
Praise For Food of the Italian South: Recipes for Classic, Disappearing, and Lost Dishes: A Cookbook…
"Italian food expert Katie Parla tackles the culturally rich cuisine and history of the southern region—where most of the quintessentially 'Italian' foods you know and love originally hail from."—Epicurious

"Parla's new book is a reflection of [her] journey to the regions of Italy often overlooked by tourists."—Edible Jersey

"Parla is a journalist, but she's also a culinary sleuth, eager to learn all about food ways as well as ways to chronicle and save dishes that are quickly disappearing from modern Italian tables."—Shelf Life

"Every time I think I've seen it all, Katie Parla schools me and opens up an entirely new chapter of mind-blowing simplicity that I become obsessed with. This book proves to be no different. As I delve into these salacious recipes, I can only imagine where she will take me next!"—Marc Vetri, chef-founder Vetri Cucina

"What do you want? A beautifully well-documented book that feels like visiting the soul of Italy, with pictures so good you can practically taste the authentic recipes? It's right here, friends. Transport yourself."—Joe Beddia, chef-owner Pizzeria Beddia

"Katie Parla is without peer when it comes to cataloguing, eating, writing, and cooking about the foods of Italy. I'm biased. She's my friend and colleague, and for years she has shown me the Italy of my dreams, in her books and just hopping in the car and taking off on the autostrada. As Katie says, 'this is a calling,' a duty for her to make sure these little culinary corners of her beloved Italy are revealed to us. But it's her passion, her gorgeously fun writing style, and these amazing recipes from the Italian South that become our gifts to receive. Intelligent and thorough, I sat salivating while paging through this book, longing to be back in the convertible, driving the Amalfi Coast in search of that next great meal. Food of the Italian South will win awards, become an instant classic, and thrill the critics, no doubt about it. The real gift is that we get to see this part of Italy through Katie's eye for detail, her luminous stories, and these amazing recipes."—Andrew Zimmern 

"I first met Katie Parla in Rome. I was a fan of Tasting Rome and was thrilled to be spending time with her there. It was then she told me about her upcoming book, Food of the Italian South. Katie has successfully gained my attention for her rich and transportive knowledge of not only Rome but now the southernmost parts of Italy. This book will take you to a place in Italy you may not want to leave and will open your eyes to the food and culture of the Italian South."—Melissa Rodriguez, executive chef Del Posto

"Katie has unlocked the deliciousness of Italy's South. This book brings the cuisine of lesser-known regions in an incredibly diverse culinary country to your home. She provides entertaining insight to her personal heritage while honoring the area's culture and traditions. I can't wait to get in the kitchen and start cooking this book!"—Sarah Grueneberg, chef-partner Monteverde Restaurant & Pastificio

"Food of the Italian South is a rich, personal, and irresistible collection of undiscovered recipes and stories of regional cooking passed down from generation to generation."—Evan Funke, chef-owner Felix

"Katie Parla, or how I refer to her, 'my Italian Goddess from Jersey,' has taught me so much about food, life, friendship, and the importance of Danzig over the last few years. She has single-handedly and lovingly organized all of my culinary trips to Italy and Sicily, including our last trip to Puglia, the mysterious southern heel. I have personally woven a custom Koozie for this incredible book, which I carry close to my heart as a guide for the Italian South."—Eric Wareheim
Clarkson Potter, 9781524760465, 256pp.
Publication Date: March 12, 2019
About the Author
Katie Parla, a New Jersey native, is a Rome-based food and beverage journalist, culinary guide, and educator. She is the author of KatieParla.com, the Saveur Award–winning food and travel site, the ebook Eating & Drinking in Rome, more than twenty travel guides, and coauthor of Tasting Rome (2016), winner of the IACP Award for best international cookbook. Her travel writing, recipes, and food criticism appear in the New York Times, Food & Wine, Saveur, Australian Gourmet Traveller, the Guardian, AFAR, Condé Nast Traveler, Punch, Eater, and more. Follow her on Instagram and Twitter @katieparla.