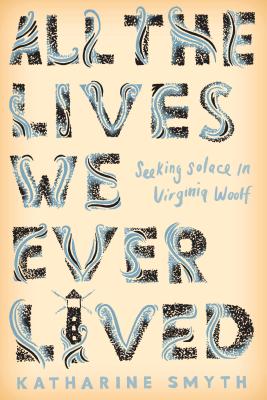 All the Lives We Ever Lived
Seeking Solace in Virginia Woolf
Hardcover

* Individual store prices may vary.
Other Editions of This Title:
Digital Audiobook (1/28/2019)
Paperback (1/21/2020)
Description
A wise, lyrical memoir about the power of literature to help us read our own lives—and see clearly the people we love most.

"Transcendent."—The Washington Post • "You'd be hard put to find a more moving appreciation of Woolf's work."—The Wall Street Journal

NAMED ONE OF THE BEST BOOKS OF THE YEAR BY TOWN & COUNTRY

Katharine Smyth was a student at Oxford when she first read Virginia Woolf's modernist masterpiece To the Lighthouse in the comfort of an English sitting room, and in the companionable silence she shared with her father. After his death—a calamity that claimed her favorite person—she returned to that beloved novel as a way of wrestling with his memory and understanding her own grief.

Smyth's story moves between the New England of her childhood and Woolf's Cornish shores and Bloomsbury squares, exploring universal questions about family, loss, and homecoming. Through her inventive, highly personal reading of To the Lighthouse, and her artful adaptation of its groundbreaking structure, Smyth guides us toward a new vision of Woolf's most demanding and rewarding novel—and crafts an elegant reminder of literature's ability to clarify and console.
 
Braiding memoir, literary criticism, and biography, All the Lives We Ever Lived is a wholly original debut: a love letter from a daughter to her father, and from a reader to her most cherished author.

Praise for All the Lives We Ever Lived

"This searching memoir pays homage to To the Lighthouse, while recounting the author's fraught relationship with her beloved father, a vibrant figure afflicted with alcoholism and cancer. . . . Smyth's writing is evocative and incisive."—The New Yorker

"Like H Is for Hawk, Smyth's book is a memoir that's not quite a memoir, using Woolf, and her obsession with Woolf, as a springboard to tell the story of her father's vivid life and sad demise due to alcoholism and cancer. .  . . An experiment in twenty-first century introspection that feels rooted in a modernist tradition and bracingly fresh."—Vogue

"Deeply moving – part memoir, part literary criticism, part outpouring of longing and grief… This is a beautiful book about the wildness of mortal  life, and the tenuous consolations of art."—The Times Literary Supplement

"Blending analysis of a deeply literary novel with a personal story... gently entwining observations from Woolf's classic with her own layered experience. Smyth tells us of her love for her father, his profound alcoholism and the unpredictable course of the cancer that ultimately claimed his life."—Time
Praise For All the Lives We Ever Lived: Seeking Solace in Virginia Woolf…
"[Smyth's] prose is so fluid and clear throughout that it's not surprising to observe her view of her family, its cracks and fissures, sharpen into unsparing focus. . . . Her exploration of grown-up love, the kind that accounts for who the loved one actually is, not who you want him or her to be, gains power and grace as her story unfolds. I suspect her book could itself become solace for people navigating their way through the complexities of grief for their fallen idols. And they will be lucky to have it."—Radhika Jones, New York Times Book Review (Editors' Choice)

"This is a transcendent book, not a simple meditation on one woman's loss, but a reflection on all of our losses, on loss itself, on how to remember and commemorate our dead."—Washington Post

"Brilliant . . . Smyth's beautiful debut is more tightly strung together than you'd imagine a memoir-cum-literary-requiem could be. It is innovative, like Woolf, in its power of association and its ability to transform the intangible nature of grief into a warm, graspable, fleshy mass."—Vulture

"The affinity between Smyth and her subject is profound even on the sentence level. She writes in Woolfian rhythms. Her sentences cascade and linger over transcendent images... a consolation, a shelter and a community, an unending conversation about mortality and loss that creates unity from the fragmentation of life and death."—HuffPost

"This gorgeous, moving book gracefully moves between memoir and literary criticism.... Smyth's writing possesses a unique ability to wend its way into your head, traveling into all the darkest corners of your mind, triggering thoughts on love and loss and family and memory you hadn't known were lurking; it's a profound experience, reading this book—one not to be missed."—Nylon
 
"Smyth is an elegant writer and she explores her deep, complicated love for her father in lyrical yet restrained prose."—Literary Review (UK)

"A conceptually ambitious and assured debut, successfully bridging memoir and literary criticism. . . . A work of incisive observation and analysis, exquisite writing, and an attempt to determine if there is 'any revelation that could lessen loss, that could help to make the fact of death okay.'"—Kirkus Reviews (starred review)

"All The Lives We Ever Lived is a lyrical memoir about Katharine Smyth's connection to Virginia Woolf's writing, and the power of literature in our darkest times."—Bustle 

"[Smyth] expertly dissects the finest gradations of emotion in any given scene… All the Lives We Ever Lived is a powerful book, driven by the engine of Smyth's controlled, rich description. It's an astonishingly clear-eyed portrait of a person through myriad lenses, a kind of prismatic attempt to capture a life."—The Boston Globe

"A daughter coping with her father's illness and death takes a deep dive into Virginia Woolf's novel To the Lighthouse, looking for insight and comfort. . .  . Other writers have attempted similarly braided memoirs with mixed success. Katharine Smyth . . . has more than lived up to her premise, delivering a lyrical and thoughtful examination of character, place and grief."—Providence Journal

"A critical and reflective delight . . . elegant and thorough and in several places stunning . . . All The Lives We Ever Lived reads at least in part as a steadfast refusal to countenance a pessimistic approach to life, insisting that even when the case seems desperate, one might find sufficiency in a moment."—review31

"Smyth's prose pulsates with intensity, and its lyrical qualities make [the book] a moving one. Grief and its disconcerting effects take center stage. 'It's writers like Woolf, their refusal to give in to popular ideas about bereavement, who have helped me to accept the nature of this misery,' Smyth writes. With her first book, Smyth is able to give that comfort to a new generation of readers as well."—BookPage

"Powerful . . . What sets All the Lives apart from other memoirs about grief or alcoholism (and it has much to say about both topics) is that it is also a book about reading, the ways 'the one book for every life' can, in Smyth's words, 'reciprocate and even alter [our] experience'. . . . There are many lovely moments when Smyth's prose soars into poetry." — Minneapolis Star Tribune
Crown, 9781524760625, 320pp.
Publication Date: January 29, 2019
About the Author
Katharine Smyth is a graduate of Brown University. She has worked for The Paris Review and taught at Columbia University, where she received her MFA in nonfiction. She lives in Brooklyn, New York.