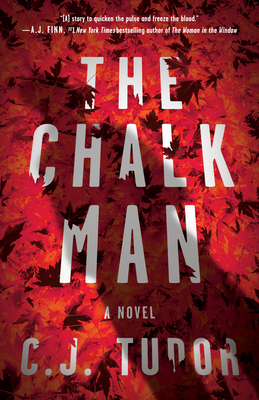 The Chalk Man (Paperback)
A Novel
Broadway Books, 9781524760991, 304pp.
Publication Date: December 31, 2018
Other Editions of This Title:
Digital Audiobook (1/8/2018)
Hardcover (1/9/2018)
Paperback, Large Print (1/9/2018)
CD-Audio (1/9/2018)
Pre-Recorded Audio Player (1/9/2018)
* Individual store prices may vary.
January 2018 Indie Next List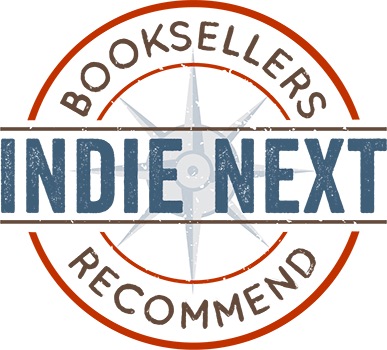 "The Chalk Man by C.J. Tudor is an unusually gripping mystery reminiscent of Arthur Conan Doyle's story 'The Adventure of the Dancing Men.' It is amazingly well-written, and the pace does not let up, from the shocking beginning all the way through to the unsettling ending. This suspenseful page-turner is definitely a cut above and will keep you riveted. Highly recommended!"
— Margo Conklin, Brown University Bookstore, Providence, RI
View the List
Description
"I haven't had a sleepless night due to a book for a long time. The Chalk Man changed that." 
—Fiona Barton, New York Times bestselling author of The Widow

"An assured debut that alternates between 1986 and 2016 with unpredictable twists. The Chalk Man fits well with other stories about troubled childhoods such as Stephen King's novella 'Stand by Me'… Tudor never misses a beat in showing each character as both a child and an adult while also exploring the foreboding environs of a small town." - Associated Press

A riveting and relentlessly compelling psychological suspense debut that weaves a mystery about a childhood game gone dangerously awry, and will keep readers guessing right up to the shocking ending

In 1986, Eddie and his friends are just kids on the verge of adolescence. They spend their days biking around their sleepy English village and looking for any taste of excitement they can get. The chalk men are their secret code: little chalk stick figures they leave for one another as messages only they can understand. But then a mysterious chalk man leads them right to a dismembered body, and nothing is ever the same.
     In 2016, Eddie is fully grown, and thinks he's put his past behind him. But then he gets a letter in the mail, containing a single chalk stick figure. When it turns out that his friends got the same message, they think it could be a prank . . . until one of them turns up dead.
     That's when Eddie realizes that saving himself means finally figuring out what really happened all those years ago.
Expertly alternating between flashbacks and the present day, The Chalk Man is the very best kind of suspense novel, one where every character is wonderfully fleshed out and compelling, where every mystery has a satisfying payoff, and where the twists will shock even the savviest reader.
About the Author
C. J. TUDOR lives in Nottingham, England, with her partner and three-year-old daughter. Over the years she has worked as a copywriter, television presenter, voice-over, and dog walker. She is now thrilled to be able to write full-time, and doesn't miss chasing wet dogs through muddy fields all that much. The Chalk Man is her first novel.
Praise For The Chalk Man: A Novel…
Praise for The Chalk Man:

"Want to read something good?...If you like my stuff, you'll like this."  - Stephen King

"Utterly Hypnotic. The Chalk Man is a dream novel, a book of nightmares: haunted and haunting, shot through with shadow and light - a story to quicken the pulse and freeze the blood. A dark star is born." 
—A.J. Finn, #1 New York Times bestselling author of The Woman in the Window

"Readers will undoubtedly be reminded of the kids of Stand by Me and even IT…[the] first-person narration alternates between past and present, taking full advantage of chapter-ending cliffhangers. A swift, cleverly plotted debut novel that ably captures the insular, slightly sinister feel of a small village. Children of the 1980s will enjoy the nostalgia."
—Kirkus

If you can't get enough of psychological thrillers with sharp twists and turns, you need to read The Chalk Man - Hello Giggles
 
"[A] promising debut…with the nightmarish inevitability of the Grimmest of tales…her storytelling prowess is undeniable."
—Publishers Weekly
 
"CJ Tudor has written an utterly original novel—a thriller in which the suspense comes not simply from what happens, but from that dark place within the human mind from which all the greatest mysteries and terrors emerge.  This one will hold you in its grip to the last page."
—Joyce Maynard, New York Times bestselling author of Under the Influence and To Die For
 
"What a great book. A twisty thriller and downright creepy ending. Five stars."
—Sarah Pinborough, New York Times bestselling author of Behind Her Eyes
 
 "Imaginative, with an intriguing premise that straddles two fascinating worlds.  It's a frenetic ride that's deep and alluring, oozing with suspense. A rollicking good time."
—Steve Berry, New York Times Bestselling author of The 14th Colony           
        
"C.J. Tudor knows the twelve-year-old who still lives in all of us, that kid who chills himself to the bone with an intuition of what lurks in the woods, or in his own closet, and The Chalk Man walks the haunted bridge between then and now—between sheer childhood terrors and a true crime so grisly and personal it's cold hand never leaves the back of your neck.  Suburban adolescents on bikes, squeamish love, nascent sexuality meets adult-world obsession and lust and violence...and through it all runs an affecting story of friendship, loss, and the inescapable frailties of mind and body."
—Tim Johnston, New York Times Bestselling author of Descent
 
"A cleverly constructed, artfully told tale of secrets, lies, and warped passions — featuring a troubled protagonist, a terrible murder that wasn't what it seemed to be, and a raging monster at the heart of it all."
—John Verdon, internationally bestselling author of Think of a Number and the Nero Award-winning Peter Pan Must Die
 
"C.J. Tudor's The Chalk Man is a stunning debut, a riveting thriller about the powerful grip of the past and the unbreakable bonds of childhood friendship. The ending of this smasher will completely throw you for a loop. Don't miss a word of it!"
—David Bell, bestselling author of Bring Her Home and Somebody I Used to Know
 
"The Chalk Man is an intricate and surprising book that will reward the reader who approaches it with the attention it deserves."
—Thomas Perry, New York Times bestselling author of The Old Man
 
"Tense, skillful storytelling."
—Ali Land, internationally bestselling author of, Good Me Bad Me

"Kept me up until five in the morning. Wonderfully written. I loved it!"
—Kimberley Chambers, bestselling author of Backstabber and The Wronged

"It's been a while since I've read such an impressive debut. The pace was perfectly judged, the characters superbly drawn and there's a creeping sense of unease that starts with the prologue and grows throughout the book. And then that ending! It feels so fresh and deserves to be a huge success." 
—James Oswald, bestselling author of the Inspector McLean series

"What an amazing debut! Such an ingenious, original idea. I was engrossed from the very first page. I loved how the 1986 and present day storylines weaved so skillfully together to create that unforgettable and unexpected ending. Compelling, taut and so very, very chilling. This book will haunt you!"
—Claire Douglas, bestselling author of Last Seen Alive

"Impossible to put down, cleverly constructed and executed."
—Ragnar Jonasson, author of the bestselling Dark Iceland series