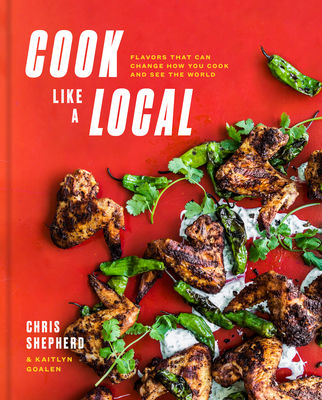 Cook Like a Local
Flavors That Can Change How You Cook and See the World: A Cookbook
Hardcover

* Individual store prices may vary.
Description
The James Beard Award–winning chef of Underbelly Hospitality, a champion of Houston's diverse immigrant cooks—Vietnamese, Korean, Mexican, Indian, and more—shows you how to work with their flavors and cultures with respect and creativity. 

JAMES BEARD AWARD FINALIST

Houston's culinary reputation as a steakhouse town was put to rest by Chris Shepherd, the Robb Report's Best Chef of the Year. A cook with insatiable curiosity, he's trained not just in fine-dining restaurants but in Houston's Korean grocery stores, Vietnamese noodle shops, Indian kitchens, and Chinese mom-and-pops. His food, incorporating elements of all these cuisines, tells the story of the city, and country, in which he lives. An advocate, not an appropriator, he asks his diners to go and visit the restaurants that have inspired him, and in this book he brings us along to meet, learn from, and cook with the people who have taught him. 

The recipes include signatures from his restaurant—favorites such as braised goat with Korean rice dumplings, or fried vegetables with caramelized fish sauce. The lessons go deeper than recipes: the book is about how to understand the pantries of different cuisines, how to taste and use these flavors in your own cooking. Organized around key ingredients like soy, dry spices, or chiles, the chapters function as master classes in using these seasonings to bring new flavors into your cooking and new life to flavors you already knew. But even beyond flavors and techniques, the book is about a bigger story: how Chris, a son of Oklahoma who looks like a football coach, came to be "adopted" by these immigrant cooks and families, how he learned to connect and share and truly cross cultures with a sense of generosity and respect, and how we can all learn to make not just better cooking, but a better community, one meal at a time.
Praise For Cook Like a Local: Flavors That Can Change How You Cook and See the World: A Cookbook…
"Known for telling the story of Houston's diverse communities through his inventive cooking, Cook Like a Local teaches readers how to work with flavors and foods from different cultures with 'respect and creativity.'"—Food & Wine, "18 Essential New Cookbooks for Fall"
 
"With dishes like braised goat with Korean rice dumplings and fried vegetables with caramelized fish sauce, Cook Like a Local underscores how food can cross cultures and bring communities together."—Forbes, "15 New Cookbooks for Fall 2019"
 
"[Shepherd's] enthusiasm for the flavors and culture immigrants have brought to America is unmatched."—Chandra Ram, editor-in-chief of Plate 
 
"Cook Like A Local inspires curious eaters to learn more about the food in their own back yards."—Eater Houston
 
"A deep dive into the mind of Houston's culinary anthropologist, a chef who's made his name by giving greater exposure to flavors found across the diverse city."–Houstonia Magazine
 
"Shepherd uses the ingredients that make Houston—America's most diverse city—such an amazing food scene. . . . You see how the cultures of Houston intersect around the use of common ingredients creating combinations that wouldn't have happened anywhere but there."—Robb Report, "The 9 Best New Cookbooks of the Fall"

Clarkson Potter, 9781524761264, 288pp.
Publication Date: September 3, 2019
About the Author
Midwest-raised chef Chris Shepherd opened Underbelly, featuring locally sourced food inspired by the ethnic diversity of Houston, in March 2012. He is the 2014 James Beard Award winner for Best Chef: Southwest, was named one of the Top 10 Best New Chefs in America by Food & Wine, and was also named the Best Chef of the Year by the Robb Report in 2019. In January 2017, Chris opened One Fifth, a restaurant that changes concepts each year for five years, and UB Preserv in 2018.

Kaitlyn Goalen is a writer, cook, and editor and cofounder of Short Stack Editions. Previously, she was the editor of Tasting Table and has cowritten several cookbooks, including Poole's: Recipes and Stories from a Modern Diner with chef Ashley Christensen and The Short Stack Cookbook with Nick Fauchald.